Features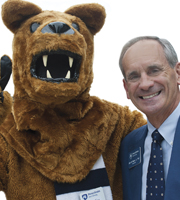 Dr. John M. Mason Jr., a 1972 graduate of Penn State Harrisburg, returned to lead the campus in August 2018 after having served as vice president for research and economic development at Auburn University in Alabama. Now eight months into his new role at his old home, Dr. Mason shares some experiences and answers the most frequently asked questions since his tenure as chancellor began.
Penn State Harrisburg Reads, the college's common reading program for the campus community, kicked off its inaugural year in fall 2018 with the New York Times bestselling novel "The Immortal Life of Henrietta Lacks" by Rebecca Skloot. The book tells the story of Henrietta Lacks, an African American woman who in 1951 became the source of the scientific discovery of HeLa cells – the world's first "immortal cells."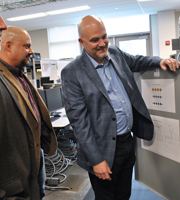 The friendship of Penn State Harrisburg alumni Karl Miller, Scott Kupper, and Craig Rosenberger led to them coming together to form Kupper Engineering, a firm that focuses on renewable energy, primarily solar power, and other traditional engineering consulting.
Trash incinerators produce massive amounts of ash, which ends up in landfills. In the United States, available land space for landfills is decreasing, and the construction industry is looking for ways to utilize more sustainable materials. Grady Mathews, assistant professor of civil engineering in the Penn State Harrisburg School of Science, Engineering, and Technology, and his students are testing a process that could provide solutions to both problems.
Lydia Williams was a high school student when she became engrossed with the plight of Syrian refugees. The crisis was just beginning in 2012, and on a whim she picked up a book called "The Syrian Rebellion" by Fouad Ajami. It changed her life.
News
Around Campus