Vision Statement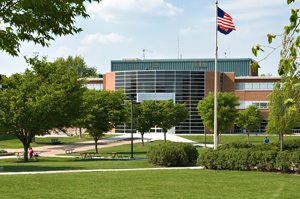 Penn State Harrisburg will be distinguished by educational excellence, innovative research, commitment to diversity, and strategic partnerships that support community building and increased access to education. These strengths will enable us to prepare our students to lead positive and sustainable change as ethical citizens.
Mission Statement
The mission of Penn State Harrisburg is to provide an integrated and responsive approach to education that benefits society.
Our comprehensive offerings of rigorous undergraduate, master's, doctoral and continuing education programs broaden accessibility and produce knowledgeable and skilled graduates.
Our dynamic array of extra and co-curricular activities enhances learning beyond the classroom, engages students in our community, and facilitates inclusiveness and diversity.
Our world-class intellectual and creative pursuits broaden our knowledge, enhance the value of teaching and learning, and promote academic excellence.
Our collective dedication to innovation, applied problem solving, and critical thinking drives our mission of education, research, and service.
As the largest and most comprehensive of the University's Commonwealth Campuses, we strive to achieve national and international standing in academic quality and impact upon the progress of society.
Values and Principles Statement
The vision and mission statements of Penn State Harrisburg are informed by the sustaining values of integrity, diversity, and excellence in all our endeavors. Our purpose is to promote life-long learning by creating and sharing knowledge, enriching the lives and well-being of individuals, communities, and our global society, and educating our students to become knowledgeable, skilled, and ethically-engaged citizens. Therefore, our core values include:
I. Academic Excellence. We value:
Outstanding teaching and research in a community that promotes lifelong learning;
Learning-centered education that develops socially and globally competent leaders;
Scholarship that changes lives and deepens understanding;
Discovery, creativity and innovation that have a positive impact on society.
II. Respect, Cooperation, and Diversity. We value:
Civility and free exchange of ideas;
Community and international engagement;
Commitment to diversity and an appreciation for the perspectives and talents of each individual; 
Treating others with openness and professionalism in all interactions;
Teamwork, citizenship, and a learning environment conducive to interdisciplinary collaboration.
III. Integrity, Transparency, and Accountability. We value:
Academic freedom, responsibility, and shared governance;
Creating a culture of trust;
Promoting honesty, fairness, and courageous ethical behavior;
Promoting good stewardship and prudent management of resources;
Promoting environmental and organizational sustainability;
Continually improving our organizations and ourselves.