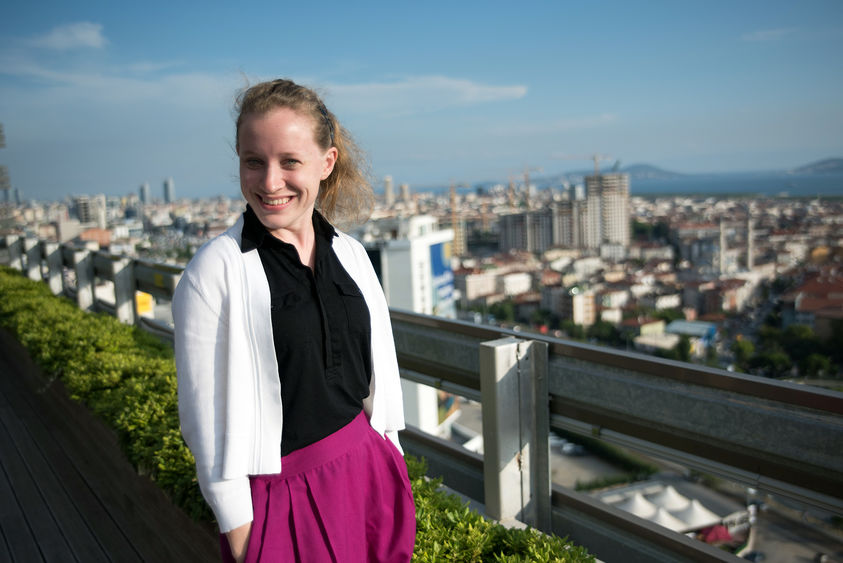 MIDDLETOWN, Pa. — Lydia Williams was a high school student when she became engrossed with the plight of Syrian refugees. The crisis was just beginning in 2012, and on a whim she picked up a book called "The Syrian Rebellion" by Fouad Ajami. It changed her life.
"I liked the book so much, I wrote the author a letter, and he responded," she said. "He shared my letter with Syrian refugees in Lebanon, to show that some Americans actually cared. It forged that basic human connection beyond the news."
Now a senior political science major at Penn State Harrisburg, Williams has kept her focus on Syrian refugees. This year she had an opportunity to travel to Turkey to study the plight of the refugees through the Turkish Heritage Organization Summer Research Program.
Williams was one of eight students nationwide selected for the program. Each focused on a particular issue of the refugee crisis. Williams chose to study the education of Syrian refugee children, and specifically the transition from a program organized with the belief that the children would eventually return to Syria to one acknowledging that the civil war has no end in sight.
It's a difficult transition, Williams said. "Some Syrian children might have started school in their native land, then studied Arabic with refugee teachers in Turkey, and now go to Turkish public schools with hopes of eventual relocation to a third country. It's quite disruptive," she said.
The 3.5 million Syrian refugees in Turkey include 900,000 school-age children. Early during the Syrian civil war, the children studied in Temporary Education Centers, either in Turkish cities or refugee camps. The teachers were also Syrian refugees, and the curriculum was taught in Arabic.
In 2016, the Ministry of National Education began moving students to public schools, with the purpose of integrating them into Turkish society. The first year, students in grades one, five and 12 moved over, with more classes following.
"There are questions about how to teach the kids, the language barrier, how to streamline them into the system. There are confidence and identity issues," Williams said. "Some don't want to learn Turkish; they want to learn English, with hopes of resettlement to a third country, like the U.K."
Some Turkish parents are concerned that refugees are taking resources from their own children, she said. Some Syrian parents worry about their children's safety while walking to school. Syrian teenagers often have to work to help their family's finances.
Williams met with officials with the Ministry of National Education, UNICEF, the World Health Organization, and many other nongovernmental organizations, government organizations, academics and refugee groups.
Williams and the other research participants started their three-week stay in Istanbul, then moved to Ankara and eventually Gaziantep, where they visited the Nizip 2 Container City. About 4,000 people there live in 1,000 shipping containers, each about 200 square feet.
"This is where I really got shocked. This is where I lost it inside," Williams wrote in her blog.
Not many outsiders are allowed to visit the refugee camp, she said. The community has a school, a mosque, a grocery store, a health center and a community center. A number of the refugees there have jobs at nearby pistachio farms.
Also accompanying the Turkish Heritage Organization students was Juliette Tolay, an assistant professor of political science at Penn State Harrisburg and Williams' adviser. Tolay has years of experience studying the refugee crisis in Turkey.
"There is a lot of value in doing field research," she said. "Every time I go there is something new. Seeing an issue in context makes you feel differently, it makes your research much higher quality. You grow as a citizen of the world."
Williams is using her research to write her honors thesis. She is not sure where her career will take her, but she is currently applying to graduate schools. She graduated from Penn State Harrisburg in May.
No matter her career path, "Syria will continue to be a focus," she said. And although her first mentor, the author Ajami, passed away in 2014, "I want to make him proud," Williams said.