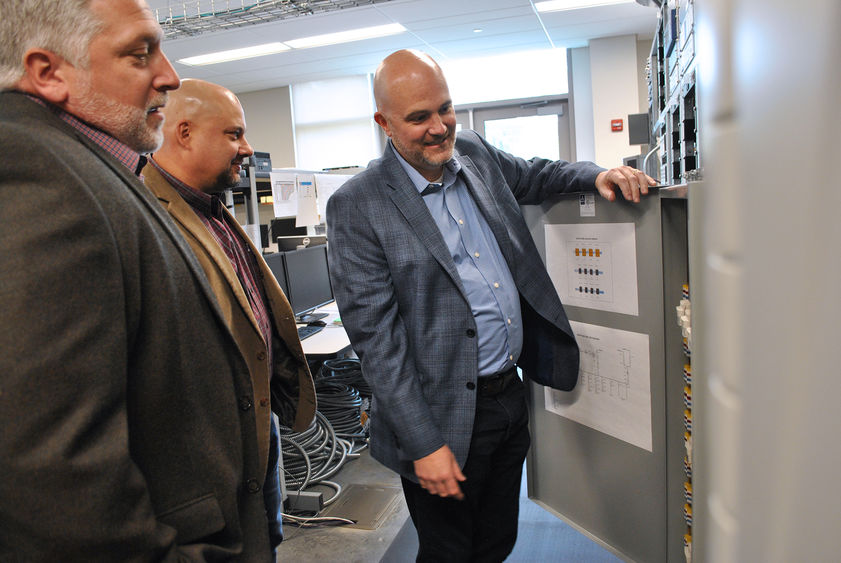 MIDDLETOWN, Pa. — When growing up in the same neighborhood in northeast Philadelphia, Penn State Harrisburg alumni Scott Kupper  and Karl Miller had no idea they would one day be business partners.
"We knew of each other, back in the day," said Miller, a 1994 alumnus, "but we were in different grades and had different classes, so we weren't really friends by any means."
Heading to Penn State Abington to study electrical engineering technology (EET), Kupper and Miller had the chance to meet and connect, while also meeting Craig Rosenberger. Kupper and Rosenberger were roommates, and although the two knew Miller through association, they did not become true friends until they all transferred to Penn State Harrisburg to complete their bachelor of science degrees. As their schooling ended and their new careers developed, they became closer friends. All three entered the engineering field working for various companies before coming back together to form Kupper Engineering.
The idea to start an independent engineering firm started organically, Kupper said, when he was working for a larger engineering company.
"I realized that I was bringing in all of my own work and handling the projects myself," said Kupper, a 1993 Penn State alumnus. "Some of the things that I wanted to do, the company wasn't really doing. … So I decided to go out on my own and try it."
Kupper explained that, at the advent of new technology to enhance forms of renewable energy, he was interested in developing skills in this area. As focus shifted to more environmentally friendly sources of energy, Kupper honed in on a field that was relatively under-explored at the time.
"The work got really busy, really fast," Kupper said.
He decided to bring in Miller, and then Rosenberger a year or so later, as vice presidents — chief operating officer and chief technology officer, respectively. Each with unique skill sets, they have grown the firm to work on large energy, controls and mechanical, electrical, and plumbing projects nationwide. With a focus on renewable energy, primarily solar power, and other traditional engineering consulting, the company has grown over the last 14 years. Kupper, Miller and Rosenberger agree that their Penn State experience played a major role in their ability to run their company together, and contributed to their desire to give back to their alma mater by introducing a new scholarship.
The Kupper Engineering Scholarship is intended for EET majors who are in their third year at Penn State Harrisburg or later.
"We know that a lot of engineering majors drop out or change majors in the first two years," Miller said, "so we wanted to reward those students who are close to and dedicated in getting that degree."
The scholarship was awarded to its first recipient, Benjamin Westhafer, of Middletown, Pennsylvania, in October.
Westhafer, 27, decided on Penn State Harrisburg only after dropping out of high school at age 17, obtaining his GED a few years later, and then enrolling — and excelling — at Harrisburg Area Community College. An electronics enthusiast with a knack for repairing gaming consoles, he transferred to Penn State Harrisburg in 2017, where he was recruited for the PPL Engineering Ambassadors program. Its goal is to encourage kids to pursue an education and career in the STEM fields.
Kupper, Miller and Rosenberger felt a strong sense of fulfillment when they returned to campus last fall and met Westhafer and saw how Penn State Harrisburg has evolved over the years.
Not having been to the campus for almost a decade, each reflected on their college years, and how going back to the school reminded them the rewarding experience they had. Rosenberger said he didn't realize until much later how profound an impact Penn State Harrisburg had on him.
"These teachers really care about the students and trying to set them up for life," said Rosenberger, who graduated from Penn State in 1993.
After graduation, the three realized how much passion and desire for learning was imparted upon them. Miller expanded on Rosenberger's praise of the faculty, saying, "Since we have a more hands-on degree, having a curriculum that has really focused on the critical-thinking process in practical ways was very necessary for getting ahead in our industry. There was a balance that I don't think is common for other engineering programs. The professors are always trying to find out the latest technologies and what they should be teaching students to give them the best shot. It's pretty awesome."
The fact that all three went to the same campus significantly heightened their ability to run their company smoothly. In attending many of the same classes together, and building on their relationships as friends, they were able to belong to a community that was centered in respect.
"When you take that risk to go out on your own, you want the people by your side that you trust and respect, both in terms of friendship and in terms of intellect," Miller said.
Maintaining a personal relationship alongside a professional one has not been difficult, according to Miller.
"We all balance each other out really well," he said.
In growing the company that Kupper created, it has always been important to continue to nurture their friendship. This has allowed them to take risks and support each other in ways that have significantly and positively impacted their business.
Each of the men discussed the advice that they would give to those who might be considering a similar path. While leaning on concepts of lifelong learning, each expressed their own view.
"Take all of the classes that can be taken in the field," Rosenberger said. "These new labs with a lot of the practical training that we are seeing today are great, and address real-world problems."
Kupper echoed this practical sentiment. "Graduating from college, it's difficult to know what you're really going to do," he said. "But take all of the training and exams that you can that might speak to what jobs might require, especially while all of that information is fresh." 
"The most important thing is to never be afraid to ask questions or take advantage of the things offered that will further learning," Miller added. "There is so much opportunity in this field."
As the company continues to be successful, with large projects and an expanding number of clients and opportunities, it is clear that this success did not happen by chance. Although the circumstances surrounding their personal relationships are serendipitous, in building their company, it was hard work, dedicated support, and strategic choices in new fields that got Kupper Engineering to where it is today.
"Never stop learning," Kupper said. "Anything you can do on your own to push yourself personally and in your career is well worth the time."