High School students learn how to engage in creative, open dialogue in fictional town hall setting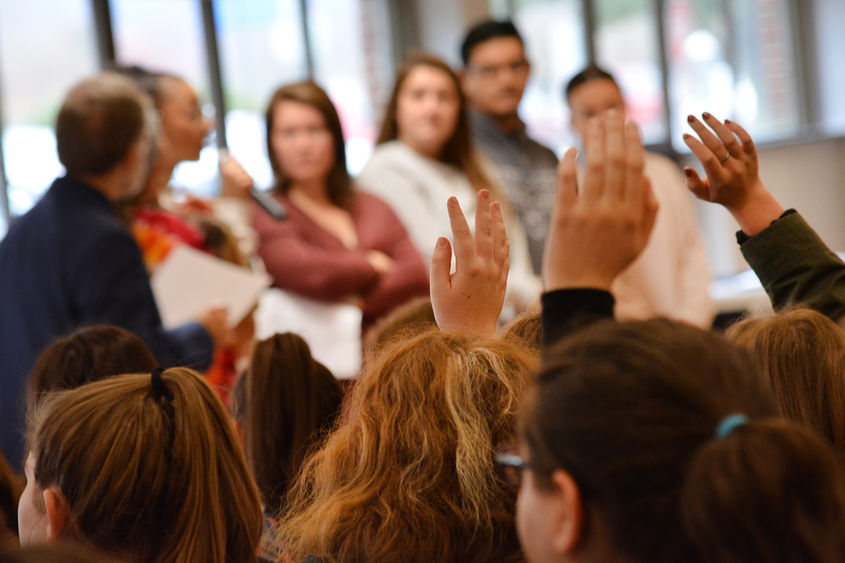 HARRISBURG, Pa. — Local high school students were recently invited to Penn State Harrisburg to take part in a town meeting for the fictional town of "Ethicsville." The discussion centered on the ethics of how to meet the threat of mass shootings in school settings.
The event was led by Glen Mazis, distinguished professor of humanities and philosophy in the School of Humanities, and J. Craig Haas, lecturer in humanities, who served as town council president and mayor respectively.
"The fictional town meeting of Ethicsville dealt with a very real issue: how to ethically consider our response to the fact that 219,000 children and young adults have been caught in the chaos of school shootings since the Columbine shooting in 1999," said Mazis.
Mazis added that the event was designed to show students how to enter into "the kind of creative, open dialogue that our democracy needs to foster and maintain to be vibrant and just."
Participants in the town hall included 70 Penn State Harrisburg students from three ethics philosophy classes, along with 140 high school students and teachers from several schools, including Central Dauphin East High School, Conestoga Valley High School, Eastern Lebanon County High School, and Hershey High School.
The participants considered a number of approaches to the problem – from not allowing any guns in schools; to allowing armed security guards to patrol schools; to allowing administrators, security guards, and teachers to be armed; to allowing anyone who attends the school and is legally able to have a gun be allowed to bring it to school — and the ethical justification for each approach.
The ethical pros and cons of the different approaches were presented and debated by teams of students representing various groups and organizations who would be involved in such a town hall meeting — the school board, the teachers union, student groups, the NRA, the ACLU, the PTA, parent groups, the local newspaper, the local police departments, and religious organizations.
"[The event] was an opportunity for students to learn and practice how to argue from the vantage of ethical perspectives instead of merely personal feelings, and also to understand that those who have differing opinions have ethical reasons for their positions," Mazis said.
Utilizing ethical theories, such as Kantianism, utilitarianism, social contract theory, rational universalism, natural law or Christian ethics, virtue theory, postmodernism, feminism, and the ethics of other cultures, the Penn State Harrisburg students presented their positions and allowed questions and dialogue.
"Hopefully, this event also helped the students to learn that ethical reasoning can help sort out various options of response to achieve a principled life and not just a practically expedient one," Mazis added. "It also offered the high school students the opportunity to see the power of higher education to refine our mind and spirits."