History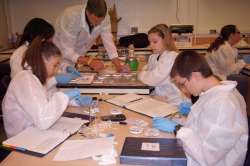 CAIMS was founded in the Capital Region in 1992 as part of the National Goals 2000 Initiative to bring together education, business, industry, government, and the community to assist school districts in the delivery of high-quality mathematics and science education. CAIMS moved to Penn State Harrisburg in 2002. CAIMS is managed by a Director and is guided by an Advisory Board of prominent citizens. It is funded through corporate/ industry sponsors, foundations, grants, and EITC donations.
Mission
The delivery of
science, mathematics technology and instruction, programs, and materials to students and
professional development to classroom teachers of area school districts in the Capitol Region.
Vision and Goals
The CAIMS+ vision is to institutionalize a life sciences continuum with the ultimate goal of delivering all levels of science through a comprehensive innovative curriculum not seen before in central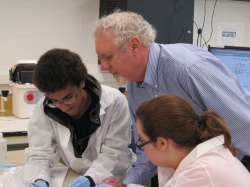 Pennsylvania.
A planning committee that includes faculty from the Divisions of (1) Behavioral Science and Teacher Education and (2) Science, Engineering, and Mathematics formed to design (1) a needs assessment; (2) develop a working plan, including a data baseline for projected enrollment; and (3) design a "feeder" structure with partners at each educational level through memoranda of understanding between PSH/COM, and among the MAR SEPA institutions.
A pilot program of an initial cohort.
Building additional and broader partnerships, providing a seamless pathway for PSH undergraduates to graduate schools throughout the country, as well as providing a unique opportunity for preparing STEM teachers for the area schools.
This plan will also include outreach to public, charter, magnet, private, and home schools; the development of further partnerships; and a concerted program of research in the waning interest of girls in science and mathematics, particularly in grades 4-6, necessary to build a seamless pipeline of education and support.