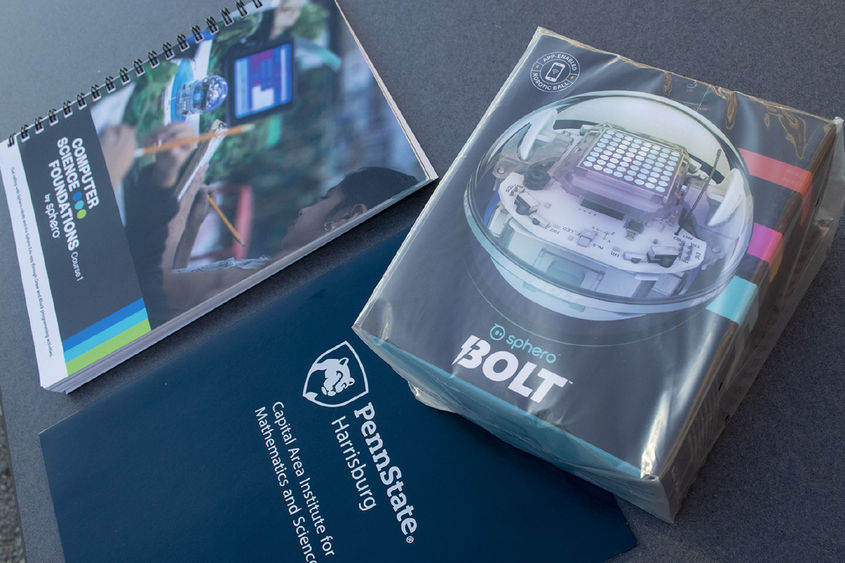 MIDDLETOWN, Pa. – The Capital Area Institute for Mathematics and Science (CAIMS) at Penn State Harrisburg in November provided local high-need schools with free STEM teaching tools and training.
Through a collaboration with Sphero Education, CAIMS provided teachers with a free classroom set of Sphero BOLT robots, advanced computer coding robotic balls that can be programmed for various teaching activities; access to computer science foundations curriculum and resources; an online professional development session; and personalized instructional support for up to one year.
"This program provided the materials and training for high-need schools to begin to offer robotics and coding courses to their students at an early age," said Dr. Tyler Love, assistant professor of elementary/middle Grades STEM education and CAIMS director. "We are very thankful for the support that enabled the college to provide this opportunity at no cost to school districts who want to provide students with these learning experiences. We are hopeful that this will inspire more underrepresented students to pursue careers in STEAM fields."
The virtual workshop took place in November and included 24 full-time educators who teach or oversee STEM activities from 20 schools in 13 Pennsylvania school districts, including Harrisburg, Steelton-Highspire, Susquehanna Township, York City, Central Dauphin, Allentown, Northern Lebanon, Susquenita, West Perry, Columbia, Dover, Fleetwood, and Agora Cyber Charter.
As the coronavirus has forced schools to move to remote learning, Love said that teachers plan to begin using the robots with their students once in-person instruction resumes. According to Columbia Borough School District Interim Superintendent Gregory McGough, the district will use the robots to launch a program at its high school and middle school campus.
CAIMS is a "learning laboratory that serves as a catalyst for fostering synergy" among K-16 teachers and students, industries, community members, and others interested in exploring STEM topics. The institute focuses on providing data-driven teaching and learning experiences to prepare the globally competitive workforce.
For additional information, please contact CAIMS at [email protected].