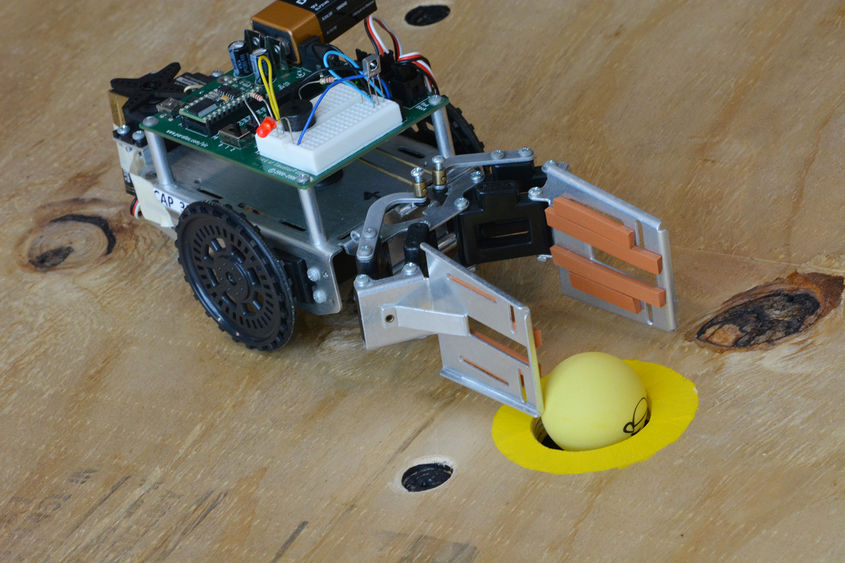 MIDDLETOWN, Pa. — Penn State Harrisburg will host the ninth annual South Central PA Robotics Competition on Nov. 16, starting at 8 a.m., in the Educational Activities Building (North) on campus.
The event is jointly organized by Harrisburg Area Community College (HACC) and Penn State Harrisburg and is part of a larger STEM initiative to strengthen relationships between the region's students and educators in science, technology, engineering and mathematics (STEM) disciplines.
This year will feature new challenges based on VEX robots. Contestants will work in teams of three high school students plus a mentor or mentors from one of the participating colleges. Teams will be presented with six tasks in robotic motion and control. Two of these tasks will be open competitions, where teams can use any robotic attachments sensor they wish. The winning team will have to program an educational robot to perform these tasks as quickly and precisely as possible.
The event is open to all students from all schools in the south central Pennsylvania region, as well as home-schooled students in the region. Participating schools include Lower Dauphin High School, Susquehanna High School, Bishop McDevitt High School, Harrisburg High School, Hershey High School, Silver Academy, Camp Hill High School, Northern High School, CLC Charter School (State College), Tuscarora High School, Dauphin County Technical School, Cumberland-Perry Technical School, and Civil Air Patrol Squadron 306 Cadets.
The Capital Area Institute for Mathematics and Science (CAIMS) is serving on the judging and planning committee. CAIMS also provided funding to purchase some of the robotics kits that schools will use in the competition.
The competition is also sponsored by Civil Air Patrol Squadron 306, TE Connectivity, HACC, the Institute of Electrical and Electronics Engineers (IEEE), and the Penn State Harrisburg School of Science, Engineering and Technology.
Pre-registration for the competition is highly encouraged. Cost for entry is $5 per student and includes a T-shirt and lunch on the day of the event. Entry forms may be found at hbg.psu.edu/robotics/index.html. The organizing committee has a limited amount of fee-waivers for any student wishing to participate in the event.
For additional information, please contact Deb Miller at [email protected] or Aldo Morales at [email protected].