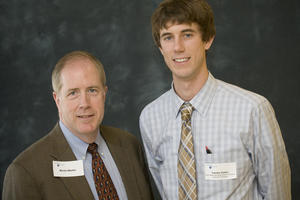 Regardless of the amount, every gift to Penn State Harrisburg makes a positive difference. Together, the collective gifts of alumni and friends make a significant impact in the lives of students, faculty, and the future of the college.
Many types of gifts are available to you to help you fulfill your personal and philanthropic goals. Whether you're interested in a one-time annual cash gift, or a major gift to create a named endowment, we would be pleased to help you design a gift that is most meaningful to you.
Types of gifts available include options to give during your lifetime or through your estate:
Outright Gifts
Planned Gifts
Income Producing Gifts
We're here to help! If you'd like more specific information on contributing to Penn State Harrisburg, please contact the Office of University Development at (717) 948-6366 or visit Ways to Give to Penn State on the University's website.
Please remember to designate your gift to the Penn State Harrisburg Future Fund. Additional information can further direct your gift to specific schools or funds.