I entered the master's of education in teaching and curriculum program at Penn State Harrisburg in fall 2018 as a relatively new teacher, still developing my own craft. As I worked through the required courses in my major, I interacted with many knowledgeable professors that helped me to refine my own teaching skills as a first-grade teacher. A lot of what I learned within my core courses; I was able to directly apply to my own classroom to better the educational experience that my own students receive.
Read Kristen's journey to commencement.
When I looked into where to begin my Master's program, I started with Penn State and looked no further. I worked with many knowledgeable professors that helped me along my way. The concepts I learned in the program enhance my teaching daily. I thank my family, as well as my newly acquired PSU family, for an awesome Master's of Education in Teaching & Curriculum journey. I AM and WE ARE!!!
Passion, support, and dedication; these three words best describe my experiences while enrolled in the Teaching and Curriculum Master of Education program at Penn State Harrisburg. Each time I entered the classroom, whether virtual or in person, my professors were welcoming, supportive, and always willing share their vast educational knowledge. As my knowledge continued to grow, so did my love and passion for teaching. I knew that if I, like my professors, continued to be dedicated, I would be able to help my students achieve anything they set their minds to. I am proud to say I was taught by some of the most passionate, supportive, and dedicated educators out there, and would not be the educator I am today without their guidance while enrolled in the Teaching and Curriculum Master of Education program.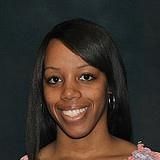 I can admit, I wasn't the most confident when I started my Master's program two years ago. Coming straight from my undergraduate studies, I didn't know how much I would be able to contribute since my peers had years of prior teaching experience. However, as I progressed in my classes and assistantship, I became more confident in my roles as a graduate student as well as an educator. All of the professors made me feel like part of the team, while also encouraging me to continue to strive in my education. I have also accomplished things that I never thought I would in just two short years of the program. I greatly appreciate this opportunity that I've been given at Penn State Harrisburg, and can't wait to apply what I have learned as I begin my career in education.
Entering the Master's in Education Teaching & Curriculum program at Penn State Harrisburg was the first, in a series of steps, I would take that would change my professional and personal life as an educator. At the time, I was attracted to the convenience of a quality master's program that brought the powerful brand recognition of Penn State within my reach as a full-time teacher here in the Harrisburg area. What I soon discovered through the course-work and encounters with many high-quality professors was that the relationships and skill-sets I formed during the program directly enhanced my instruction, assessment, and vision. Having since successfully graduated with my Masters in Education T&C, it is an honor to know my teacher narrative took leaps forward here at Penn State Harrisburg.