Danang Endrayana Syeh Qodir, MPA '16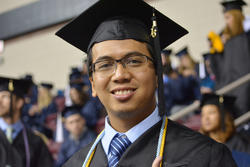 Danang Endrayana Syeh Qodir received his master's of public administration from the Penn State Harrisburg School of Public Affairs at the college's fall 2016 commencement on Saturday, December 17.  Qodir, who traveled from Indonesia to study at Penn State Harrisburg, said that completing his studies as an international student came with challenges and rewards.
"It was hard to live far away from my home country and families, and to deal with the different languages, foods, weather, and cultures, but the faculty and staff at Penn State Harrisburg helped me to go through these two years smoothly," Qodir said.  "As a student from the country with the largest Muslim population in the world, I did not find any difficulties in practicing my religious activities as a Muslim student at Penn State Harrisburg because the campus offers a praying room. Campus neighborhood areas are also safe and the people are friendly and welcoming to students."
Read the rest of Danang's Road to Commencement story.
Adam Walters, MPA '16 
Adam Walters was named a William Penn Fellow by Pennsylvania Gov. Tom Wolf. The fellowship, a two-year program focused on making Pennsylvania a better place to live, was established by Gov. Wolf in summer 2016. Over 250 individuals with master's-level and other advanced degrees applied to the program, which was then narrowed to 23 finalists before selecting the final ten fellows.
Adam completed his Master's in Public Administration with a certificate in policy analysis and evaluation at Penn State Harrisburg in 2016. He is currently a project administrator with Downtown Inc., working to improve the overall economic health of the City of York through enhancements in public space and safety. He also does grant writing, relationship building and administrative support. As an intern with Downtown Inc., he surveyed the city's business district to gather GPS, image and other data.
The fellows will spend two years working on projects related to the Governor's priorities of Jobs that Pay, Schools that Teach and Government that Works. At the conclusion of their fellowships, they will present the results of their work to the Governor and other senior officials.