Baha Bachnak
Baha Bachnak graduated from Penn State as a Schreyer Honors scholar in 2019, with a Bachelor's degree in Electrical Engineering and a minor in Criminal Justice. Baha chose Penn State Harrisburg because it allowed him the opportunities to have a personalized education and an enriched learning experience. He credits Penn State for many lifetime connections, both in the fields of engineering and public affairs. He remains in close contact with several of his professors, instructors, and former classmates, many of whom have become mentors and sources of support.
Throughout his time at Penn State Harrisburg, Baha pursued interests in both Electrical Engineering and Criminal Justice. He was able to perform and present research at conferences. Although he majored in Electrical Engineering, he had a strong interest in policing and criminal justice. Under the guidance and mentorship of one of his Criminal Justice professors, Dr. Jennifer Gibbs, Baha found the inspiration to become more involved in the field. Through an Honors project, Baha published his first work under Dr. Jonathan Lee and Dr. Jennifer Gibbs.
Throughout his time at Penn State Harrisburg, Baha was heavily involved in clubs and organizations on campus, such as the IEEE student branch, the Criminal Justice Club, the Honors Student Council, Phi Kappa Phi, among others. He also received several awards including The Electrical Faculty Outstanding Senior Award and President's Sparks Award. Baha was also active in the Criminal Justice field, which included an internship with Dauphin County Sheriff's Office, collaborative research efforts with state and local law enforcement, and extensive tactile experience with numerous departments and agencies.
Baha is currently pursuing his doctoral degree in electrical engineering at the University of Pennsylvania while remaining active in the criminal justice community as much as he is able.
Michael Posteraro, Jr.
Michael Posteraro, Jr. graduated with his Bachelor's Degree in Criminal Justice in May 2017, and he was the first in his family to obtain this degree. He chose Penn State Harrisburg because it allowed him to dual enroll at Penn State while he was obtaining his Associate's degree at Harrisburg Area Community College (HACC). As soon as he graduated from HACC, he entered Penn State as a Junior and continued his studies. Additionally, the opportunities at Penn State helped him network with individuals who provided beneficial opportunities to meet professionals in his field, work on academic research, and become involved with campus life, which ultimately led to the development of meaningful relationships with students and staff. While enrolled, he was also inducted into the National Society of Leadership and Success, Psi Chi, and Alpha Phi Sigma and received the Criminal Justice Scholar Award. After he obtained his Bachelor's degree, he was awarded the Chancellor's Award for Graduate Students to enroll in graduate school at Penn State Harrisburg.
Currently, Michael is a Master of Arts candidate at Penn State Harrisburg in Applied Clinical Psychology. His research interests include criminogenic behavior, psychopathy, and forensic psychology. Michael hopes to serve his community by seeking a career in law enforcement and merging the fields of criminal justice and psychology. He is currently working on his master's thesis, which examines the relation between posttraumatic stress disorder in veterans and post-deployment criminogenic behavior.
Michael is presently working as a Child Protective Services Caseworker/Investigator at Dauphin County Children and Youth, where he investigates allegations of physical and sexual abuse, serious neglect, deaths, and near-deaths of children in Dauphin County. Thanks to the faculty and staff members at Penn State, he has networked with individuals who have provided information on the various occupations that he can pursue. Michael was also able to work on numerous research projects that will help him to enhance the probability of him obtaining a career in forensic psychology.
Daniela Barberi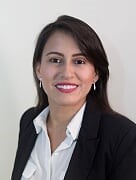 Daniela Barberi graduated with her master´s degree in criminal justice in May 2015. She chose Penn State Harrisburg because this program had the combination of theoretical and practical characteristics she was looking for. While enrolled, she received the Penn State Harrisburg Alumni Society Outstanding Graduate Student Award, and the Criminal Justice Outstanding Master's Thesis Award. She also received a graduate assistantship for the two years she was in the master's program and the Robert W. Graham Endowed Graduate Fellowship.
Daniela has been a doctoral student since 2017 in the Criminology, Law & Society program at George Mason University, where she has worked with top criminologist Dr. Faye Taxman at the Center for Advancing Correctional Excellence (ACE!). Her research interests are corrections, reentry, prisoner treatment, and minority populations.
Currently, Daniela is in her home country, Colombia, where she works as a senior crime prevention specialist with the Pan American Development Foundation (PADF or FUPAD in Spanish). Thanks to key faculty members of the Criminal Justice program at Penn State Harrisburg, Daniela was able to enter a prestigious doctoral program and connect with important criminologists who boosted her career.
Danang Endrayana Syeh Qodir, MPA '16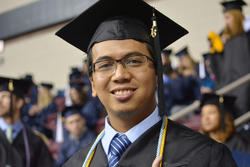 Danang Endrayana Syeh Qodir received his master's of public administration from the Penn State Harrisburg School of Public Affairs at the college's fall 2016 commencement on Saturday, December 17.  Qodir, who traveled from Indonesia to study at Penn State Harrisburg, said that completing his studies as an international student came with challenges and rewards.
"It was hard to live far away from my home country and families, and to deal with the different languages, foods, weather, and cultures, but the faculty and staff at Penn State Harrisburg helped me to go through these two years smoothly," Qodir said.  "As a student from the country with the largest Muslim population in the world, I did not find any difficulties in practicing my religious activities as a Muslim student at Penn State Harrisburg because the campus offers a praying room. Campus neighborhood areas are also safe and the people are friendly and welcoming to students."
Read the rest of Danang's Road to Commencement story.
Adam Walters, MPA '16 
Adam Walters was named a William Penn Fellow by Pennsylvania Gov. Tom Wolf. The fellowship, a two-year program focused on making Pennsylvania a better place to live, was established by Gov. Wolf in summer 2016. Over 250 individuals with master's-level and other advanced degrees applied to the program, which was then narrowed to 23 finalists before selecting the final ten fellows.
Adam completed his Master's in Public Administration with a certificate in policy analysis and evaluation at Penn State Harrisburg in 2016. He is currently a project administrator with Downtown Inc., working to improve the overall economic health of the City of York through enhancements in public space and safety. He also does grant writing, relationship building and administrative support. As an intern with Downtown Inc., he surveyed the city's business district to gather GPS, image and other data.
The fellows will spend two years working on projects related to the Governor's priorities of Jobs that Pay, Schools that Teach and Government that Works. At the conclusion of their fellowships, they will present the results of their work to the Governor and other senior officials.