Features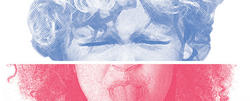 How science trumps the junk in treating autism
Penn State Harrisburg Professor of Psychology Dr. Kimberly A. Schreck has met families who spent thousands of dollars, even remortgaged their homes, to pay for unproven treatments to try to help their children with autism.
Related:
Internships help students plot their futures
Sherrie Laporta imagined herself working for Corporate America. But an internship in spring 2013 helped to change that view.
Related:
News
Sports Highlights