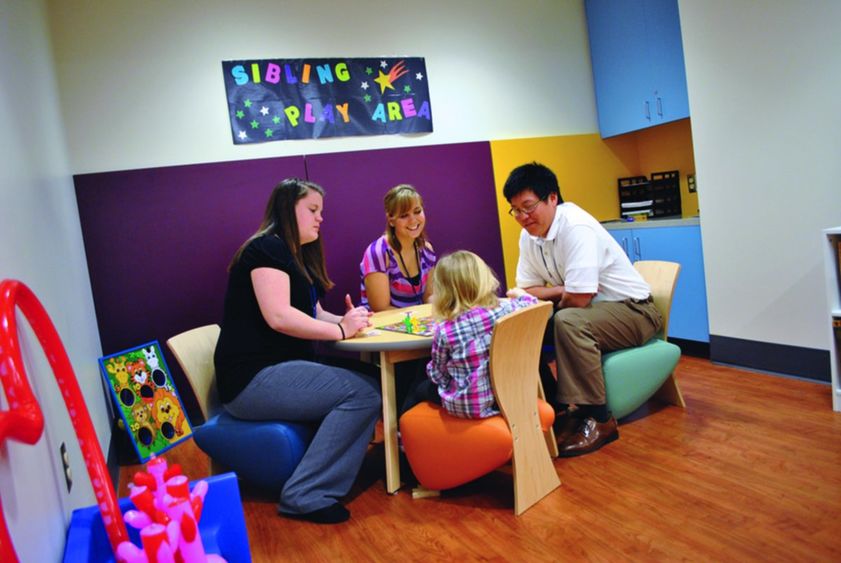 Sherrie Laporta imagined herself working for Corporate America. But an internship in spring 2013 helped to change that view.
After she trained Ronald McDonald House of Central Pennsylvania volunteers at the new Penn State Hershey Children's Hospital, she now hopes to work in a hospital, teaching people about wellness and nutrition. Laporta, a Penn State Harrisburg human development and family studies (HDFS) major who graduated in May, plans to earn her master's degree in health education.
"I've learned so much about dealing with so many different personalities. I thought I knew a lot, but there were 70 plus volunteers with different personalities," said Laporta.
Laporta quickly became a stabilizing leader and a huge asset, said Ann Mahalik, Ronald McDonald House family room coordinator. When Laporta's internship ended, Mahalik missed her immediately, she said.
Laporta served in a first wave of students to intern at the new hospital. Every HDFS senior completes a full-time internship during the final undergrad semester, said Dr. Barbara Carl, senior lecturer and the program internship coordinator. Other students have interned with schools, drug rehabilitation centers, childcare centers, and counseling service providers.
HDFS is a new and growing major at Penn State Harrisburg. Fifteen seniors graduated in May, and about 85 students have declared it as their major.
The curriculum prepares students to work with people across the lifespan, from infants to senior citizens, Carl said. The classes before the internship help students hone their résumés, interviewing skills, and career interests. They find their own internships and plan projects.
"They take the internship very seriously," Carl said. "Career exploration and networking help them figure out where they want to go from here. It's a job with training wheels. They get to make some contacts they wouldn't otherwise be able to make."
She emphasizes that students need to be open and flexible. This proved a valuable lesson for the students interning at the children's hospital, which opened three months later than planned.
Samantha Wolfe, Christina Santoro, and Chris Leonard helped launch a therapeutic playroom for siblings of patients at the new hospital, under the guidance of the facility's Child Life Program, which oversees the Sibling Play Program. The playroom provides worried parents and restless siblings with much needed breaks.
The children's hospital internship reinforced for Wolfe that she wants to work with families and gave her confidence that she can do the things she learned about in classes and books. But more than that, she and the other interns saw the process of a new hospital opening, which they said was amazing.
"We can see how difficult and how rewarding it might be to get things started," she said.
They also saw how much their work benefitted families.
It's rough for a small child to be cooped up in a hospital with stressed parents and a brother or sister in pain, said Santoro, who hopes to work in pediatrics in a hospital setting.
Siblings feel isolated and anxious, guilty, or angry, Leonard said. Their therapeutic playroom helps children ages three-12 vent those feelings.
It helped the interns, too, to put their problems in perspective, Leonard said. He works part-time in the juvenile justice system and hopes to return to school to get a master's degree one day.
Within Laporta's first two weeks, she worked with families whose children died.
"That was difficult," said Laporta, who met families in the hospital's four family lounges that she maintained during her internship. "We had a lot of training in counseling that taught us how to respond to people so you draw them out. We also could page social workers and the hospital can provide clergy."
Carl, who prepares and guides students through their internships, finds it exciting to see students put their academic knowledge to practical use.
"I get to see them spread their wings," she said. "I feel really fortunate to be in their lives at this time of their journey. They really do us all proud."