A team of administrators, faculty and staff worked on several key equity projects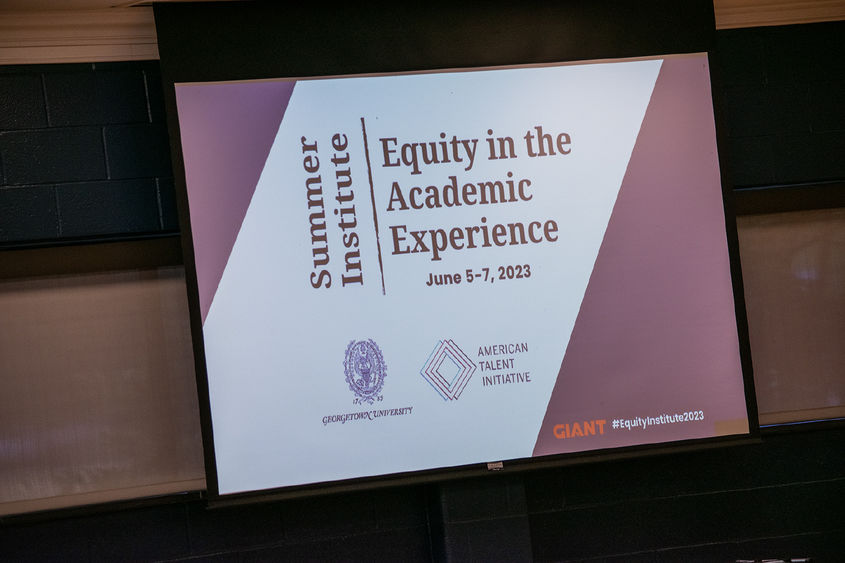 MIDDLETOWN, Pa. — A team from Penn State Harrisburg joined a national coalition of more than 55 colleges and universities at the 2023 Summer Institute for Equity in the Academic Experience in June. The three-day series of workshops, panels and provocations were aimed at improving equitable access and outcomes for low-income, first-generation, and students of color at the institutions.
Led by Wanda Knight, assistant dean for diversity, equity, and inclusion, the overall theme for Penn State Harrisburg was creating pathways to help ensure and sustain equity in the academic experience.
"Creating pathways to improve equitable access and outcomes for low-income, first-generation, and students of color supports the leveling of the playing field so all students will have equal opportunities and circumstances to thrive and realize their potential," Knight said. "Such work affords us opportunities to examine, expand, and confront prevailing (and often implicit) values, beliefs, assumptions, and attitudes, concerning education, students, teaching and learning that have tilted the playing field so as not to create, maintain and perpetuate inequities."
Several working groups will be formed in the fall to continue to move this work forward.
Given the recognition of athletics as an emerging high-impact practice, one group focused on leveraging co-curricular experiences and navigating the "hidden curriculum" (i.e., unspoken or implicit cultural norms, values, and behaviors that universities deem critical for student success) to enhance the success of first-year student-athletes who are first-generation college attendees. This work builds on the strengths of the Faculty Athletic Mentor Program that exists at Penn State Harrisburg.
Head men's basketball coach, Don Friday, said the institute "brought together successful and motivated 'equity champions' who share and collaborate best practices with each other. It's a great opportunity to learn and make Penn State Harrisburg a greater space."
The biggest takeaway, Friday said, was the understanding that relationships and communication are vital to student engagement, something, he added, that Penn State Harrisburg Intercollegiate Athletics is already doing well. "Our athletic department has been cited for the work we do in our student-athletes' lives in the classroom and personal lives because we have such strong daily interactions," he said. "This model under the leadership of Athletic Director Rahsaan Carlton has created a wonderful community among our 300 student-athletes."   
The recruitment and retention of graduate students of color remains a priority across the higher-education landscape. To address this challenge, a group focused on the barriers and conduits to recruitment, persistence, and retention of graduate students of color.
Another unit looked at addressing opportunity gaps in retention and graduation rates. One of the primary barriers is success in high-enrollment and STEM gateway courses. To address this challenge, the cluster focused on leveraging evidence-based pedagogies such as active learning and culturally responsive teaching to improve equitable student learning and success outcomes.
The college served as the regional hub for the institute, and Roderick Lee, associate professor of information systems in the college's School of Business Administration, led Penn State's participation in the national planning and programming.
"We owe a great debt of gratitude to Georgetown University and the American Talent Initiative for selecting Penn State Harrisburg as a leadership site for the second consecutive year," Lee said. "We look forward to getting the entire campus involved in working on these equity initiatives in the fall."
Penn State's participation in the Summer Institute was coordinated by Penn State Harrisburg, Undergraduate Education, the Office of the Vice President for Commonwealth Campuses and the Office of Educational Equity. The Giant Company served as the corporate partner for the institute at the Penn State Harrisburg leadership site.
More than 400 faculty, staff and administrators from institutions across the nation participated in the institute, tackling equity projects linked to their strategic institutional priorities.