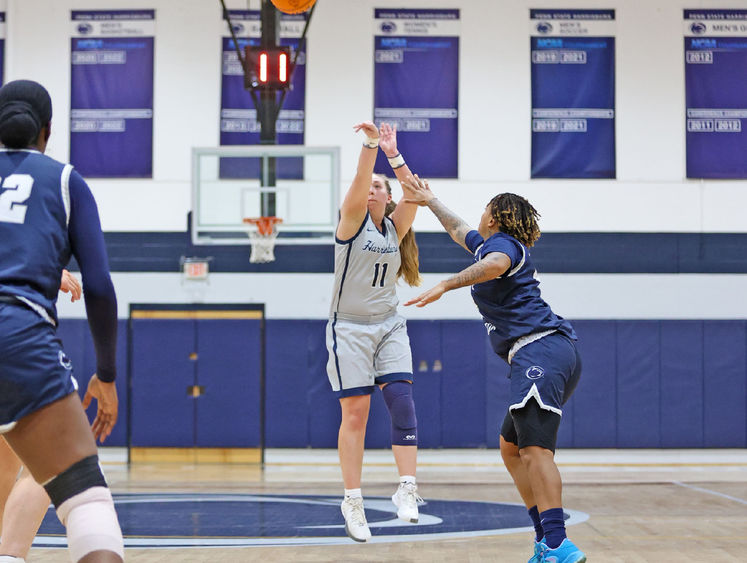 LATHAM, N.Y. — Penn State Harrisburg women's basketball player Kendis Butler has been named the United East Female Senior Athlete of the Year.
The highest individual honor the conference bestows, the award recognizes model student-athletes for their high level of performance in their sport, in the classroom, and in their community. Butler was chosen from a pool of seven women who earned United East Senior Scholar-Athlete of the Year honors for their respective sports during the 2022-23 campaign.
Butler will now represent the United East as the conference's women's nominee for the regional and national athlete of the year awards, which are presented by the Division III Commissioners Association.
"We could not be more excited that Kendis has been named the United East Senior Athlete of the Year," Rahsaan Carlton, Penn State Harrisburg director of athletics, said. "Since the very day she set foot on campus, she has been nothing but the epitome of a student-athlete. She is truly deserving of this extraordinary honor."
The most-decorated player in program history, Butler completed her career as the NCAA Division III active leader in 3-point field goals. The York, Pennsylvania native was the first player in school history to be named a 2023 Jostens Trophy finalist, and she was last year selected as a City of Basketball Love All-Area Second-Team. She recently became the first player in program history to earn all-conference accolades on three occasions, securing a pair of United East All-Conference First-Team honors to go along with a second-team moniker. Earlier this season, Butler became Penn State Harrisburg's all-time leading scorer and she holds numerous program records, including career field goals, career 3-point field goals, points in a single season, points in a single game, and 3-pointers in a single contest. 
"Kendis' college journey is a career story of the 'Pride, Spirit, and Honor' that represents Penn State Harrisburg athletics," Ross Patrick, Penn State Harrisburg women's basketball head coach, said. "Pride in the legacy impact she leaves as one of the nation's top 3-point shooters, a spirit that will live on in the lives she has impacted on and off the court, and honor in the forever bonds between teammates, our campus, and the United East conference community. We should all celebrate the great example Kendis displays of how the coexistence of student-athlete and time management can create significant impacts on your team, campus, and local communities." 
A three-year team captain, Butler has also been outstanding in the classroom throughout her career. She recently joined teammate Jayla Galbreath as the first players in program history to earn College Sports Communicators (CSC) Academic All-District accolades, thanks to their combination of athletic and academic success. She garnered five straight conference all-academic awards dating back to her rookie campaign. She served as the student representative to Penn State Harrisburg's Faculty Athletics Senate Committee and has contributed to five CSC Publication and Digital Design award-winning graphics as a student worker for the sports information department. The communications major and American studies minor graduated in May with a 3.96 cumulative GPA. 
Penn State Harrisburg's Student-Athlete Leadership Council Chair, Butler was also a member of the United East Student-Athlete Advisory Committee in 2022-23. Last fall, she helped aid a Ukrainian refugee family that relocated to Enola, Pennsylvania, following the Russian invasion of the country by helping to clean and renovate a house to be move-in-ready. In January, she helped organize an assembly at nearby Susquehanna Township Middle School, where Penn State Harrisburg student-athletes mentored at-risk students hoping to play sports in college. In February, she spearheaded a canned food drive that collected more than 160 items for the Central Pennsylvania Food Bank and Penn State Harrisburg's on-campus food pantry. In each of the past two years, she joined fellow Penn State Harrisburg student-athletes in reading to students at nearby Middletown Area elementary schools on National Read Across America Day. During the COVID-19 pandemic, she led an initiative to design and distribute handwritten greeting cards to senior citizens quarantined at a retirement home in North Carolina.