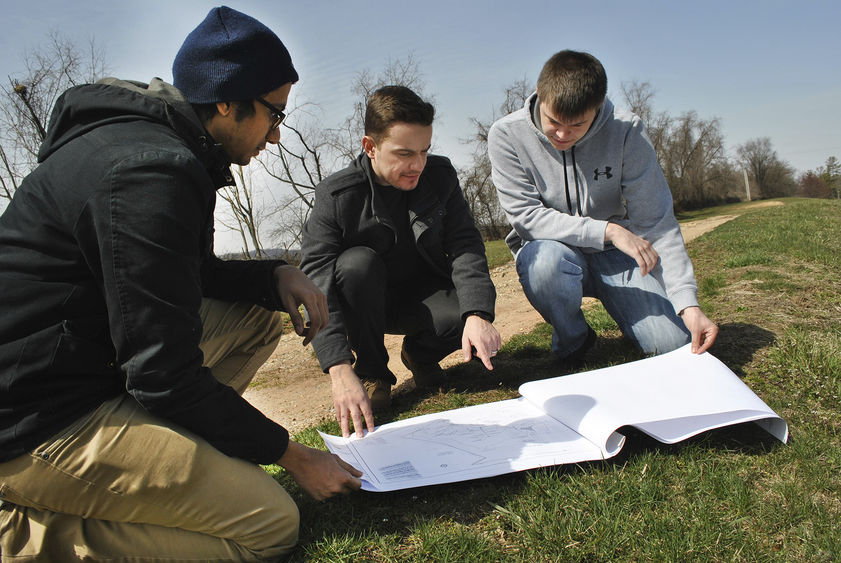 HARRISBURG, Pa. — Nearly five inches of rain fell on Middletown Borough on July 23, 2017, most of it within one hour. Black muddy sludge washed from railroad tracks to Wood Street underneath, so thick it had to be hauled away in dump trucks. Basements flooded; roads were closed. Some residents were evacuated.
The amount of water was simply more than the borough's stormwater system could handle. Flooding occurred in several locations in the borough and the entrance to the Penn State Harrisburg campus from Route 230 was also under water.
Senior engineering students at the college think they can help. Under the direction of environmental engineering professor Shirley Clark, they are studying the area's stormwater systems in detail and plan to make suggestions for improvements. The year-long project not only gives the students real-life experience, it can benefit the community.
"Many other projects in senior design classes are theoretical," said student Steve Gross. "This shows what we might run into when we start working. If we don't come up with a solution, there's a little more at stake."
The effort is part of their capstone design project, which will be presented May 4 during the college's School of Science, Engineering, and Technology Capstone Design Conference. Engineering students at Penn State Harrisburg work for months on their projects, the culmination of four years of classroom work combined with real-world practical applications.
Most likely, no economically feasible stormwater system could handle all the flooding from a 4.7 inch rainfall, but tweaks to the system could make a difference, according to Middletown Borough Manager Kenneth Klinepeter. He said borough officials are happy the students are taking on the task.
"These students live here. They give credibility to the problem," he said. "We're looking forward to the results and to see what solutions each student presents."
The study encompasses not only the borough, but most of the Penn State Harrisburg campus, the Harrisburg International Airport and Librandi Metal Co. in Lower Swatara Township.
Students will load all of the information gathered through the study into a model created using computer aided design (CAD) software. Then, they can test adjustments to aspects of the current system to see the effects. For instance, they can model what would happen if they put an extra stormwater basin somewhere, or increase the size of a few pipes, or send more water flowing toward more pervious soils. Efforts will be put toward finding ways to slow the flow of water so it has more time to drain, rather than back up and cause flooding.
"The model that they are creating, using software donated by CHI, Inc., can be easily updated to incorporate new developments and modifications to the existing system. Water does not respect political boundaries, and therefore the solutions must be developed looking at the impact on the watershed," Clark explained.
Each of the students in Clark's Hydraulic Design class who are participating in the project has a specialty. Huzeifa Amiji did field work — checking inlets, noting the types of surface and trying to check if the present system is working as it is supposed to. For instance, he followed a rust-colored trail from some oxidized metal to discover that water was bypassing an inlet it should flow through because the drain was sitting too high above the pavement.
"If that's happening a lot, it can short-circuit the system," Amiji said.
Colton Bowen is using aerial photography and U.S. Geological Survey data to understand the region's land uses. He maps various surfaces — grass, asphalt, concrete — to show how impervious to rainwater they are. Mitchell Brady is using aerial photos supplied by Keystone Aviation to draw a detailed topographic map that allows him to divide the area into 37,000 mini watersheds, showing where nearly every raindrop will flow.
Chris Homer is analyzing maps to study the direction of water flow and directing the report writing.
Steve Gross and Angela Brackbill are developing the model which will synthesize the data. It includes all of the existing inlets and pipes, the direction of flow, and soil types.
While most of the students on the project are civil engineering majors, two mechanical engineering students are also involved. David Sprenkle and Thomas Dickerson are helping the team by designing devices that could slow the water flowing from stormwater basins, giving it more time to sink into the ground.
The group is also getting advice from Erin Letavic, a civil engineer with Herbert Rowland & Grubic, and a graduate of Penn State Harrisburg's master's program in environmental engineering. She is also township engineer for Lower Swatara, and was able to supply the students with maps and other documents.
"It should be very beneficial for the students to work on something that's so real," she said, noting the benefit to Middletown as well. "The borough would not be able to afford a consultant who could put in the amount of time the students can," she said. When HRG hires, it looks for practical experience on top of a good grasp of math, calculations and CAD. Brady, who is serving an internship at HRG in addition to working on the capstone project, said, "It's cool to have the resources behind Penn State working on the problem."
"This has been a fantastic opportunity for students to learn how to pull data from multiple sources together to solve a problem that crosses jurisdictional boundaries," Clark noted. "They have also learned that, sometimes, decisions have to be made on incomplete data.
"I am ecstatic to have had the opportunity to guide this group of talented students through their project. And as a borough resident and faculty, I think continuing to grow the relationship between the students and the borough is vital. The students have many great ideas and they want to contribute to their community," she said.