As student athletes and de facto ambassadors for Penn State Harrisburg's upstart NCAA Division III athletics program, you couldn't ask for more from Kenton Alston and Kara Boyd. They are good students and team leaders. Driven, yet grounded.
Their coaches add other descriptors – hard working, coachable, loyal, respectful – traits that Kenton and Kara carry into all aspects of life.
About five years ago, Kara was a high school athlete, criss-crossing the country to play in showcase tournaments, hoping to pique the interest of college coaches. Kenton was in Iraq, on his second deployment to Fallujah. He joined the Marines after a serious high school knee injury derailed his plans for a Division I basketball career.
Driven, yet grounded
Kenton grew up in a single-parent home in a neighborhood where many teens took to the streets. He talks of neighbors and high school teammates who ended up in jail, and some, dead.
Kenton said he had dreamed of going to college on a basketball scholarship to ease the financial burden on his family. He resisted peer pressure and focused on school and basketball. But after the senior-year injury, many college coaches shied away, until Kenton settled on Bloomsburg University.
When, during Kenton's first semester there, the basketball coach abruptly retired, Kenton found himself at a crossroad, his dream interrupted. In 2003, the Steelton-native left Bloomsburg and joined the Marines, following in the footsteps of his older brother and role model, Anthony, who had joined the Army out of high school and today is stationed in Colorado.
Kenton said his five-year military service taught him time management, among many things. Today, he juggles school, fatherhood, basketball, an Army National Guard commitment, and rises early for ROTC. He mentors his younger sister and gives back in the community.
"Kenton is a stand-up guy who does things the right way, 100 percent of the time," said Penn State Harrisburg Basketball Coach Mike Gaffey. Gaffey and Kenton share a special relationship; Gaffey was also Kenton's high school coach.
"He exemplifies class and is the face of our program," Gaffey said. "This past Veteran's Day, Kenton talked with fifth grade students in the Steelton-Highspire district about the importance of education, attitude, and citizenship, and we honored him for his service to our country."
Those close to Kenton know he reached this point in his life through persistence and commitment to goals he set early on. He credits his mother and brother for the success that he has become.
"Anything people compliment me about today goes back to my mother and what she taught us. I can only imagine what it was like raising two boys on her own. I owe her the world," he said.
Kenton said Anthony was his father figure growing up, and Anthony said he is grateful for Kenton. Their bond developed early and remains strong, despite the thousands of miles between them.
"I can remember the days we both had to stay at home while our mother worked. We didn't have a lot of money, or everything we wanted or needed, but we worked with what we had," Anthony said.
As a mentor, Anthony wanted to show Kenton the right way to live. "I helped him stay out of trouble by keeping him occupied with things like basketball...," Anthony said. "I used to push him hard to be the best, too, until he beat me in a one-on-one game. We actually got to the point of fist fighting. Now we look back and laugh, and he thanks me for pushing him," Anthony said.
Anthony was ecstatic last February when he was able to come home to see Kenton play in the NEAC championship game. He beams with pride over his brother. "Anytime he shoots, rebounds, blocks... it makes me happy. I enjoy every minute," he said. Beyond basketball, he added, "Kenton is a remarkable person with great morals and values, true and honest. He not only gets better with age, but he makes people around him better."
Kenton calls Penn State Harrisburg family, too. "The coaching staff is great. Athletic Director Rahsaan Carlton makes sure we are doing well in school and personally. The faculty are always willing to help. They have extensive knowledge but also relate their personal experiences, for example, in law enforcement, to class materials. A campus of this size gives you many opportunities for one-on-one time with the professors," Kenton said.
When Kenton graduates, he will be a second lieutenant in the Army. He chose the criminal justice major as a way to fulfill his dream of helping young people, when his military service is complete.
"I'd like to work in the juvenile justice system, helping kids who may have gone off track, to show them there are alternatives," he said. "It might not be easy for them, but there are always options.
"Penn State Harrisburg has been a great experience. I feel fortunate to have had the opportunity to come back to school and to do everything I love," Kenton said. "I know many people who don't have that opportunity."
"Dynamite"
An all-around athlete who participated in four different sports at small Juniata Valley High School in Huntingdon County, Pa., Kara Boyd worked hard to land a Division I softball scholarship. Coached since age nine by her dad, Paul, but self-determined, she taught herself to pitch. She practiced everyday for at least an hour, whether it was raining or snowing. She's a perfectionist, her dad said, and together they led what he calls the "adventure" to advance her softball career, joining progressively more competitive club teams, attending clinics, and making connections with softball celebrities like Olympian Jennie Finch.
Yet, no matter where softball took Kara on the weekends – she, and her mom and dad routinely made the nine-hour drive to and from the state of Indiana so Kara could practice with her travel team – her parents expected her to be at school on Monday morning. And she was, always balancing her studies with playing the sport she loved.
People warned Kara that D-I athletics and a tough major might not mix. Still, she excitedly accepted an offer to play at Fairleigh Dickinson University. But, by the middle of her freshman season, she called home and said, "I hate softball." The pressures were enormous, down-time – especially for an engineering major – was non-existent, and the fun was gone.
Paul, who's rarely missed a game of Kara's since elementary school, said he wasn't surprised by the call. "I saw the pain building," he said. "She was crushed, and I was too."
It wasn't that Kara couldn't juggle everything; she'd mastered that, leaving Fairleigh Dickinson with a 3.7 GPA. It was the commitment to training three times a day with little guarantee of playing time, the extensive travel, and the desire to excel in a civil engineering major, rather than a technology program, the option offered at Fairleigh Dickinson.
Kara admits that she loves a challenge. "I see almost everything as a competition," she said, whether its proving wrong the naysayers who told her that, at 5'2," she didn't look intimidating enough on the pitching mound (her pitches have been clocked at 63 miles per hour ) or preparing for a career in a male-dominated industry.
"I've been interested in civil engineering since fourth grade, when I watched a documentary about jobs," she said. "I especially love bridge structures, but I don't want to be stuck behind a computer all of the time. I want to work for a large firm, where I can interact with many people, be in an office some, but on job sites, too.
"I'd like to prove some men wrong," she said, grinning.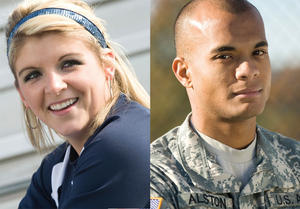 With her athletic dream halted, but her career goal intact, Kara, with her parent's support, weighed her options. Paul takes credit for introducing her to Penn State Harrisburg.
"We really encouraged Kara on the school side," Paul said. "The small college atmosphere at Penn State Harrisburg gave her the opportunity to live her civil engineering dream and put her in a position to better her career chances."
Energetic and buoyed by a fun-loving spirit, Kara's back to pursuing her career and softball dreams, breaking records on the way. She also finds time for two jobs, hanging with friends, and occasionally singing the "Star Spangled Banner" before sporting events.
Kara's attention to detail and aptitude for precision bode well for an aspiring engineer. A batting phenom, Kara will tell you that it takes an average "slap" hitter 2.9 seconds to get to first base, but it usually takes a shortstop more than three seconds to field a two-bouncer. She reads the defense – the catcher's arm strength or the third baseman's position – to determine where to hit so she can beat any throw to the base. When she pitches, Kara assesses each batter's size, relying on her understanding of physics to decide how they are likely to swing. If a batter hits well off of her once, she remembers where and how, determined not to let it happen again.
Coach Tonya Dengler said Kara has taken the softball program to a new level.
"She brings a competitive yet fun attitude that is contagious," Dengler said. "She knows when to take things seriously, but never too seriously. Kara puts 100 percent of herself into everything. She is not only consumed by improving her own skills; she always has time to help others. Her teammates rally around her fun-loving personality."
For a glimpse into that side, consider that she calls her bat by name – Uncle Miken (Miken is the brand name) – and has been known to playfully hug and kiss it. Her teammates even joined her in giving Uncle Miken's predecessor, Mr. Miken, a funeral, when "he" cracked after much use.
"Kara leads by example and her work ethic drives the others to work just as hard," Dengler said. To describe her in a word, Dengler said, "Dynamite."
Today, Kara is also a recruiter not only for the softball team, but for all sports at Penn State Harrisburg. "We are a growing program," she said. "I know there are people on campus who would be good on our teams but who may feel intimidated to try out. I say, 'Give it a try.' It will make your college experience even better."
Paul Boyd said Penn State Harrisburg has been "spectacular" for Kara. And Kara, like Kenton Alston, has been spectacular for Penn State Harrisburg, too.