July 25, 2016
TJ became the first student to complete Penn State Harrisburg's Career Studies Program in spring 2016. He now holds two jobs, one in retail services at JCPenney, and one in nursing and personal care at Homeland Center, Harrisburg. He also graduated high school in June 2016.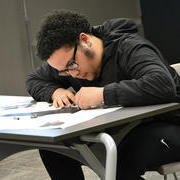 Available to students with intellectual and other disabilities, ages 18 to 25, the Career Studies Program, with the support of a grant from the D.R.E.A.M. Partnership, was launched in fall 2015. Students combine coursework with campus activities and career exploration onsite in the workplace.
When TJ's school district transition coordinator suggested the new program at Penn State Harrisburg that helps students earn certificates in customer relations, it seemed like the right fit. TJ's mother said she is very proud.
"I think the program was excellent for him," Brenda Wooding said during a ceremony on campus to mark the end of the program's inaugural year.
TJ works best in small groups and in settings where he can perform a variety of tasks and apply his academic knowledge and skills. With the program's small group interactions, the help of peer mentors and individual instruction, he was able to focus well, Wooding said.
The opportunity for work experiences at Homeland Center also led to a permanent job. TJ always liked older people and wanted a career working in a field where he can provide help and support to them, she said. At the center, he leads activities like Bingo and cards, interacts individually with residents, and helps during outings with them.
"They love him at Homeland," said program director Dr. Linda Rhen, assistant professor of special education. "He's very personable; he spends time with residents and helps them to stay active." Before he began his practicum at Homeland, we had numerous meetings with the administration and staff there to ensure that he completely understood the importance of service being provided to the residents.
"We are able to offer the career studies program to those who may not typically qualify for post-secondary education at a university," Rhen said. "We work to match the student's talents and interests with jobs in the workplace. I am proud to be part of a university that welcomes diversity and inclusion, and I hope the success of this program will lead to our ability to offer more of these opportunities."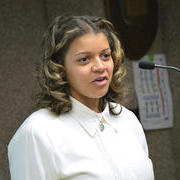 Originally intended as a one-year program, it has already been expanded to two years for new students and current students who made progress and want to continue. Donhelen Hodges is one of them. She graduated from Cedar Cliff High School in 2012, and enrolled in the customer relations program in the fall of 2015. She plans to continue next year, and also hopes to take some academic courses at Penn State Harrisburg.
At the culminating event, she stood in front of students, families and teachers to deliver a PowerPoint presentation about Hershey's chocolate. She began by handing out bite-sized chocolates and asking, "Don't you feel better?"
She had never done anything like this before, she said. She was scared, but kept telling herself, "You can do this." The program has given her confidence, she said.
The poster she created to describe her experience with the program had the theme, "If there is only one thing you should love, it's Penn State Harrisburg."
Her dream is to one day open a café welcoming to all races and abilities.
Donhelen's mother, Susan, said her daughter entered a sheltered workshop after she graduated from high school, but didn't like it.
"She wanted to go back to school," Susan Hodges said. "She just loves it."
Ashley Norton, Jason Moffitt and Jeanine Todd are secondary education majors at Penn State Harrisburg who volunteered to mentor the students. Moffitt said the program is about "helping to remove barriers for people who are marginalized in society."
Todd said it is good that higher education institutions are beginning to help students with intellectual and learning disabilities meet their potential.
"Before, inclusive education had been K to 12," she said. "Now colleges are taking up the baton."