July 11, 2016
One team of senior mechanical engineering students at Penn State Harrisburg spent eight months designing a device for a real world client. Their project was needed by the company to scale down its 3D printing application for smaller volumes.
The project was among more than 50 innovative projects on display on May 6 during the senior Capstone Design Conference at Penn State Harrisburg. A long-standing tradition, senior engineering students are required to complete a capstone project, which combines classroom learning with real-life applications and is the culmination of their educational experience. In addition, students often collaborate with industry sponsors, like TE Connectivity and other companies, on projects of interest to the businesses.
"There is a real benefit to us and it is meaningful to the students," said Brett Miller, senior engineering manager for TE Connectivity.
Among the projects were bots that battle, a virtual art gallery, a solar powered lawn mower, an eco-wall built of tropical plants and a phone charger that operates on body heat.
Jeremy Blum, associate professor of computer science, said the value in the capstone project is that the students learn to work together in teams and satisfy clients.
"They have to understand what the client really wants, even when the client doesn't know," he said.
Blum is a client himself for one of the teams that designed the Bot!Battle! system, an educational system that teaches computer science through computer games.  Beginners learn programming by writing bots, programs that compete to solve various challenges. Blum plans to use the system over the summer during a workshop for high school students interested in the STEM disciplines –science, technology, engineering, and math.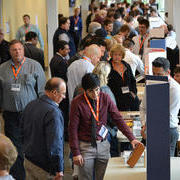 Computer science major Joshua Riojas was helping design various challenges that the bots will play including checkers, tic-tac-toe, Frogger, and other games. The programming becomes progressively more difficult as skills improve. "For young beginners, programming can sometimes feel overwhelming," he said. "This tries to make it fun."
Electrical engineering student Colt Stuckey devised the body heat charger. He built a battery into a cell phone case, which charges due to the temperature differential.
He found the process challenging, but satisfying."There was a lot of pulling my hair out and late nights, but I really immersed myself in the design process," he said. "It's been awesome."
The civil engineering students designing an eco-wall were inspired by something similar at Drexel University. The wall built of tropical plants naturally filters the air, keeps temperatures more level, lowers noise, helps recycle rain water and improves morale, according to student Zach Gregory.
"We had to design it top to bottom," Gregory said. "Figuring out what needed to be done, scheduling, marketing, assigning tasks, pricing." Student Rieley Loch summarized the capstone experience: "It takes all the theoretical and makes it real."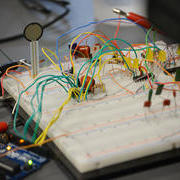 And there's an added value – the experience can lead to good future prospects. One student had an interview with Google coming up, Stuckey has a job with TRC Solutions lined up after graduation and also is working on a patent for his cell phone charger, and Riojas will be returning to Penn State Harrisburg on an assistantship to get his master's degree.