It could be argued that mechanical engineering technology graduate Steven Georges started planning his senior-year project when he was a child. The goal was for Georges, who has cerebral palsy, to drive a manual-transmission car with only his hands.
On his first day of kindergarten, Georges realized he was different.
"Obviously everyone else was not in a wheelchair," says the 24-year-old who graduated in August.
Georges was born with cerebral palsy and does not have the use of his legs. Yet it's cerebral palsy that put him on a path to pursue engineering.
"Sometimes, when I couldn't do something, I would sit and think, 'OK, how can I do that?'" Georges says of his childhood. "I still think that today."
At the gym, if he can't get himself onto a machine, he says he knows he simply needs to ponder the logistics — or get stronger.
"Since I've been disabled all my life, I got into that style of thinking because that's just how I got things done if I wanted to go out and do something instead of sitting around and doing nothing," Georges explained in a matter-of-fact tone.
That approach led him to his senior-year engineering project: developing a system that would allow a disabled person to drive a manual-transmission vehicle with only use of the hands. Although such a system exists — called duck clutch — it costs roughly $3,000 to install.
"I was very hesitant because it's a very complex project. It involves a lot of electronics and servo-motors," said Dr. Ganesh Bal, assistant professor of engineering.
Bal taught Georges' first-semester, senior-year course that focused on developing the project proposal. During the second semester, senior engineering majors take a class that focuses on executing the project.
"I had a lot of reservations about whether he would be able to accomplish the goals he had set," Bal added. "But just looking at his enthusiasm and his devotion, I said, 'OK.'"
A dream becomes reality
Georges' dream started in earnest when he was 17.
"It began when I first learned how to drive, and it was a question of whether or not I could drive a car (at all)," he said.
Through the state's Office of Vocational Rehabilitation, the teenager completed 50 hours of training to learn how to drive an automatic-transmission car.
"I finally got my license when I was 19," he said.
But that wasn't enough. Georges wanted to drive a manual transmission.
"I began to think about it and figured, 'Well, I'm going for engineering. I would gain more knowledge of making some type of
system like that,'" he recounted.
Through the years, Georges acquired parts he thought could aid his pursuit. He had learned from his dad, who liked to fix old cars.
"When I was a little kid, I would sit in the middle of his '62 Chevy pick-up, with a bench seat, (and) I would shift the gears for him," Georges remembered.
When the time came to put ideas into action in his senior year, he recruited two friends in the same class: Mike Carter and Joval Shamsoum.
[See photos of Georges, Shamsoum, and their senior project.]
"At first I was a little bit skeptical because I drive stick shift as a daily driver," Shamsoum said. "Just driving with both feet and both hands at the same time is a little tricky, and the fact that he couldn't use his legs meant he would have to do four operations with both hands."
He nervously agreed after hearing that Georges had saved money for parts and had ideas. In the end, the group spent less than $100 on the project.
Georges did the research and development, Shamsoum said.
The three students at first toyed with the idea of a hydraulic system, then a pneumatic one before finally settling on an electronic method.
"Once he gave me that idea, we just started ripping the car apart," Shamsoum said, referring to Georges' 1993 Honda hatchback.
Work was done on the fly, and countless hours were spent testing and recalculating.
Shamsoum said they sometimes got really frustrated, fearing the system wasn't going to work. "Then we'd take a 10-minute coffee break and get back into it," said Shamsoum, now a full-time application engineer at Emka Inc. in Middletown.
In an automatic vehicle modified for hands-only operation, a bar is mounted beneath the steering column to control the gas and brake, Georges explained. The bar moves in two directions: pushed toward the dashboard, it brakes; pushed down, it controls the gas.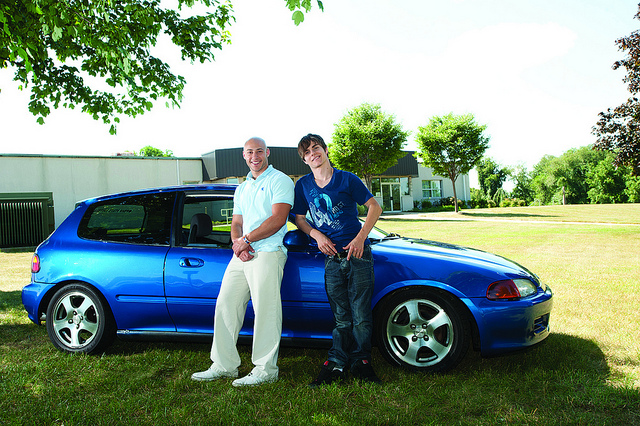 The driver controls the bar with the left hand and the steering with the right, with a set-up Georges likened to that found in some tractors.
"That right there took a lot of practice to learn how to drive safely," he said. "I was always thinking, 'How could I control the clutch of the car?' And, 'How could I shift?'"
Georges had many ideas. But the one that stuck was to mount a clutch control on the bar that operates the gas and the brake. It would be a finger trigger similar to one that operates the gas on a remote control car, he said.
"When you pull the trigger, it presses the clutch pedal, and when you release the trigger, the pedal comes back up," Georges said. "It's direct, one-to-one movement, just as it would be with your foot."
[See it in action on the students' video.]
"Absolutely delightful to watch"
After two semesters of working on the project, the three students proved naysayers wrong.
"It was really exciting once we put it all together to see the moving parts and see it happen," Shamsoum said. "If Steven didn't want to be a man about it, he would have started to cry."
For Georges, it represented a culmination of years.
[See Georges' first drive.]
"This has been my dream," he said. "I always try to find ways to be independent."
Bal said he not only was surprised the system worked, but overjoyed.
"It was a great learning process and … it will help him with whatever job he's looking for because he already has a lot of practical background — not just theory from the books," Bal said of Georges.
Although his entire grade was riding on the project, Shamsoum said working on it carried a deeper meaning. "I just wanted to make a friend's dream come true and we succeeded. It was great. It was very rewarding to me," he said. "It wasn't a grade letter to me. It was something that I could do for my friend."
Although no companies have approached the graduates about manufacturing their system, it's still being put to use. "I just talked to Steve this morning," Bal said in late November. "He tells me it's working, and he actually drove the car last Friday."
The professor has been impressed by Georges' outlook.
"He was able to accomplish what he set out to do," Bal noted. "He never gave up. He's such a pleasant guy. He never complains. He just goes about his work. And once he set his mind to accomplish that, he was determined. That was absolutely delightful to watch."
Georges said he was "really happy" when he realized the auto-assist clutch could be accomplished and the project manageable.
"Then I drove the car for the first time," he said. "That was a feeling beyond words. It was a dream for me. It was like, 'Wow, I can do that now.'"
Register now for the 2013 Engineering Capstone Design Conference, May 3, 2013.