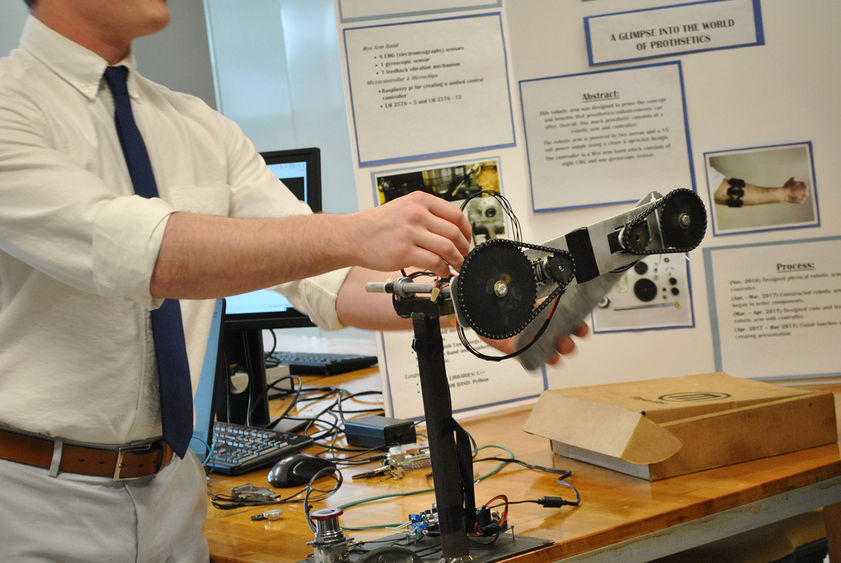 HARRISBURG, Pa. — More than 200 students in Penn State Harrisburg's School of Science, Engineering, and Technology had the opportunity to demonstrate some 65 projects at the annual Capstone Design Conference, held on May 5 on campus. The projects, which represent the culmination of students' educational experience, this year included a race car, a rocket, a reverse vending machine, HVAC improvements to classrooms, a prosthetic arm, a virtual reality game, and — more unusually — a self-balancing unicycle.
"Many of the projects this year are industry-sponsored and all of them combine classroom learning and real-world applications. The educational benefit students receive from incorporating industry requirements is invaluable," said Rafic Bachnak, director of the School of Science, Engineering, and Technology.
See photos from the 2017 Capstone Design Conference.
Some of the projects involved several academic programs. The idea for the rocket, for instance, was devised by junior Anthony Glusko and embraced by engineers from the mechanical and electrical engineering programs and, potentially, the civil engineering and computer science programs. The goal is to launch a full-size, 20-foot tall rocket from a western desert in 2020 and beat the amateur height record of 76 miles. That would need permission from NASA, since the rocket would reach satellite orbit.
Electrical engineering students Paul Rabchuk and Bradlee Maramba worked on ways to improve the rocket by using a small-scale version outfitted with a gyroscope and an accelerometer. It's not the kind of project they would normally consider as an electrical engineering student, but they said "it sounded neat."
"Anthony presented it and we thought, 'Hey, wouldn't it be cool to call ourselves rocket engineers?'" Rabchuk said.
Electrical engineering student Maxwell Winslow worked on the rocket until he decided to pursue his own project — a robotic prosthetic arm that responds to sensors worn around the bicep. Winslow has a job lined up with the U.S. Navy working on control systems for battleships, but he also wants to start his own robotics business.
Another project that involved several Penn State Harrisburg programs — including behavioral sciences — was the Child Caregiver Interaction Scale. Computer science majors worked with researcher Barbara Carl, senior lecturer in Human Development and Family Studies, who devised a scale to observe and score caregivers for the purposes of her research. The students re-created an electronic scale to help observers record their results more efficiently. Working outside their academic program gave them real-world experience, they said.
"It was refreshing to hear new ideas, not just technical, technical, technical," student Will Parks said.
The ambitious race-car project under development through the Society of Automotive Engineers Club yielded capstone projects from four separate teams — one to develop the powertrain, another for air intake and turbocharging, one focusing on the structure and vehicle dynamics, and a fourth on the shifter system. The Formula-style race car would soon be competing at the Michigan International Speedway against teams from all over the world.
Adrien Levejac, a mechanical engineering major, was part of a team that built a "reversal vending machine" to help with recycling. To demonstrate, he placed an empty Coke can on a platform, where a laser read its bar code to determine if it was aluminum or plastic. A trap door opened, and the can dropped to a box where it was crushed. An automatic lever then sent it to the aluminum side of the bin. Students would be able to use their PSU ID card to get a refund from the machine.
It would be great if something like that could be scattered around the campus, Levejac said. He would like to work for an environmentally oriented engineering firm.
"I felt proud doing it," he said. "It was an idea I had back in August, and I finally made it."
One team was sponsored by Penn State Harrisburg's Office of Physical Plant and Maintenance Operations to check if the HVAC system in a library classroom was operating properly.
Mechanical engineering student Russell Kane said the team concluded that the system could work more efficiently. Currently, the air conditioning runs from 7 a.m. to 10 p.m. daily, regardless of room usage. They suggested installing a motion sensor to check if anyone was using the classroom, and a carbon dioxide sensor to check for air quality — a measure for figuring out how many people are in the room — that could help the system adjust automatically, saving an estimated $3,000 a year.
Installing the system would pay for itself in a year and a half, Kane said. He hopes the department takes the students up on their suggestions.
The self-balancing unicycle was sponsored by mechanical engineering professor Dan Massey. It has gyroscopic sensors in its circuit board, and required a lot of machining, fabricating and welding, according to student Michael Dietrich. That is a lot different from classroom work.
"It's different when modeling something than actually building it," he said.
Although it doesn't quite work yet, Massey said he plans to ride it around campus next year.
Bill Moody, laboratory coordinator for the mechanical engineering lab at Penn State Harrisburg, explained the value of the capstone projects.
"In the classroom, it's kind of abstract," he said. "Here they can see the application ... Often it's a good résumé point — they can say 'I designed and built this thing,' rather than simply 'we took this class.'"