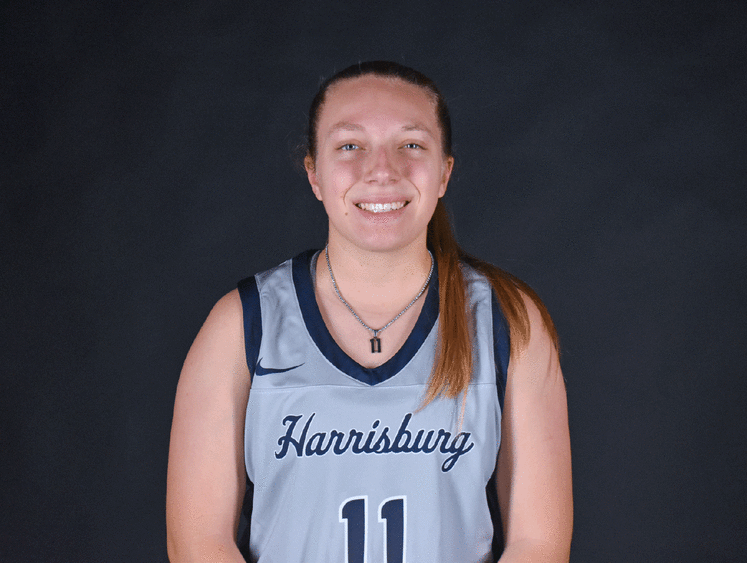 INDIANAPOLIS, Ind. — Penn State Harrisburg alumna and former women's basketball standout Kendis Butler has been named a Top 30 Finalist for the NCAA Woman of the Year Award. She is the first Penn State Harrisburg student-athlete to be selected as a Top 30 honoree for the prestigious award.-
"Being named a Top 30 Finalist for the NCAA Woman of the Year Award hasn't sunk in yet, and I don't know if it ever will," Butler said. "The magnitude of it all is what really leaves me speechless. To be selected out of hundreds of deserving nominees and be in the company of these amazing women is surreal."
Butler was chosen from 619 nominees submitted by member schools — a group that was then narrowed to 164 nominees at the conference level. The Top 30 honorees include 10 women from each of the three NCAA divisions. Butler and the other Top 30 finalists will be celebrated in January at the NCAA Convention in Phoenix, Arizona, where the NCAA Woman of the Year will be revealed.
"I'm incredibly excited but in all honesty, I feel as though I've already won in so many ways," Butler said.  "I got to live out my dream of playing college basketball and I never could have imagined my time here [at Penn State Harrisburg] would be as fulfilling as it was."
The most-decorated player in program history, Butler completed her career as the NCAA Division III active leader in 3-point field goals. The recent graduate ranked 19th across all three NCAA divisions with 295 career triples and her 3-point total ranks her 26th all-time in Division III history.
A York native, Butler was the first player in school history to be named a Jostens Trophy finalist for national player of the year. She was a two-time City of Basketball Love All-Area selection and she became the first player in program history to earn all-conference accolades on three occasions, securing a pair of United East All-Conference First-Team honors to go along with a second-team moniker. During her final season, Butler became Penn State Harrisburg's all-time leading scorer, and she holds numerous program records, including career field goals, career 3-point field goals, points in a single season, points in a single game and 3-pointers in a single contest.
"I appreciate what Kendis Butler has meant to our women's basketball program and campus community," said Ross Patrick, women's basketball head coach. "Kendis has been a tremendous, tremendous part of the student-athlete fabric of Penn State Harrisburg athletics. Her impact on and off the court will be talked about for years to come."
A three-year team captain, Butler was outstanding in the classroom and was named the 2023 United East Female Senior Athlete of the Year after earning the inaugural United East Women's Basketball Senior Scholar-Athlete Award this past spring. She and teammate Jayla Galbreath were the first players in program history to earn College Sports Communicators (CSC) Academic All-District accolades thanks to their combination of athletic and academic success. Butler garnered five straight conference all-academic awards. She served as the student representative to Penn State Harrisburg's Faculty Athletics Senate Committee and has contributed to five CSC publication and digital design award-winning graphics as a student worker for the school's sports information department. A communications major, Butler graduated in May with a 3.96 cumulative GPA. 
"To be recognized at this level of excellence is truly amazing," said Rahsaan Carlton, Penn State Harrisburg director of athletics. "But it's even more so a testament to everything Kendis has accomplished during her extraordinary college career."
Penn State Harrisburg's Student-Athlete Leadership Council (SALC) chair, Butler was also a member of the United East Student-Athlete Advisory Committee (SAAC) in 2022-23. Her service to the community includes helping aid a Ukrainian refugee family that relocated to Pennsylvania and helping to organize a middle school assembly where Penn State Harrisburg student-athletes mentored at-risk students who want to play sports in college. She spearheaded a canned food drive, has volunteered to read to local elementary school students on National Read Across America Day, and during the COVID-19 pandemic, organized greeting card outreach to senior citizens.
"We are thrilled to celebrate 30 incredible student-athletes who surpassed the standard of excellence on their campus, in their community and on their teams," said Renie Shields, chair of the Woman of the Year Selection Committee and senior associate athletics director/senior woman administrator at Saint Joseph's. "This decorated and diverse group represent the thousands of women competing in college sports each year and are contributing to the ongoing growth of women's sports."
The selection committee will determine three honorees from each NCAA division, for a total of nine finalists. From those finalists, the NCAA Committee on Women's Athletics will choose the 2023 NCAA Woman of the Year.
Butler's latest accolade is the culmination of a remarkable career on and off the court. She etched her name in the school's record books while setting high standards in the classroom and embracing her role as a student leader. 
"It helped me learn a lot about myself," Butler said. "You have to believe in yourself and fight for yourself and others. And don't let anyone ever tell you that you cannot achieve something."
Established in 1991, the NCAA Woman of the Year Award is rooted in Title IX and recognizes female student-athletes who have completed their undergraduate studies and distinguished themselves in their community, in athletics and in academics throughout their college careers. The complete list of 2023 NCAA Woman of the Year Award Top 30 Finalists can be viewed here.