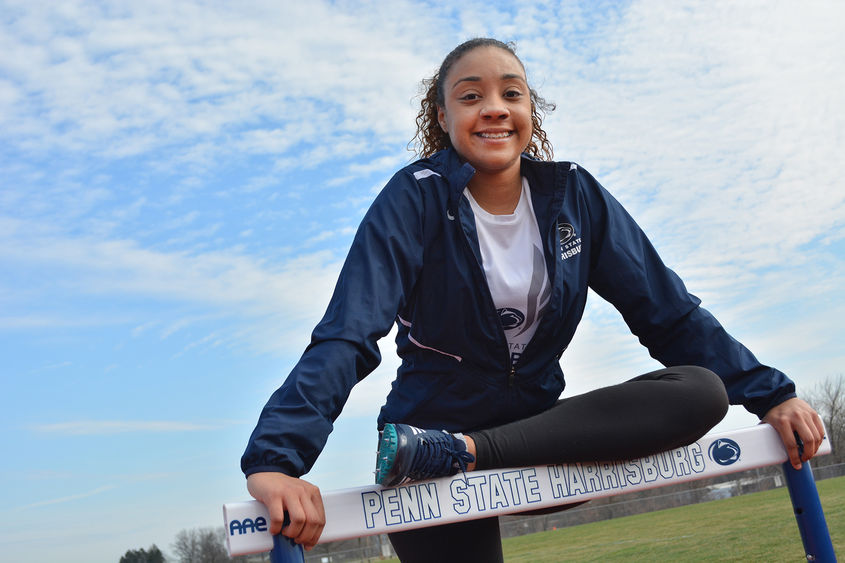 Penn State Harrisburg track and field's Ashley Williams is the college's first female All-American athlete, finishing eighth nationally in the 60-meter hurdles at the NCAA Division III Indoor Championships in Birmingham, Alabama.
This is the second year Williams qualified for the national championship.
Williams entered the preliminary event in 13th position, but finished in the eighth position overall to reach the finals with a time of 8.95 seconds. On Saturday, March 10, she competed in the finals for the first time in her career and finished seventh overall with a time of 9.24 seconds.
"Last year I came up short, and I remember Coach [Danielle] Lynch telling me to write down how I feel and come back to that moment and use it as motivation," Williams said. "Before my race [this year] I actually read what I wrote and I remember telling myself I will never feel like that again. I ended up going out there, giving my all and I made it! I am definitely hungry and motivated for this outdoor season. I am really excited."
During her 2017-18 season, Williams has been named a Capital Athletic Conference Champion and Eastern Capital Athletic Conference Champion.
"Penn State Harrisburg track and field and cross country are so proud of Ashley and her achievement. She is the first All-American female athlete in any sport for the college," said Penn State Harrisburg track and field and cross country Head Coach Danielle Lynch. "She set a goal and achieved it. This season provided her opportunities to prepare for adversity. She faced it early on in the season and again here in Birmingham. She persevered and will forever have the honor of being an All-American."