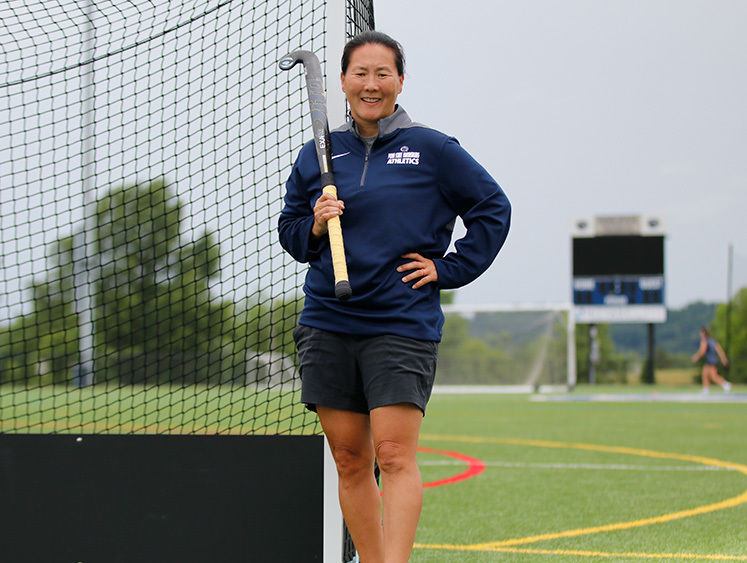 MIDDLETOWN, Pa. — Amanda Janney Misselhorn has been named Penn State Harrisburg's first field hockey head coach, Director of Athletics Rahsaan Carlton recently announced.
Misselhorn will take charge of a Penn State Harrisburg field hockey program set to begin NCAA competition in the fall of 2024. She brings 14 years of Division I coaching experience, having served as head coach at Indiana University for four years after spending a decade as head coach at Temple University. 
"We could not be more excited to bring on Coach AJ as our very first head field hockey coach," Carlton said. "Her experience speaks for itself, but we were most impressed with her philosophy of ensuring that student-athlete well-being remains the top priority at all times. We are thrilled that she is joining our team and will lead the way in building our newest program."
Most recently, Misselhorn served as the head coach at nearby Warwick High School after a two-year stint as head coach at Donegal High School.
"I would like to thank Mr. Carlton and Penn State Harrisburg for granting me this amazing opportunity to start the field hockey program in 2024," Misselhorn said. "It's been exciting to see college field hockey continue to grow across the nation and I am honored to be able to lead this inaugural team on campus. Central Pennsylvania is a hotbed of field hockey and I know we will be able to recruit high quality student-athletes to represent Penn State Harrisburg. I am looking forward to having our field hockey student-athletes provide a positive addition to a strong and growing athletic department, as well as foster connections throughout the University's community."
Once established, Penn State Harrisburg's program will operate at the club level before beginning NCAA Division III competition in the fall of 2024. The program will compete as a member of the conference established from the future merger of the United East and Colonial States Athletic Conferences. Misselhorn is set to begin to recruit the school's first class of field hockey student-athletes. The team will field a roster of 25 to 30 players.
Misselhorn's head coaching accomplishments include guiding Indiana University to back-to-back Big Ten Tournament appearances in 2015 and 2016 and leading Temple University to 10 straight postseason appearances. Prior to becoming a head coach, she was the top assistant at the University of Pennsylvania for two seasons and an assistant at James Madison University in 2002. Prior to her career in coaching, Misselhorn played field hockey at Wake Forest University. She also competed as a member of the USA Indoor National Team and helped the team win gold at the 2010 Women's National Indoor Championship. 
Misselhorn graduated from Wake Forest in 1999, studied higher education management at the University of Pennsylvania, and earned her teaching certification from Eastern University in May.