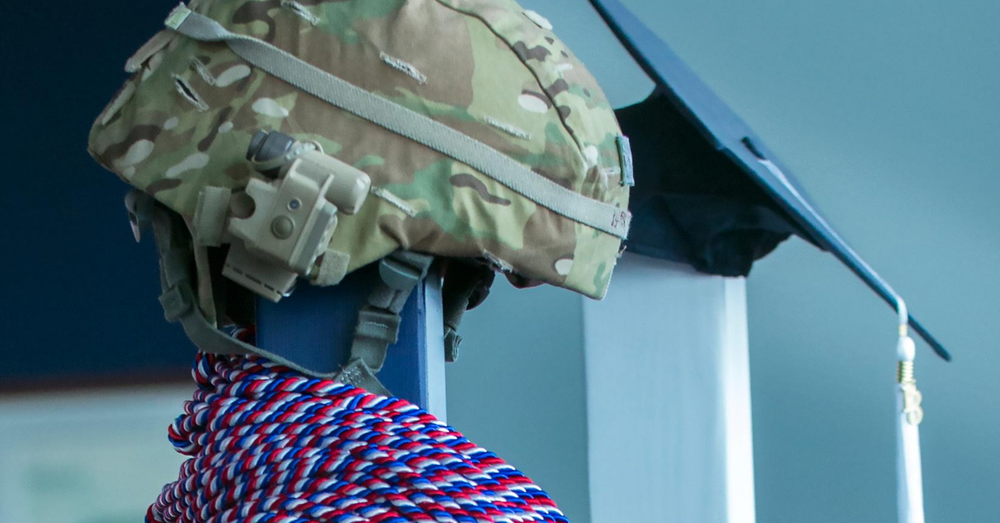 UNIVERSITY PARK, Pa. — The Office of Veterans Affairs and Services and the Office of Veterans Programs would like to invite student service members and veterans graduating this semester to participate in the University's spring 2023 military honor cord ceremony. This invitation is open to Penn State World Campus, Altoona, DuBois, Harrisburg and University Park graduates. 
The ceremony will take place on Thursday, May 4, from 5 to 7p.m. in Robb Hall of the Hintz Family Alumni Center at University Park. Student Veteran Graduates who are interested in participating should RSVP by Thursday, April 20, to the Office of Veterans Affairs and Services at [email protected] or Stephanie Crabtree at [email protected]. This ceremony is free and family members are welcome to attend. 
During this tradition that has taken place since 2016, the University recognizes graduates who have served, or are currently serving, in the United State military with an honor cord in acknowledgment of their sacrifice. The red, white and blue cords will be presented by Penn State President Neeli Bendapudi at the ceremony and will be worn by graduates during the spring 2023 commencement ceremonies.  
Along with awarding honor cords to student veteran graduates, Penn State offers a variety of services and programs through the Office of Veterans Programs to help veterans and active-duty students succeed. Some of these services and programs include: 
GI Bill benefits 

New student-veteran orientation 
Peer-to-peer sponsorship 

Mentoring 
As part of its commitment to student veterans and service members, the University also offers a first-year seminar called "Transition in the Mission," which helps those who have served or those who are still servicing experience a seamless transition to college. Additionally, there is access to on-campus student-veteran organizations, military appreciation sporting events, and a Veterans and Service Members Legal Clinic run by Penn State Law. 
For additional information or questions about the military honor cord ceremony, contact Stephanie Crabtree in the Office of Veterans Affairs at [email protected] or (814) 863-0764.