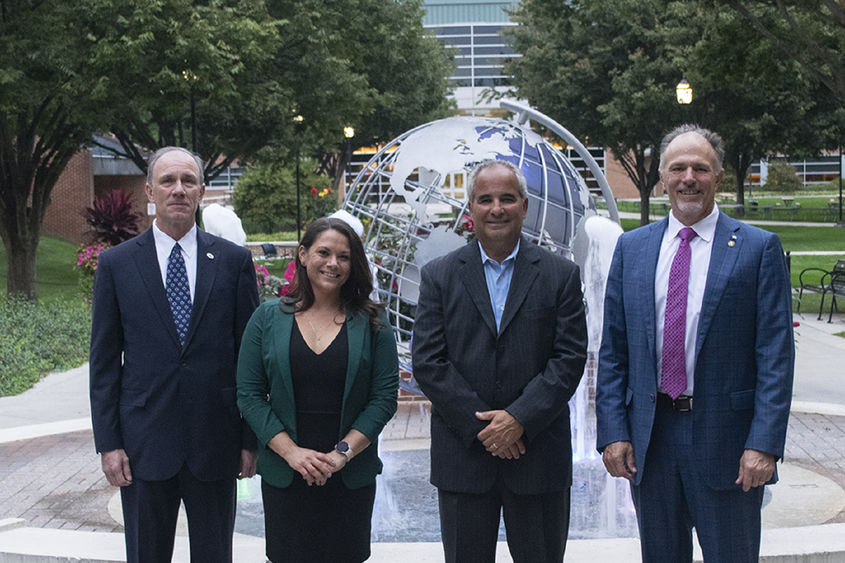 MIDDLETOWN, Pa. — Penn State Harrisburg has announced the recipients of the college's annual Alumni Achievement Awards. One graduate from each of the college's five academic schools earned the accolade thanks to their outstanding professional accomplishments.
A ceremony to recognize award recipients was held on Oct. 8.
Jewel Cooper, '88 behavioral sciences
The School of Behavioral Sciences and Education recognized Jewel Cooper, director of business development for LeTort Trust and Boyer and Ritter LLC. In December 2016, she retired from BB&T where she was a senior vice president responsible for business development in Dauphin and Cumberland counties. Previously, she was a regional executive with Susquehanna Bank and oversaw the Capital Region. Cooper has over 30 years' experience in the financial services industry.
Her lifelong passion has been mentoring and developing leadership qualities in others. She is also very active in her community, currently serving on the boards of the Dixon University Center, Operation Medical, CREDC - where she served as past chair, and chair of the LINK Foundation. She is an alumnus of Leadership Harrisburg, a member of the Servant Leadership Society, and the Legacy Society of the YWCA. Previously, she served as past campaign and board chair of the United Way of the Capital Region; was on the board and chair of the Rotary Club of Harrisburg; and served on the boards of the YWCA and Shalom House.
Cooper has received several awards, including the LHA Platinum Servant Leadership award, the "Women Who Care" award, YWCA's Women of Excellence, Volunteer of the Year from the Harrisburg Regional Chamber, the Athena Award, and the Central Penn Business Journal's ICON award.
Robert Scaer, '94 MBA
The School of Business Administration honored Robert Scaer, chairman of the board and CEO of Gannett Fleming Inc., a global infrastructure and engineering firm that provides progressive solutions for construction services, earth sciences, facilities, geospatial, power, transportation, and water projects. Scaer is responsible for all operations of Gannett Fleming and its subsidiaries. Prior to assuming the chairmanship in 2017, Scaer was president and chief operating officer and vice chair of the board of directors, on which he has served since 2003.
Scaer is a past president of GeoDecisions, a division of Gannett Fleming, serving in that role until 2009. In this capacity, he testified before Congress on geospatial information technology-based systems for homeland security, and the reauthorization of the transportation bill before the U.S. House of Representatives. He was also the past chief information officer of Gannett Fleming and was responsible for overseeing the corporation's enterprise IT system.
Scaer received a bachelor of science degree in civil engineering from Purdue University and and an MBA from Penn State Harrisburg. He is a registered professional engineer in Pennsylvania.
Lyndsay Kensinger, '07 humanities, '18 master's in communications
Lyndsay Kensinger was honored by the School of Humanities. She is the press secretary for Pennsylvania Gov. Tom Wolf. Formerly, she served as a deputy press secretary in the Governor's office and served two administrations at the Department of Community and Economic Development. Kensinger has also served as the governor's liaison to several agencies, including PennDOT; the Department of Community and Economic Development; the Department of Agriculture; the Department of Environmental Protection, and the Department of Conservation of Natural Resources.
Prior to joining the commonwealth in 2013, Kensinger worked in both the non-profit and private sectors, including as director of communications and community relations for the ARC of Oswego County, New York; executive director of Communities in Schools of the Capital Region in Pennsylvania; and an account executive at Tierney Public Relations in Harrisburg, Pennsylvania.
Fred Sembach, '78 master's in public administration
The School of Public Affairs recognized Fred Sembach, executive director of the Pennsylvania State Senate State Government Committee, where he directs all legislative initiatives related to oversight responsibilities for a number of state agencies.
He began his career with Middletown Borough, where he served as grants administrator. In 1983, he joined the Pennsylvania Chamber of Commerce as a senior staff associate, ultimately advancing to became assistant legislative director. He later worked for the Professional Insurance Agents Association of Pennsylvania, Maryland, and Delaware before returning in 1991 to the Chamber as executive legislative director, later serving as vice president of Government Affairs, responsible for all legislative, regulatory, and political matters.
In 2003, Sembach became chief of staff for Sen. Jeff Piccola and joined Piccola's gubernatorial campaign in that same year. When that campaign ended, he became Pennsylvania State Sen. Mike Folmer's chief of staff.
He has served on numerous boards in many capacities, including the Susquehanna Area Regional Airport Authority (SARAA), which owns/operates Harrisburg International, Capital City, Franklin County, and Gettysburg airports. Sembach also served on the Penn State Alumni Council and as a past president of the Penn State Harrisburg Alumni Society, where he helped establish the Cliff Jones Fund for Good Government to honor and continue Cliff's work and legacy of service, mentoring, and community involvement.
He was born and raised in Tamaqua, Pennsylvania, where he graduated from Tamaqua Area High School in 1973 and from Penn State in 1977, attending both the Schuylkill campus and University Park.
Jay Badame, '78 building construction technology
The School of Science, Engineering, and Technology honored Jay Badame, president of the Construction Management business line for AECOM, an American multinational engineering firm. He is responsible for overseeing operations, administration, personnel, and business development for all AECOM Hunt and AECOM Tishman offices and entities.
During his 42-year career, including 35 years with AECOM Tishman, Badame has overseen the construction of some of the world's most iconic projects, including One World Trade Center, the Pennsylvania Convention Center Expansion, 30 Hudson Yards, Manhattan West, and many others.
Badame joined AECOM Tishman in 1985 as a project engineer on the South Street Seaport renovation project in Manhattan and quickly rose through the ranks of the organization.
He has earned recognition on Commercial Observer's "Power 100," was selected as "Humanitarian of the Year" by the Concrete Industry Foundation and was named the Women Builders Council's inaugural "He for She" awardee. He serves as chair of the board of the Regional Alliance for Small Contractors, co-chairman of the Building Trades Employers' Association, vice chairman of the New York Building Foundation, and trustee of the Citizens Budget Commission.