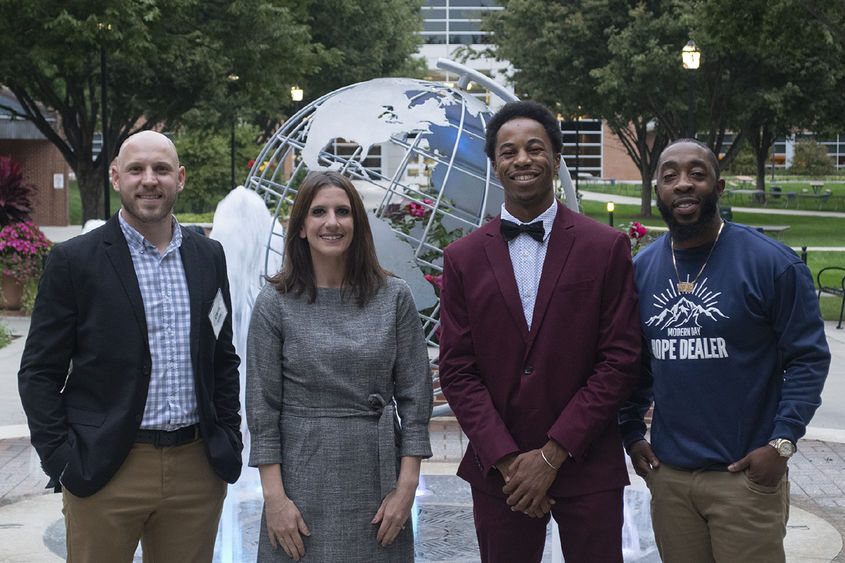 MIDDLETOWN, Pa. – The Penn State Harrisburg Alumni Society recently announced the winners of its People to Watch Awards, graduates from each of the college's schools who have made a significant contribution to the betterment of society through their personal and professional endeavors.
Honorees included:
Kathryn Peterson, '08 master of arts in applied behavior analysis, School of Behavioral Sciences and Education
Peterson is the associate director of the Intensive Pediatric Feeding Disorders Program at Children's Specialized Hospital in Somerset, New Jersey. She has conducted research with and provided clinical services to children with autism, severe behavior, and feeding disorders for nearly 15 years. In addition, she is an affiliate faculty member in the Graduate School of Applied and Professional Psychology at Rutgers University. She earned her doctoral degree in 2013 at the University of Nebraska Medical Center.
Shyamili Dhivakar, '15 master of science in information systems, School of Business Administration
Dhivakar got a job with Price Waterhouse Coopers (PwC) through Penn State Career Services and went on to join PwC's United States cyber security team, specializing in digital identity. She worked for PwC U.S. until 2019, and then moved to the United Kingdom as a senior manager in PwC's identity and access management (IAM) team. She is currently helping to build and expand the IAM business in the U.K. and leads large-scale identity transformations for Fortune 50 and Financial Times Stock Exchange 20 clients in the U.S., U.K., and Europe. She currently holds the title of senior manager with PwC Corporation and is based in London.
Corey Dupree, '14 bachelor of arts in communications, School of Humanities
Dupree is the co-founder of the Bridge Eco-Village in Harrisburg, Pennsylvania, an impact real estate development company. His work with the Bridge led him to actively lead community-focused revitalization efforts across the sectors of how people work, eat, live, learn, and play. Currently, he also serves as the alumni engagement coordinator at his alma mater, the Milton S. Hershey School, as well as an assistant varsity football coach at the school.
Bryan Majors, '12 master of public administration, School of Public Affairs
Majors is the CEO of Major Prep LLC, Major Prep Apparel, and Major Prep Cycle Breakers (a 501(c)3 non-profit corporation). He is an entrepreneur, author, transformational leadership instructor, and character development coach. He is also a retired professional basketball player from the Harlem Globetrotters Organization. Prior to Penn State Harrisburg, Majors graduated from Susquehanna University.
Christopher Spittle, '16 bachelor of science in structural design and construction engineering technology, School of Science, Engineering, and Technology
Spittle is the supply chain manager for Keystone Custom Homes, Pennsylvania's largest independent home builder and the winner of the America's Best Builder Award three times by National Builder Magazine. He is responsible for identifying, qualifying, and maintaining a balanced quantity of trade partners for all construction activities and communities. He is responsible for working with Keystone's construction team in supplying the best trade partners to maximize quality, customer satisfaction, and profitability. Spittle also was a member of the golf team during his collegiate career, including two years at Harrisburg Area Community College and two years at Penn State Harrisburg.