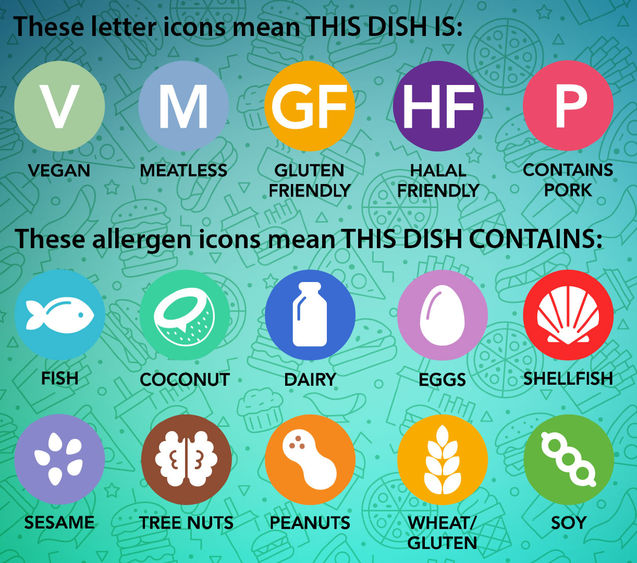 Beginning the second summer session, Penn State students dining on campus will have an easier time identifying food allergen information and dishes that suit their dietary needs and preferences. The Registered Dietitian's Office, which provides nutrition education and support for Campus Dining operations at all Penn State campuses that offer on-campus self-operated dining, will launch menu item cards featuring a new allergen icon identification system.
Menu item cards
New menu item cards will help students make choices that fit with their food allergies, intolerances or special dietary needs. When a dish is served in a dining commons, it will be labeled with a menu item card.
With a glance at the menu item card, customers can see what allergen(s) each dish contains. In addition to allergen information, the cards will feature special diet indicators. Students and guests will be able to tell if a dish contains pork, is meatless, vegan, halal friendly, and/or gluten friendly. Dining will introduce the "GF" designation to indicate gluten friendly, meaning a dish is made without gluten or wheat-containing ingredients.
The menu item cards replace an older labeling system with a more colorful, streamlined look. The new cards are created directly from the University's food database system, for which the registered dietitian's office maintains the allergen and ingredient information. This ensures accuracy at the point of service.
Allergen icons
Food allergies are a primary concern when it comes to students' safety. New icons serve as a set of standardized allergen indicators across multiple platforms. The cards will indicate if a menu item contains peanuts, tree nuts, dairy, eggs, fish, shellfish, soy, wheat/gluten, sesame, and/or coconut. Once students know what icons they are looking for — for example, vegan, contains pork, gluten friendly, meatless, eggs, or peanuts — it will be easy to locate them across campus.
Not only will the allergen icons appear on the menu item cards in front of every serving dish, they also will be on the Penn State Eats mobile ordering system. Those with food allergies using Penn State Eats should indicate their allergens by selecting the icon(s) of the food(s) they are allergic to each time they place an order. The allergen(s) selected will show up on their ticket for food service staff to see. The individual placing the order is still responsible for reviewing the dish ingredients to ensure it is free of their allergen(s) before ordering.
Campus Dining's menu website will also feature the new special diet indicators (meatless, vegan, contains pork, halal friendly, gluten friendly), as well as full menus, allergen information, calorie content and other nutritional information. Dietary filters are available on the website, allowing students to filter according to dietary needs or preferences — for example, filtering out any items with peanuts, or showing only gluten-friendly menu items.
"Our goal is always to make our operations safer for students with food allergies, and more inclusive for students who have specific food preferences," says corporate registered dietitian Katy Petrosky. "The allergen icons and menu item cards are the newest systems designed to help students at all campuses navigate their food choices so they can have a satisfying dining experience at Penn State, no matter what their dietary restrictions or preferences might be."
Students with questions about the new menu item cards or allergen icons or who need help navigating dining are encouraged to contact the registered dietitian's office at [email protected].