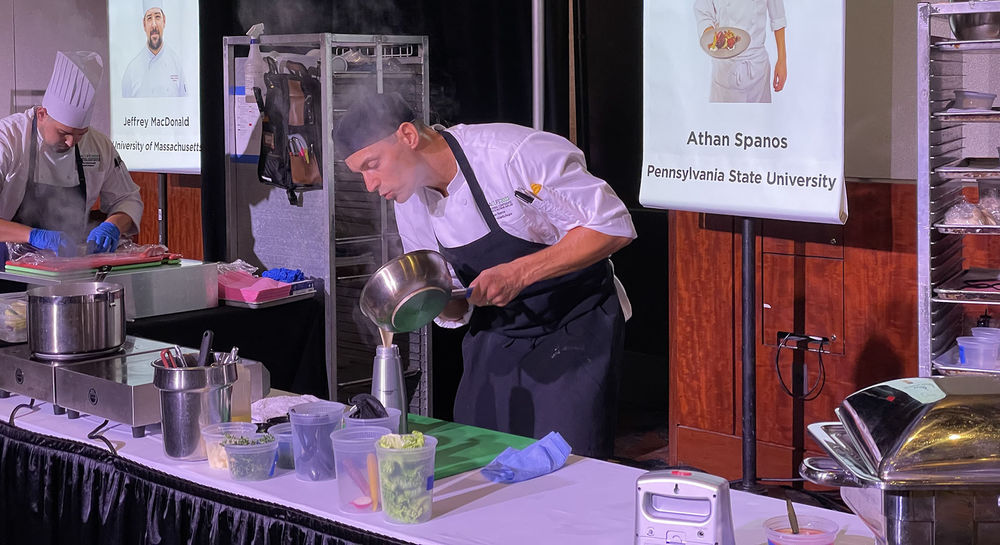 BALTIMORE, Md.  — Penn State Harrisburg managing chef Athan Spanos won an American Culinary Federation (ACF) silver medal for his signature dish at the National Association of College and University Food Services' (NACUFS) National Conference Culinary Challenge, held July 20 at the Hilton Baltimore Inner Harbor.  
Spanos earned his place in the national competition after winning a gold medal at the mid-Atlantic regional event in March. He represented Penn State in the national Culinary Challenge against five chefs from other colleges and universities across the country. This was the first time all six chefs entered the national challenge having won a regional gold medal.  
The annual NACUFS Culinary Challenge, created in 2001 and sanctioned by the ACF, recognizes the vast collection of culinary expertise in collegiate food service. Each year, a protein is selected that competitors must use to create an original recipe to form a nutritionally balanced plate. Competitors' creations are judged on a 100-point scale to rate organization, cooking skills, culinary technique and taste.   
The mandatory protein for this year's competition was three types of pork: pork tenderloin, ground pork and slab smoked bacon. Spanos' silver-medal dish, which placed fourth overall, consisted of sous vide shichimi togarashi pork loin with kimchi pork cabbage roll, "tonkotsu foam," sesame noodles, pickled persimmons and umami mushrooms. He previously won the national Culinary Challenge in 2019. 
"This year was one of the toughest years for all the chef competitors," Spanos said. "I want to thank Penn State for supporting me through all these competitions throughout the years. I had a great time meeting all the chefs and exchanging ideas and information to heighten our own university food services." 
Spanos also said he has already begun thinking about menu ideas for next year and looks forward to continuing to participate in the event, whether as a competitor or as a coach.