Sheriffs and deputy sheriffs attend the state's training academy run by the Penn State Justice and Safety Institute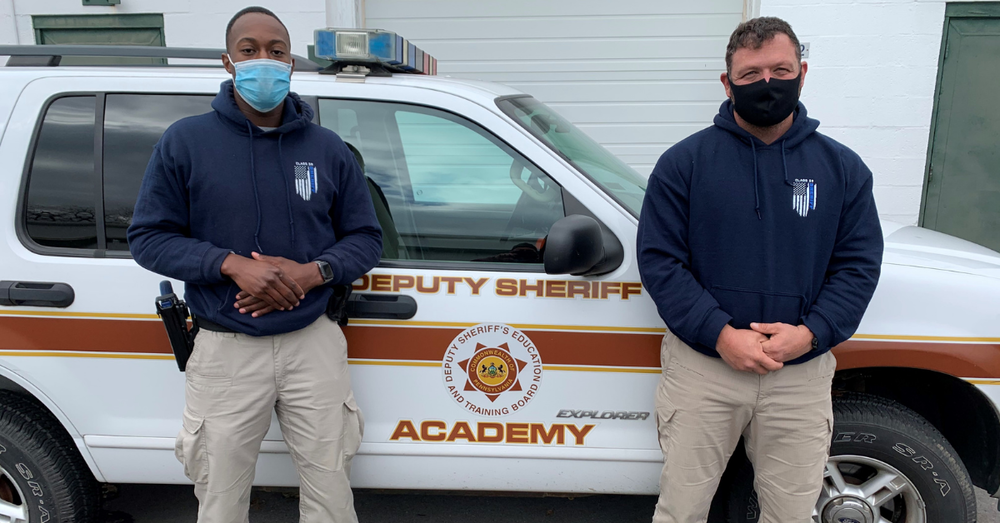 UNIVERSITY PARK, Pa. — After serving in the Marine Corps for four years, Devon Ford wanted to help those closer to his home. So, the Philadelphia native decided to become a deputy sheriff and will graduate among 38 other deputies from the state's Penn State-run training academy on Friday, Nov. 20.
"I wanted to continue my service, and this is a great way to do that after the Marine Corps," he said. "I want to help my community and become a role model."
The Pennsylvania Sheriff and Deputy Sheriff Education and Training Program — run by the Penn State Justice and Safety Institute (JASI) for the past 20 years — trains newly hired sheriffs and deputy sheriffs from all of Pennsylvania's 67 counties.
Thomas Lee, who spent 25 years in the U.S. Army, returned to Pennsylvania about a year and a half ago after living in Colorado. He said he's always felt the call to protect and serve.
"You've always had those protectors in the community, and I wanted to be a part of that," said Lee, who works for the Monroe County sheriff's office. "People make the community, and deputy sheriffs are part of that larger community. We're bringing everyone together."
The 16-week academy, held in State College, provides expertise in several law enforcement areas, including Pennsylvania crime codes and civil procedures, cultural diversity, ethics, firearms, first responder/first aid, defensive tactics, courtroom security and physical training. The academy was condensed from its usual 19 weeks but still administered the same 760 training hours.
Due to the coronavirus pandemic, Penn State JASI, which is a Penn State Outreach service, worked with the University and the Pennsylvania Commission on Crime and Delinquency to ensure a safe learning environment for cadets and staff. The plan incorporated CDC, Pennsylvania Department of Health and Penn State guidelines, including mask wearing, PPE procurement and physical distancing when possible, into policy and procedure for operations.
The current class will be the 59th to graduate since the state selected Penn State JASI as the academy's administrator. The academy utilizes judges, attorneys and local, state and federal law enforcements officers to help deliver the training.
Lee said learning from instructors with real-world experience adds important credibility to the academy.
"You have great instructors who have applied what they've done in the real world," he said. "Their knowledge base is unreal. It brings the deputies out of their shells and builds confidence in all of us."
Visit the Penn State JASI website for more information. Penn State JASI partners with Penn State Harrisburg's School of Public Affairs.