New sheriffs and deputy sheriffs attend the state's training academy run by the Penn State Justice and Safety Institute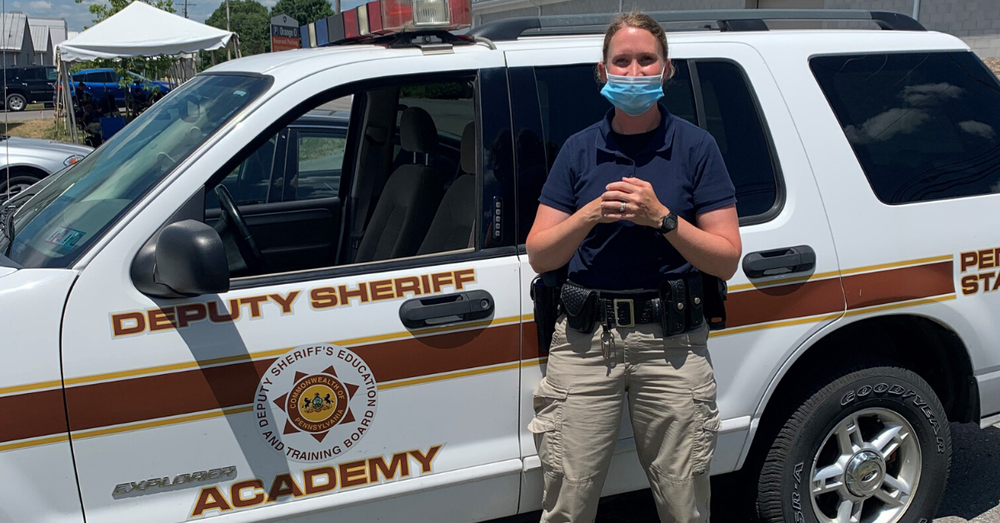 UNIVERSITY PARK, Pa. — Kimberly Kaetzel's pursuit of her dream job as a sheriff's deputy was put on hold in March when the coronavirus pandemic shut down the state's Penn State-run training academy, but thanks to the collaboration between the University and Pennsylvania, the Franklin County native will achieve her goal Saturday.
Kaetzel, along with 29 other sheriff's deputies, will graduate on Saturday, July 18, and embark on a career that she called her "ultimate goal."
"This is my career for the rest of my life," she said. "The whole experience of us being sent home was disappointing, but I knew at some point we were going to come back and finish. The academy's done a good job balancing our safety and making sure we're prepared."
The Pennsylvania Sheriff and Deputy Sheriff Education and Training Program — run by the Penn State Justice and Safety Institute (JASI) for the past 20 years — trains newly hired sheriffs and sheriff's deputies from all of Pennsylvania's 67 counties. The program restarted in June and condensed 10 weeks of training, normally held Mondays through Fridays, into six weeks held every day.
Penn State JASI worked with the University and the Pennsylvania Commission on Crime and Delinquency (PCCD) to ensure a safe learning environment for cadets and staff. The plan incorporated the Centers for Disease Control and Prevention, Pennsylvania Department of Health and Penn State guidelines, including mask wearing, Personal protective equipment procurement and physical distancing when possible, into policy and procedure for operations.
Mike Ecker, associate director of JASI, said the relationship between JASI and PCCD, which dates back to 2000, provided a critical foundation in allowing the academy's in-person return during the coronavirus pandemic.
"The longstanding success in the relationship between PCCD and Penn State JASI allowed us to efficiently manage academy planning, preparation and delivery, while navigating many of these unknowns," Ecker said. "Our professional relationship significantly aided with our successful transition into academy operations in a pandemic environment."
The academy, held in State College, provides expertise in several law enforcement areas, including Pennsylvania crime codes and civil procedures, cultural diversity, ethics, firearms, first responder/first aid, defensive tactics, courtroom security and physical training.
JASI — a Penn State Outreach service — utilizes judges, attorneys and local, state and federal law enforcements officers to help deliver the training.
Donald Numer, the academy's training supervisor for PCCD, said it was crucial for the deputies to complete their training.
"While our goal is always safety first, deputies have a limited time to be trained and certified, so we were concerned about the impact on the ability of sheriffs' offices to continue their missions if we were not able to continue training," he said. "Working with Penn State, we were able to get the deputies through training and back to their offices with limited disruptions."
The current class will be the 58th to graduate since the state selected Penn State JASI as the academy's administrator.
For Kaetzel, in addition to her prescribed duties, she also sees her role as a community ambassador.
"It's as an opportunity to get to know people in my community," Kaetzel said. "I try to talk to each person about what's going on in their lives. It's made me want to help people."
Visit the Penn State JASI website for more information. Penn State JASI partners with Penn State Harrisburg's School of Public Affairs.