New sheriffs and deputy sheriffs attend the state's training academy run by the Penn State Justice and Safety Institute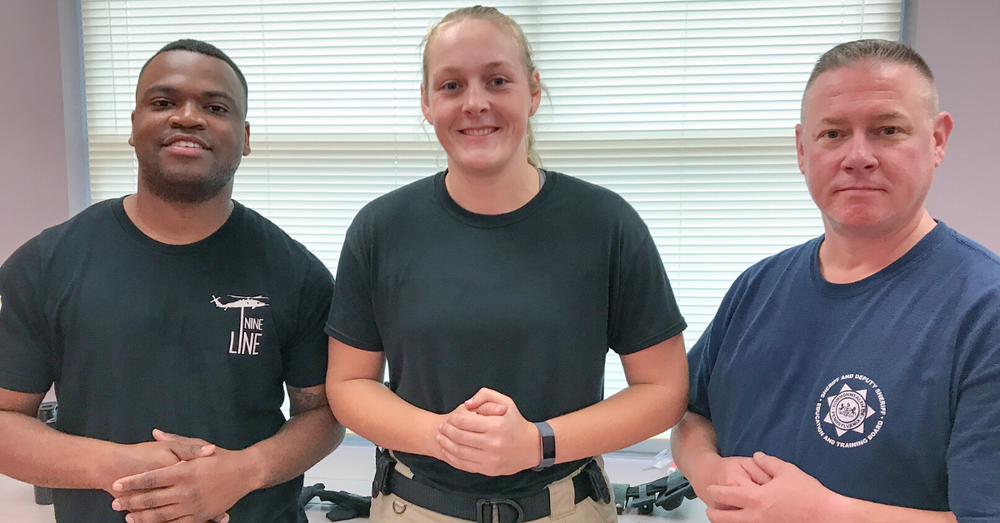 UNIVERSITY PARK, Pa. — Larry Hopkins will graduate from the state's Penn State-run sheriff's academy this week, taking one step closer to becoming the community role model he's envisioned for himself since growing up in York City.
"It's just that drive to want to help the community," said Hopkins, 26, who will serve Blair County. "Where I came from definitely wasn't the best place for being in law enforcement. But you want to see your kids grow up in a better community, want to change the atmosphere people have about law enforcement.
"This is a great chance to be a role model for people to look up to."
Hopkins is among the 33 sheriff deputies who expect to graduate from the Pennsylvania Sheriff and Deputy Sheriff Education and Training Program — run by the Penn State Justice and Safety Institute — at a ceremony Friday, Nov. 22. All sheriffs and deputy sheriffs from the state's 67 counties must complete the Penn State-run academy before beginning active duty.
Another graduate, Alecia Rohrer, who will work in Cumberland County, said she knew she wanted to work in law enforcement after graduating from college this past May. A former student-athlete, Rohrer said she's always seen herself as a protector of her teammates and friends, and working as a deputy sheriff is a natural next step.
"You're going to be dealing with people on their worst day most of the time," she said. "I might not be able to make a big change, but if I can help people when I can and do what I can to impact the community, then maybe it will create a positive ripple effect down the road."
The 19-week sheriff's academy, held in State College, provides expertise in several law enforcement areas, including Pennsylvania crime codes and civil procedures, cultural diversity, ethics, firearms, first responder/first aid, defensive tactics, courtroom security and physical training.
Steven Chaapel, who spent more than two decades in the U.S. Army, said he was looking for a new challenge. The 51-year-old was working part time with the Bradford County sheriff's office and jumped at the opportunity to serve his county full time.
"It's not really serving for the community, it's serving with the community," said Chaapel. "It's an equal partnership of us knowing the community and the community knowing the sheriff's office, and then working together to solve problems. That's working in the community together."
Penn State JASI — an outreach service of Penn State — utilizes judges, attorneys and local, state and federal law enforcements officers to help deliver the training.
Hopkins said the training has provided him a strong foundation.
"The only way for us to advance in our careers and learn, in my opinion, is to learn from the guys that did it before us, and then try to build on that and pass it down," he said. "They've done a great job."
The current class of deputy sheriffs will be the 57th to graduate since 2000, when the Pennsylvania Commission on Crime and Delinquency selected Penn State JASI as the academy's administrator.
Visit the Penn State JASI website for more information. Penn State JASI partners with Penn State Harrisburg's School of Public Affairs.