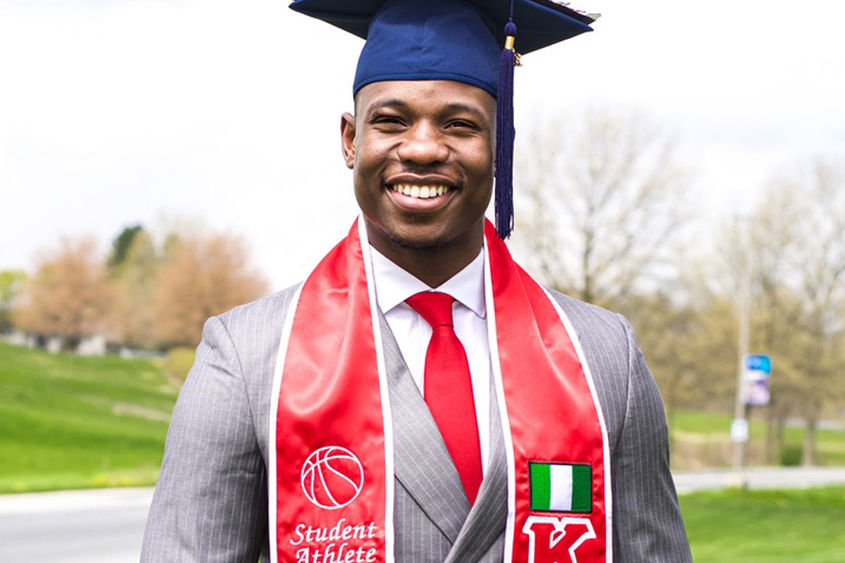 Clinton Asalu, who received his bachelor of science degree in mechanical engineering from Penn State Harrisburg this spring, said that the most influential five years of his life were spent as a Nittany Lion. "Penn State Harrisburg has been the cornerstone of my adult life decisions," he added. "I am forever grateful for the lessons I've learned during this journey."
Here Asalu discusses what "life in blue and white" has meant to him:
"Being from a smaller New Jersey town, everything was as simple as it could be. I had to learn that every new adventure could be the end of an old journey," he said.
He added that as a freshman, basketball became his pastime and his passion, adding, "A game that is built on split decisions and endurance helped me off the court. I wanted to share my leadership qualities and hone the skills in other capacities."
For Asalu, that meant expanding his horizons as a student leader and a representative for minorities. He began building connections as a panelist for a multicultural recruitment event.
He credits becoming a member of Penn State Harrisburg's chapter of Kappa Alpha Psi Fraternity, Inc. as helping to build his network. "Internship opportunities began to roll in and I made the decision to leave basketball to dedicate time to those options."
Asalu added that the untimely loss of his grandmother at the end of his freshman spring semester put life into perspective for him and he was driven to make her proud.
Asalu said that when he entered his sophomore year, he was reeling from the success of his freshman year, but that took a downturn as he dealt with uncertainty and the loss of loved ones. "Everything started to crash around me, he said. "I had become regretful of my degree choice and was struggling in classes I had thought I would be successful in, while dealing with the loss of many loved ones around me."
He said that the support of Penn State Harrisburg helped him overcome these obstacles, "The friends I made and faculty allies were in my corner. I had let go of my pride to attend tutoring and began using the resources provided to seek counseling. I discovered that I am a visual learner and I prefer to be shown in steps with photographic assistance. It made life easier knowing this about myself."
He was instrumental in bringing a chapter of the National Society of Black Engineers (NSBE) to the college and he completed an internship at Exxon Mobil in Houston, Texas as a mechanical contact engineer.
During his junior year at Penn State Harrisburg, he helped expand NSBE, working with the college's Student Government Association and Office of Student Life. "Minority students in science, technology, engineering and mathematics disciplines were highly interested in joining and by the spring semester NSBE became a recognized student organization. Sixteen of the 40+ members were able to attend the national conference, with 10 of those attending receiving job and internship offers. We also won awards during the year for being a thriving new club as well as for my leadership in the organization."
Asalu's connection with NSBE also helped land him an internship with Pratt & Whitney, a Raytheon Technologies, an aerospace manufacturer with global service operations. He took another semester off to gain more real world experience at Marathon Petroleum in Ohio. "With a year and a half of college left, there were still so many possibilities to consider," he said.
His return to Penn State Harrisburg included a return to basketball.  "My college experience was coming to full circle," he said.
A car accident at the beginning of his senior year derailed his progress. "I was physically, mentally and financially affected by this," he said. "Penn State helped me during this time and for that, I am appreciative."
Asalu said that he felt like the accident had crippled his spirit; he was uncertain how his final year would go.
He added that being named captain of the basketball team, winning a championship, and receiving the Penn State Harrisburg Athletic Service Award were some of the best moments of his time at the college.
"We made it to the first round of NCAA March Madness for Division III, which was the first time a Penn State Harrisburg basketball team has ever accomplished that," he said.
"Quickly after, COVID-19 took over the world and my semester was cut short. We weren't allowed to come back to campus, and as a senior this was hard to handle because I wasn't able to say my final goodbyes to my friends, professors, my home for the last five years."
He summed up his journey to commencement as "one for the history books."
"Penn State Harrisburg has nurtured me, humbled me, and shown me that giving back is important. Most importantly, no matter what, I will survive every storm. I see my journey as indelible, a mark that cannot be removed. Penn State has been a place where helping students succeed is its No. 1 goal. I hope those who come after me, have the best experience possible and to remember, WE ARE, PENN STATE!"
Asalu will be moving to Wilmington, Delaware to work at JP Morgan Chase as a software engineer. He said he looks forward to giving back to the Penn State community as an alumnus.