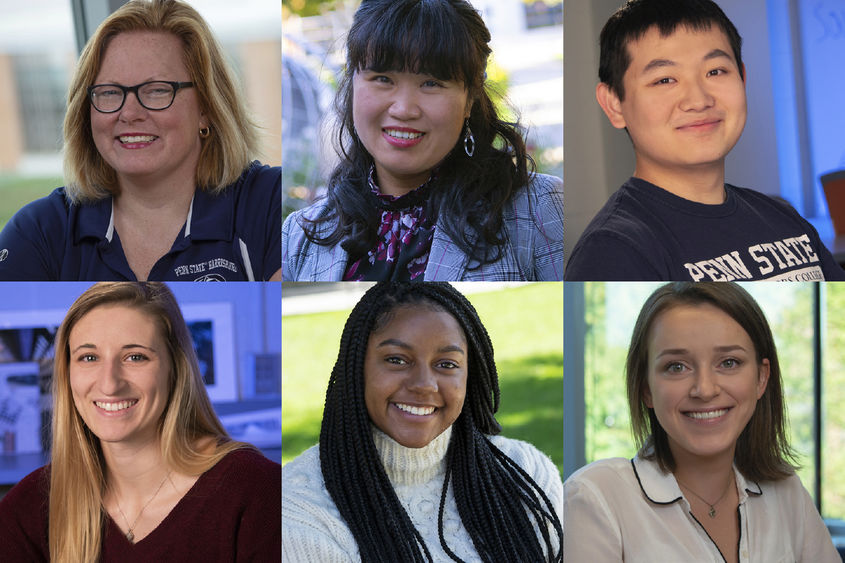 MIDDLETOWN, Pa. -- Penn State Harrisburg has selected six graduates to serve as student marshals at the fall 2019 commencement ceremony. The graduates will bear the banners representing each academic school, and together with the faculty marshals lead the graduating students during the ceremony processional.
Student marshals were selected based on their GPAs from among students eligible to graduate. Other criteria considered includes engagement with the academic school and the college, involvement in research, involvement in leadership activities, and faculty recommendations.
The fall 2019 student marshals include:
School of Behavioral Sciences and Education: Candace Hurley (Killeen, Texas), bachelor of science in kinesiology
Hurley, who is a veteran of the U.S. Army and a mother of six, has been a member of the Penn State Harrisburg Kinesiology Club, Student Facility Fee Committee, and the Student Activity Fee Committee. She has volunteered for numerous community organizations, including the MOVE Program sponsored by the Veterans Administration, and the Palmyra Area School District. She also completed an internship, where she worked on fitness and wellness programs on campus. She has been inducted into the National Society of Leadership and Success, and was the 2018 recipient of the National Engaged Leader Award.  She plans to continue her studies in the master of education in health education program.
Hurley will be escorted by faculty marshal Rebecca Weiler-Timmins, associate teaching professor of kinesiology.
School of Business Administration: Chubo Peng (Kaifeng, Henan, China), bachelor of science in accounting and bachelor of science in finance
Peng is a member of the Schreyer Honors College. He has served as a Lion Ambassador, Global Ambassador, and Global Lion Mentor.  He also served as the treasurer for the International Affairs Association/Rotaract Club during his sophomore year and the co-chair of the Social, Cultural, and Humanitarian Committee of the club's annual Model United Nations conference for high school students.
Peng also worked as a proctor for the college's Student Disability Services and a tutor at the Russell E. Horn Sr. Learning Center.As part of the Honors Student Council, he helped organize new honors student orientations and served at Saint Peter's Lutheran Church as a youth tutor for his honors service project. He was a member of the college's choir and chamber singers for three years and played alto saxophone in the concert band. His community involvement includes Life Gospel Chinese Christian Church, Living Water Community Church, and the United Way—VITA Program doing individual tax preparation.
He is a recipient of the Doris Hughes Memorial Award, Capital College Honors Scholarship, Hund Family Honors Business Scholarship, Ronald Bittner Accounting Scholarship, Fazzolari Family Honors Scholarship, Michael Fiaschetti Honors Business Award, and National Engaged Leaders Award (National Society of Leadership and Success). His future plans include working for a Big 4 accounting firm and pursuing a doctoral degree in accounting.
Peng will be escorted by faculty marshal Renee Flasher, assistant professor of accounting.
School of Humanities: Brittany Wolf (Stewartstown, Pennsylvania), bachelor of humanities in communications
Wolf is a member of the Capital College Honors Program and was captain of the college's women's volleyball team. She has served on the NCAA Student-Athlete Advisory Committee and the School of Humanities newspaper program INKED. She has been the recipient of the President's Freshman Award, the Capital College Honors Scholarship, and the Penn State Harrisburg Scholarship. She has been on the dean's list all four years of her studies. She was a Counsel of Insurance Agents & Brokers Foundation Scholar.
She also volunteers at local charity organizations, including the Middletown Home, the Ronald McDonald House, and Adopt-a-Family.
She holds a number of records for the school's volleyball program and its conference, including being the first player in school history to surpass 1,000 points for her career, being named to the All-Eastern College Athletic Conference (ECAC) First Team, the first player in program history to earn ECAC All-Conference recognition, being named the North Eastern Athletic Conference (NEAC) Defensive Player of the Year and earning NEAC First-Team All-Conference recognition.
Wolf has held internships at La Torre Communications, Glatfelter Insurance Group, and Uncommon Marketing Works, has been a freelance journalist for the Central Penn Business journal and currently serves as a digital marketing specialist for Beacon Digital Marketing. After graduation, she will begin a new position as a marketing communications specialist at Uncommon Marketing Works in Mechanicsburg, Pennsylvania.
Wolf will be escorted by faculty marshal Amy Sauertieg, assistant teaching professor of communications and public relations.
School of Public Affairs: Tashawnna Brown (Carlisle, Pennsylvania), bachelor of arts in political science
Brown has consistently been on the dean's list since she transferred to Penn State Harrisburg from another institution in 2017. She worked and studied abroad in Granada in spring 2018 and speaks English, French and Spanish. She hopes to learn Mandarin post-graduation. Brown also has been a member of the Archaeology Club.
Her career goals include working for the U.S. Department of Defense.
Brown will be escorted by faculty marshal Juliette Tolay, assistant professor of political science.
School of Science, Engineering, and Technology: Veronika Oleksyuk (Lancaster, Pennsylvania), bachelor of science in biology
A dean's list student, Oleksyuk has been a member of the Health Science Club, as a general and an executive member; the BRIDGE program, a medical mentorship at the Penn State College of Medicine bridging undergraduate students with medical students; and the Emergency Medicine Research Associate Program  at Penn State Health Milton S. Hershey Medical Center. She has been a volunteer researcher at The Central Pennsylvania Research and Teaching Laboratory for Biofuels. She has also volunteered at Calvary Church.
After graduation, Oleksyuk plans to continue working in the emergency department at UPMC Pinnacle. She plans to pursue an advanced degree.
Oleksyuk will be escorted by faculty marshal William Driscoll, assistant professor of biology.
Graduate School: Jiexi Huang (Los Angeles, California) concurrent master of business administration and master of science in information systems
Huang has been involved with academics, community, volunteer and campus activities. She has held memberships in Beta Gamma Sigma, the American Society of Military Comptrollers (ASMC), Certified Defense Financial Manager, and Lean Six Sigma White Belt Training. Beyond her studies at Penn State Harrisburg, she passed annual trainings to maintain her active status of Certified Defense Financial Manager. During her studies in Penn State Harrisburg, she successfully fulfilled requirements of her duties in Navy Reserve and completed over 180 periods of services. She has received the Certificate of Outstanding Achievement issued by Naval Supply Systems Command Weapon Systems Support from 2016 to 2018. She also volunteered her time during the holiday seasons at the Claremont Nursing and Rehab Center.
After graduation, Huang plans to pursue a doctoral degree in statistics.  
Huang will be escorted by faculty marshal Gina Brelsford, associate professor of psychology.