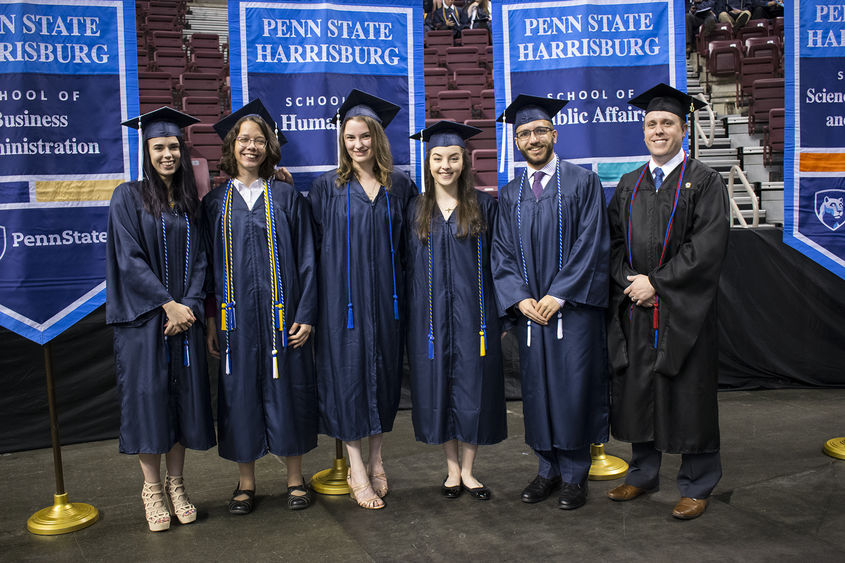 For the first time, Penn State Harrisburg selected six graduates to serve as student marshals at the spring 2019 commencement ceremony. The graduates bore the banners representing each academic school, and together with the faculty marshals led the graduating students during the ceremony processional.
Student marshals were selected based on their GPAs from among students eligible to graduate.  Other criteria considered included engagement with the academic school and the college, involvement in research, involvement in leadership activities, and faculty recommendations.
This year's student marshals included:
School of Behavioral Sciences and Education: Joy Boettinger (Duncannon, Pennsylvania), bachelor of elementary education in elementary education with a concentration in pre-kindergarten through fourth grade.
Boettinger transferred to Penn State Harrisburg in fall 2017. She served as a student teacher at West Creek Hills Elementary School for a year, teaching first grade students. Boettinger plans to further her education by pursuing a Master of Education in Teaching and Curriculum.
Boettinger was escorted by Dr. Candace Hogue, assistant teaching professor of kinesiology.
School of Business Administration: Amanda Moyer (Perkasie, Pennsylvania), bachelor of science in accounting and a minor in accounting information systems.
She was recently inducted into the International Business Honor Society, Beta Gamma Sigma and received the Pennsylvania Institute of Certified Public Accountants Outstanding Senior Award and the Beta Gamma Sigma Undergraduate Student Award.  She plans to sit for the Certified Public Accounting exam and pursue working in public accounting.
Moyer was escorted by Professor Faiza Abbas, lecturer of management.
School of Humanities: Tessa Eftimiades (Middletown, Pennsylvania), bachelor of arts in communications.
Eftimiades is the president of the Astronomy Club and has been involved in Entrepreneur Club. She has been offered honors positions in the Phi Kappa Phi honors society.
While at Penn State, she became aware of the issue of the Uyghur refugee crisis in the United States. This is an issue to which she would like to apply her learned skills and help bring awareness to and work with the non-profit organization Uyghur American Association. She plans to apply to graduate school and continue her academic journey eventually to a Ph.D.
Eftimiades was escorted by Dr. Gloria Clark, associate professor of humanities and Spanish.
School of Public Affairs: Alyssa Teter (Ronkonkoma, New York), bachelor of science degree in criminal justice.
According to her adviser and professors, "Alyssa is an exceptional student. Her contributions to class discussions were very relevant and insightful. Alyssa thinks on her feet and always introduced a unique and incisive perspective to discussions."
Teter was escorted by Dr. Michele Tantardini, assistant professor of public administration.
School of Science, Engineering, and Technology: Elisha Kossove (Lititz, Pennsylvania), bachelor of science in mechanical engineering.
Kossove has been actively involved in several clubs and other activities on campus, including Student Government Association, InterVarsity Christian Fellowship, the National Society of Leadership and Success, and the American Society of Mechanical Engineers. During his time in these organizations, he has held leadership positions and been actively involved in planning many events.
He has also worked as a teaching assistant in the mechanical engineering program. After graduation, he plans to begin working in the engineering field locally.
Kossove was escorted by Dr. Xianlong Ge, assistant teaching professor of chemistry.
Graduate School: Greg Emerick (Hummelstown, Pennsylvania), master's of health administration.
Emerick, a native of Mechanicsburg, Pennsylvania where he attended Cumberland Valley High School, attended Brigham Young University in Provo, Utah and graduated in 2012.  He then began a career in human resources.
In 2015, he enrolled in the graduate program at Penn State Harrisburg. He was awarded a scholarship for excellent academic performance. Emerick also has received an invitation to join The Association of University Programs in Health Administration Honor Society-Upsilon Phi Delta.
Emerick currently works as a physician recruiter at Penn State Health.  He hopes to utilize his skills and knowledge learned in the MHA program to lead and direct the operations of outpatient primary care clinics. 
Emerick was escorted by Dr. Amit Banerjee, associate professor of mechanical engineering.