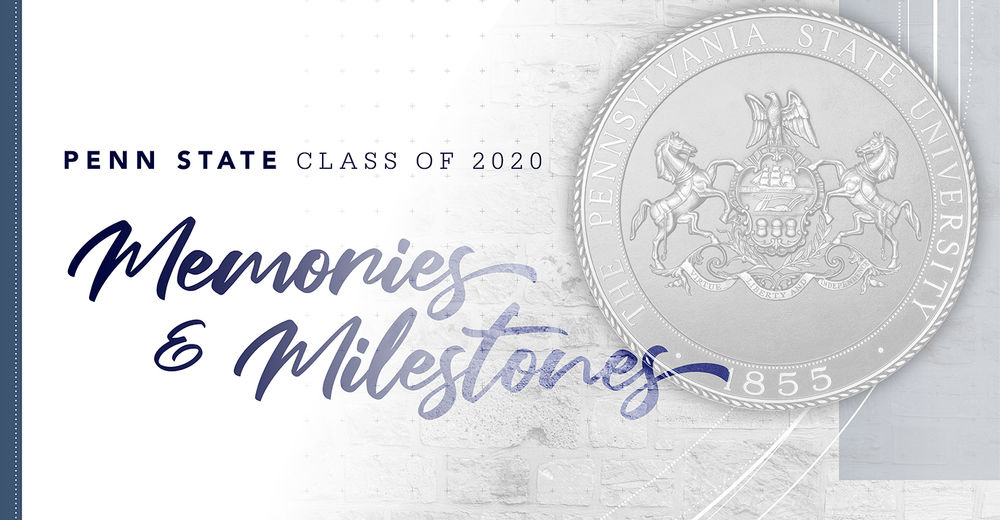 UNIVERSITY PARK, Pa. — The Penn State alumni family grew by more than 15,000 this past weekend as the University recognized its spring 2020 graduates in a livestreamed commencement ceremony, which took place on Saturday, May 9.
In the first-ever, livestreamed University-wide ceremony — including undergraduate students at University Park and the Commonwealth Campuses, and all graduate students in the Graduate School, who are receiving their degrees from Penn State — the Class of 2020 had their degrees conferred by University leadership via the virtual presentation. The ceremony was moved to a virtual format in response to the coronavirus pandemic, orders from the state government, and recommendations from global public health organizations. The University is committed to providing opportunities to invite the Class of 2020 back for in-person celebrations on campuses when public health guidelines allow.
The "We Are" Spirit
Penn State President Eric Barron acknowledged the "We Are" spirit evident among the graduating class, despite the collective set of circumstances and challenges endured.
"I don't know what the future holds, but I know one thing: your resilience, creativity, intelligence, and adaptability will ensure your future success," he said. "You have endured a global pandemic, a disrupted semester, spotty Wi-Fi connections, and Zoom bombing. You did it! You are going to lead us past this challenge. We couldn't be prouder to call you Penn Staters."
The president was joined by Penn State Executive Vice President and Provost Nicholas Jones who acknowledged that among many firsts to be celebrated are those graduates who are first in their families to earn a college degree.
"As college graduates, you join an elite group of individuals," Jones said. "Only 39 percent of Americans over age 25 have earned a bachelor's degree, and only about 13 percent have earned a graduate degree. For about one-third of the families watching today, this will be the first time a family member has earned a college degree. Congratulations to each one of you."
A Moment to Celebrate
Penn State School of Theatre graduating senior Amina Faye sang "The Star-Spangled Banner," and more than 60 graduating members of the Blue Band, University Choir, and the Musical Theatre Department performed a virtual chorus-and-band rendition of the University's Alma Mater, written by Fred Lewis Pattee.
Penn State alumni and special guests also shared their congratulatory wishes via video. Among those included were Lara Spencer '91, "Good Morning America" co-host; Jim Stengel '83g, Procter and Gamble's former chief marketing officer and Penn State Alumni Fellow; Zena Cardman, NASA astronaut and former Penn State NSF graduate research fellow; Joe Jonas, actor, singer and songwriter; Mary Ellen Clark '85, two-time U.S. Olympic medalist and executive at Isagenix International; Trace McSorley '18, NFL football player;  Linda Yaccarino '85, chairman of advertising and partnerships at NBCUniversal; and John Colaneri '03, television personality, designer and developer.
John Urschel '12, '13g, former NFL lineman and mathematician, also joined the line-up, advising graduates to be sure to thank those around them who got them to where they are today.
"You don't earn a degree in a vacuum," he said. "You don't learn just by yourself. And so, I think it's important to recognize all the people in your life that have helped to get you where you are."
Following the University-wide ceremony, campuses across the commonwealth, and colleges at University Park, celebrated their graduates in many ways. Graduates and their families were encouraged to access digital content for their respective campus or college. The individualized pages are linked to from the official Spring 2020 Virtual Commencement page.
Commencement by the Numbers
The image gallery below includes a look at Penn State commencement by the numbers, from the total number of diplomas awarded by the University since 1861, to the countries represented by this graduating class.
The full recording of the spring 2020 University-wide commencement ceremony is available for viewing at https://spring2020.commencement.psu.edu.
Editor's note: Penn State designates graduates' class years as, for example, 2020 as '20 (undergraduate degree); '20g (graduate degree).