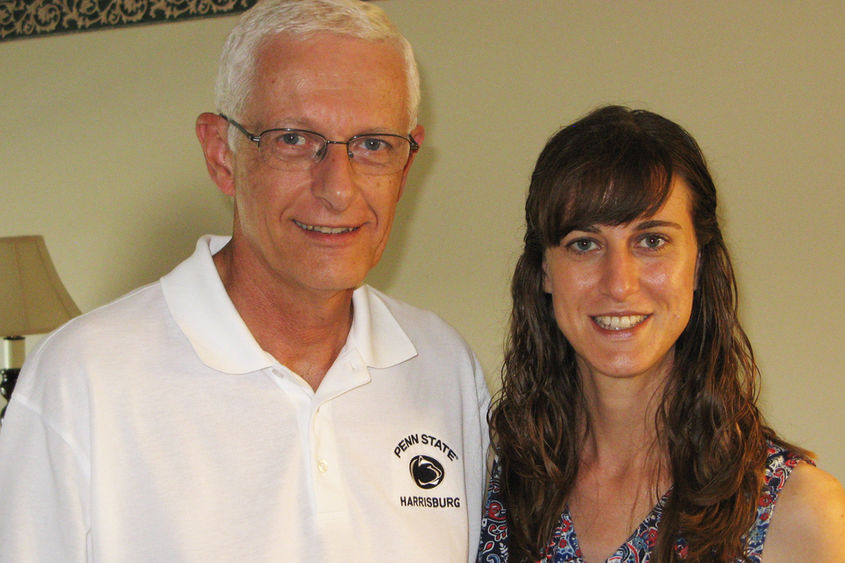 HARRISBURG, Pa. — Jessica Sheets and her father, Ethan, have a lot in common. Both of their birthdays are in August, back-to-back in fact — hers Aug. 1, and his Aug. 2. They both grew up in southwestern Pennsylvania, both completed their studies at Penn State Harrisburg — and both had their commencement ceremonies preempted by historic events.
Jessica, who will receive her doctoral degree in American studies as a member of Penn State Harrisburg's spring Class of 2020, will attend her commencement virtually due to the coronavirus pandemic. Ethan was a member of the college's Class of 1972, which due to flooding in Middletown, Pennsylvania, as a result of Hurricane Agnes, did not have a commencement at all.
Here, Jessica shares their commencement story:
"I have worked at the U.S. Army Heritage and Education Center in Carlisle, Pennsylvania since 2006. To help further my career, I began the American studies doctoral program at Penn State Harrisburg in 2013. I successfully defended my dissertation, '"No More Striving of Brother against Brother": Family Divisions and Historical Memory of the Revolutionary War,' in December 2019. My degree will be conferred in May 2020.
"As the coronavirus took hold in Pennsylvania, I braced myself for news that graduation had been postponed. Indeed, that word came. I held out hope that graduation would just shift to the summer — I wanted my adviser, Dr. Charles Kupfer, to hand me my diploma, and, having spent 6.5 years to reach this point, I wanted my family to witness the event. But, it was not to be. The safety and health of others is paramount. Thus, I am looking forward to the virtual ceremony, and truly appreciate the efforts being made to make this a memorable event for students. A bonus of commencement taking place on the original date: I am graduating on what would have been my maternal grandmother's 100th birthday, if she were still living.
"My dad began his college education at Penn State Fayette and finished in Penn State Harrisburg's electrical engineering program in 1972. His class did not have a graduation because of Hurricane Agnes. I heard that story growing up probably more than any ' walked up hill both ways to school' stories!
"Agnes hit between the end of classes and the graduation date. Dad received a phone call while he was back home with his parents in Somerset County, Pennsylvania.
"Here's what he had to say: 'I was disappointed and hoped they would reschedule it for later in the summer. Then I found out they were using the campus as a relief center for flood victims and temporary housing (trailers). Thus a graduation ceremony was totally out of the question. Helping the flood victims was more important. I didn't lose a thing except a one day ceremony — many lost everything.'"