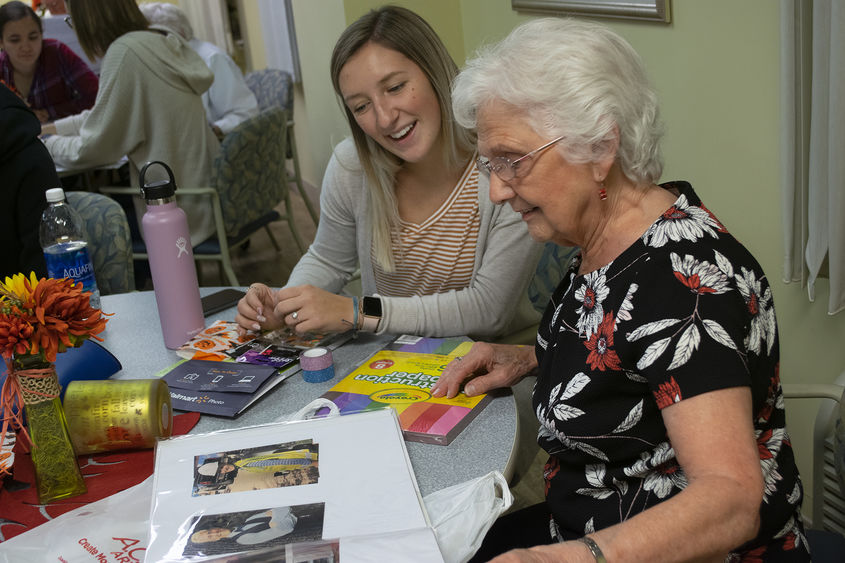 MIDDLETOWN, Pa. — Penn State Harrisburg students Alexis Stoner and Michaela Lowery opened their presentation to residents of the Frey Village retirement community in Middletown with a video of a man laughing on a bus. Soon other passengers joined him, even though they did not know the object of his mirth.
And soon, Frey Village residents were also laughing, even if they weren't sure why. And that was the point, said Stoner, who is interested in working with intergenerational programs after she graduates.
"You couldn't help but laugh," Lowery said. "It's contagious. This shows the importance of laugh therapy. It doesn't matter if it's real or fake. It sends happy chemicals to your brain. ... It releases dopamine and endorphins which keep the brain healthier."
Their assignment in the class Perspectives on Aging, taught by A. Patricia Aguilera in the college's human development and family studies (HDFS) program, was to research topics that could be useful to an aging population, then present them in a lively and entertaining way.
Research shapes innovations for clients or patients, so it is important to transfer new knowledge into practice. Specifically, for the older population, students must create and adapt materials for different ways of learning. They had to use a variety of strategies for people who might no longer hear or see as well as they once did.
"The project was designed for students to bring knowledge to the residents, while also inviting them to practice it," Aguilera said. "The students had to do it in an interactive way so people will enjoy it." She added, "Then people are more likely to remember. Emotions increase the strength of memories."
Stoner and Lowery got the idea for their presentation because they both like to laugh, and they soon learned laugh therapy "is a real thing," Lowery said. They researched scientific papers that measured the quality of life of nursing home residents participating in such therapy.
Their presentation included leading their audience in clapping while reciting "ha ha ho ho," telling jokes, sticking out their tongues while wiggling their fingers in their ears, and handing out whoopee cushions and fake mustaches. They encouraged residents to look at themselves in the mirror every day and smile.
Other topics that students presented during the course included music therapy, cognitive training through games, and the benefits of gardening. HDFS students are learning to use research as program development frameworks.
Following each weekly presentation, students met with residents to help them create scrapbooks of their lives.
"We learn about the residents as they learn about us," Lowery said. "I love it. It's getting to know them on a personal level. This is perfect for us for our major."
Lilas M. Wagner, a resident of Frey Village, said she at first worried that the presentations would be boring. But that was not the case.
"I look at these girls, and they're nice people," she said. "We find we have a lot in common, even though they're 60 years younger."