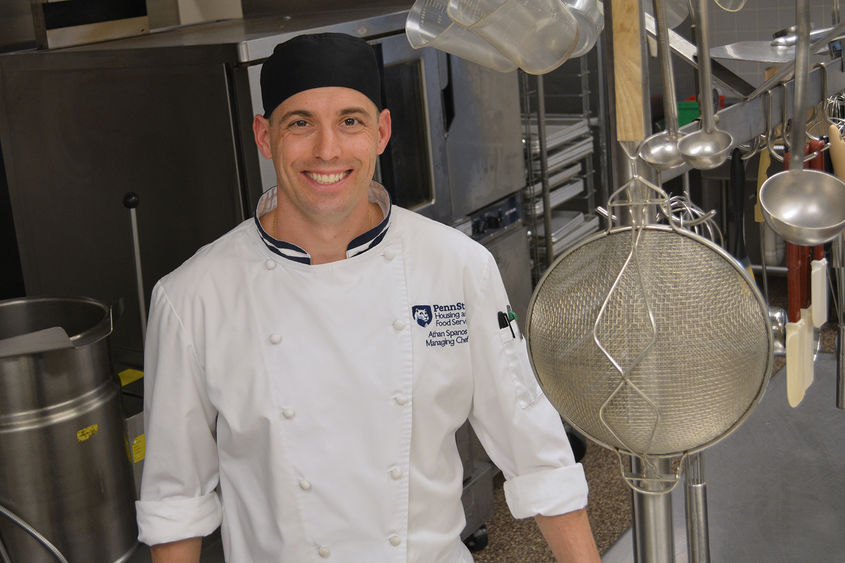 HARRISBURG, Pa. — Penn State Harrisburg managing chef and culinary support specialist Athan Spanos has won the National Association of College and University Food Services (NACUFS) Mid-Atlantic Regional Conference Culinary Challenge and earned a Gold American Culinary Federation (ACF) medal.
Spanos represented Penn State in the competition in Binghamton, New York, April 4 to 6, as he competed against chefs from other colleges and universities in the Mid-Atlantic region. The required ingredient in this year's competition was squid.
Spanos' dish of squid ink pasta with crispy Rhode Island oyster, poached squid sausage, sautéed curry clam, batonnet zucchini, and pan roasted butternut squash in a saffron cream sauce thoroughly impressed the judges and the entire conference. He not only won the competition, but also earned a Gold ACF medal. These are both firsts for Penn State.
A photo gallery of chef Athan Spanos preparing his award winning dish is available here.
Spanos said he was proud to be the first Penn State chef to win the regional culinary challenge and take gold.
"I was humbled to be there and wanted to make our team/University proud," he added. "I practiced many times at our campus, working on the dish with my cooks and management staff. Going into the national challenge, I am going to keep my same plan as before: work fast, clean and organized. I will make some very small adjustments to the dish — plating techniques — but nothing major."
Spanos moves on to the NACUFS National Conference Culinary Challenge in July in Providence, Rhode Island. While there, he will represent Penn State and the entire NACUFS Mid-Atlantic Region as he competes with the winners of five other regions.
The Culinary Challenge is a live competition that recognizes outstanding organization, cooking skills, culinary technique, taste and style. The winners of each regional competition square off at the national conference for gold, silver and bronze medals before a live audience of college and university food service professionals, industry experts and ACF judges.
At Penn State Harrisburg, Spanos is responsible for all food service operations including menu design, special events and catering.
He has spent 20 years working in the kitchen, eight as a chef. Prior to his current position, Spanos held positions as chef de cuisine at Trevi 5 restaurant at the Hotel Hershey in Hershey, Pennsylvania, earning the role with a six-course menu tasting, as well as chef tournant at the Hotel Hershey, and 33 East Restaurant & Lounge in Williamsport, Pennsylvania.
He specializes in Italian cuisine, classical and regional cuisine, as well as local American farm-to-table cuisine.
Spanos was born and raised in Harrisburg, Pennsylvania, where he worked in his father's restaurant, "John's Hideaway," through most of high school and into college. He attended the Pennsylvania College of Technology, where he received associates and applied science degrees in culinary arts.
He spent childhood summers in Greece, and eventually settled in Carlisle.
"Working with my father in his restaurant and growing up in Greece, enjoying all the Mediterranean cuisine, I knew I wanted to work and create the same dishes I had when I was a child," Spanos said.