Access to Facilities
All faculty, staff, and registered (semester bill paid) students of Penn State Harrisburg are eligible to use the fitness facilities, free of charge.
Except for public events, upon entering the CUB, all users of the facility must swipe-in at the front desk using a current and valid Penn State ID. This is in accordance with Policy AD 73.
Please be advised that the CUB entrance doors will be locked 15 minutes prior to closing. This allows adequate time for building staff to assist patrons with completing workouts and returning equipment. Thank you for vacating the CUB promptly at closing!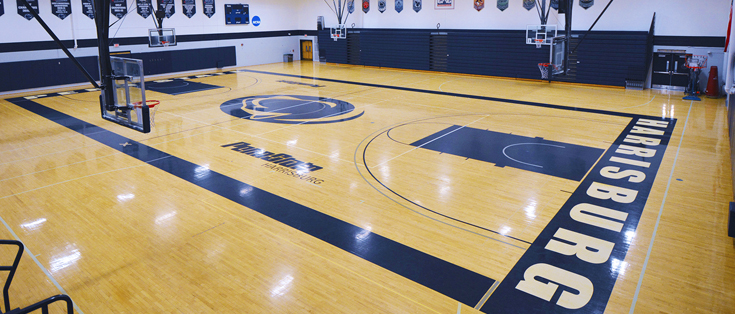 Facility Fitness Areas
Main Gymnasium — Basketball, badminton, volleyball, and other court sports. NON-MARKING SHOES MUST BE WORN.
Racquetball Courts — Courts #1, #2, #3. PLAYERS ARE REQUIRED TO WEAR GOGGLES AND NON-MARKING SHOES.
Squash Court — Court #1 is lined for squash
Wallyball/Badminton Court — Court #1 can be equipped for wallyball, badminton.
Fitness Center — State of the art strength and cardio equipment are part of the 5,000 sq. foot daylight infused fitness room. Satellite TV appears on 6 TV screens within the fitness room. A wide array of strength equipment including 6 platforms, a functional training area and free weights provide a well-rounded workout for the novice and experienced weight lifter.
Locker Room — Semester locker assignments and combination locks can be obtained at the front desk free of charge! Penn State Harrisburg and its staff are not responsible for lost or stolen items.
Equipment for use — Various equipment such as table tennis paddles, balls for all sports, racquetball and badminton racquets, wallyball net and ball and much more can be signed out at the CUB first floor desk. Patrons are responsible for all equipment being returned to the CUB first floor front desk in good condition.
Tennis Courts
Penn State Harrisburg's Hoverter Tennis Complex features 8 tennis courts including a tennis backboard and rackets.
Intramural Sports Fields
The IM fields are located by the Educational Activities Building (EAB). These fields are reserved for IM sports from 7:00 p.m.—midnight, Monday—Thursday. Recreational use of these fields is possible at the discretion of the IM Coordinator.
Equipment
A wide variety of equipment such as tennis racquets, flag football, dodge ball, corn hole, etc. can be signed out at the CUB first floor front desk. Just ask, we probably have it available!
Open Recreation
Individuals may participate in any activity of their choice, outside of normally programmed or organized activity. The following activities have priority use of the fitness areas and are listed in order of priority:
Scheduled University classes (8:00 a.m. to 9:00 p.m., Monday through Friday)
Varsity team practices and competitions
Intramural sports activities
Sport club team practices and competitions
Open recreation use by Penn State Harrisburg students, staff, and faculty
Penn State Harrisburg affiliated departments, clubs, and organizations
CUB Policies
Facility services are made available to those individuals recognized as members of the Penn State Harrisburg community. Upon entering the CUB, all users of the facility must swipe-in at the front desk using a current and valid Penn State ID.
Proper dress is required. Shirts and shoes must be worn at all times. Sports bras are not considered shirts. Shoes for all fitness areas must be rubber-soled and non-marking. Sandals and dress shoes are prohibited in these areas as well. In order to protect machinery upholstery, clothing with buttons and zippers may not be worn in the fitness areas. In keeping with the Penn State Principles, wording on clothing shall not "...compromise or demean the dignity of individuals or groups...."
There is a 30-minute time limit per each piece of equipment. Users are expected to exit the machinery after 30 minutes.
The concept of "working-in" should be practiced. This means not sitting on equipment while resting in between sets, but rather walking around to cool down and allowing others to work in.
Anti-bacterial spray and paper towels are available in the fitness center. Each equipment user is responsible for cleaning the equipment immediately after use. Areas to be cleaned include handles, seating areas, control panels, and anywhere else where perspiration might accumulate.
Food is not permitted in the fitness areas. Drinks in spill-proof containers are permitted.
Loose personal items including gym bags are not permitted in the fitness areas and should be secured in available lockers located in the fitness room and/or the first floor locker rooms. Semester locker assignments and combination locks can be obtained at the front desk free of charge!
The use of profanity, loud grunting, talking on cell phones while in the fitness areas, etc. is prohibited and considered unacceptable workout behavior. Please refrain from these behaviors.
Job Opportunities
Positions for CUB Front Desk Fitness Attendants and Intramural Sports Student Officials are available as needed. Please contact the CUB front desk at 717-948-6445 to inquire about available positions.