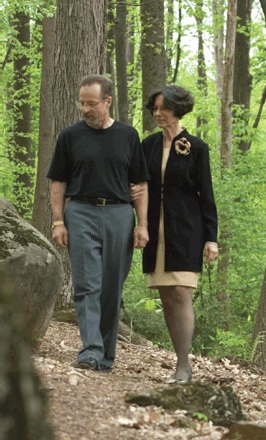 He identifies himself as hard-nosed, impatient, lacking self-confidence, and prone to tunnel vision. His wife Stephanie says simply, "He's intense."
Yet a closer look reveals a picture of a very different man.
He could have made his living on his family's farm, but says he wanted to be his own person. So instead, he started a construction company in 1973 at just 21 years of age, getting by at first with odd jobs like hanging doors and installing paneling. He built R.E. Ziegler Remodeling and Construction Company into a very successful business that now has built hundreds of homes and commercial buildings. That takes some confidence.
He built his own home on several wooded acres in Lebanon County. In Frank Lloyd Wright fashion, he painstakingly built amongst the many trees and around the boulders that now are an integral part of the property's lush landscaping. It led to some headaches for the excavators and other subcontractors, he says, but turned out beautifully. Patience prevailed.
And Ziegler may be a hard-nosed business person, but it doesn't show when he is in his element at home. This is a man who loves gardening and cooking, who delights in the presence of hummingbirds at the feeder, and who appreciates the rare Northern Orchids – the Yellow Lady Slippers – that grow naturally on his lot.
Connecting with Penn State
Until Ziegler was well into adulthood, he had absolutely no connection to Penn State. He wasn't even a casual fan of the football team. Today he is a major benefactor, a tireless volunteer, an Honorary Alumnus, and a football season ticket holder. He has a cat named Nittany and a Lion statue in his front yard. (It was a birthday gift from his wife Stephanie, a 1974 graduate.)
"It's funny, the road life leads you down," he says when describing how Penn State became a part of his life.
"My former wife and I had lived in our house a year, when she was diagnosed with leukemia," he explains. "Obviously, it was a very difficult time."
"Yvonne was treated at the Penn State Milton S. Hershey Medical Center and from the time she was diagnosed until she died nine months later, she was hospitalized frequently," he said.
Ziegler was so impressed with the care given his wife and the compassion of the medical staff, that he eventually established the Yvonne Hoffman Ziegler Memorial Endowment in Hematology at the Medical Center and the Richard Ziegler Endowed Faculty Fellowship in Hematology at the College of Medicine. Later, he established the Yvonne Hoffman Ziegler Memorial Field Hockey Scholarship at University Park.
Ziegler's introduction to Penn State Harrisburg came a bit later, when he came to campus to meet with Chancellor Madlyn L. Hanes. "Dr. Hanes gave me a tour of the campus," Ziegler recalls, "and I was impressed."
If Ziegler can be accused of having tunnel vision, his contributions to Penn State Harrisburg show the opposite. He has volunteered countless hours on the college's Master Plan Committee, the group charged with ensuring that the campus facilities support its broad, future vision.
"Planning for the future is exciting," Ziegler says, "and I felt that my experience could help. For example, even though I've never built something the size of the library, I understand the processes to get it done."
Ziegler was so taken by the college's progress and vision for the next decade, that he wanted to be part of it, he said. In 2005, Ziegler gave Penn State Harrisburg one of its largest and most unique gifts ever. Not only did Ziegler donate the philanthropic support for the 8,500-square-foot plaza now known as Ziegler Commons, he also committed his company to its construction, donating time, energy, materials, and labor. Bringing his landscaping knowledge and his own aesthetic sensitivities to the project was just icing on the cake.
"Giving to Penn State is something Rich really wants to do," says Stephanie. "His heart is into it."
Penn State Harrisburg Director of Development Marie-Louise Abram agrees. "Rich has devoted a great deal of personal time and resources to Penn State. Obviously, our college and its students have been the beneficiaries of his good will."
Ziegler recently talked with a student who told him how much she appreciated the Commons and how she enjoyed recent events taking place there. The Commons is equipped to support live entertainment, cookouts, gatherings like Rites of Spring, and many other activities. He said hearing from the student made him feel proud. But he then modestly adds, "I never expected the notoriety that has come with the Commons; it was just something I wanted to do."
"Really, I just like alfresco dining," he jokes.
Joining an elite group
On June 2, 2006, the University recognized Ziegler's generosity and volunteer service by naming him an Honorary Alumnus. This prestigious award is reserved for individuals who are not Penn State graduates, but who have shown significant commitment to the University. Only 75 people in Penn State's history have been awarded Honorary Alumnus/Alumnae status. That places Ziegler in the company of many of the University's most illustrious leaders.
"I'm very proud of the things I have done at Penn State. They are probably the best things I've done in my life," he says, putting modesty aside to briefly accept the significance of his contributions.
Then, in the next breath, that pride turns back to humility. "I've gotten far more from Penn State than I have given," he says. "Penn State has become my family."