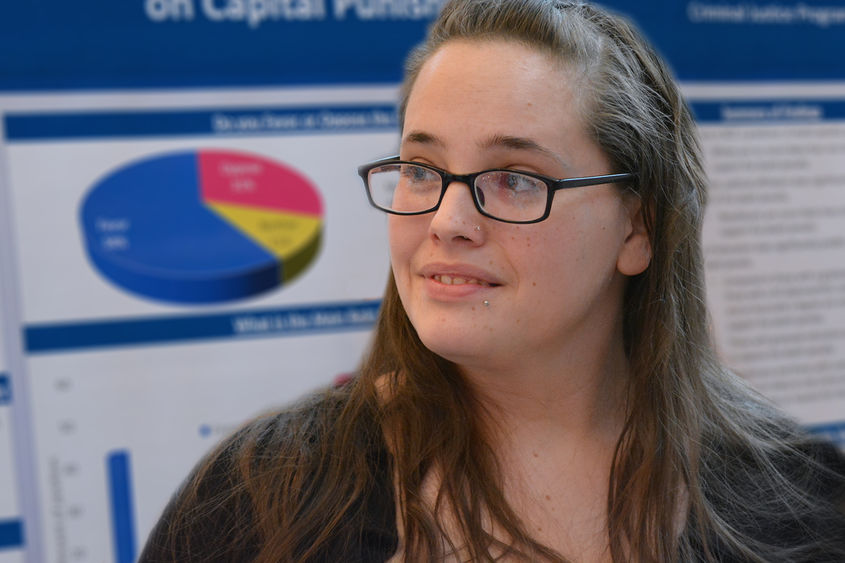 HARRISBURG, Pa. — Kaitlyn Rhubright, an undergraduate student majoring in criminal justice and psychology at Penn State Harrisburg, was one of just 11 Penn State students selected to present their research to Pennsylvania legislators at the State Capitol Building in Harrisburg, on April 25.
The Penn State participants joined students from across Pennsylvania for the 15th Annual Undergraduate Research at the Capitol – Pennsylvania conference, where they networked with peers and shared their research with members of the state Senate, House of Representatives, and their staff.
Rhubright presented her research on "Pennsylvanians' Perspectives on Capital Punishment."
With Arkansas in the process of carrying out a series of executions and convicted Pennsylvania sniper Eric Frein sentenced to death for the 2014 ambush killing of a state trooper and wounding of another trooper, the topic of Rhubright's research is timely. She explained that her research was derived from a telephone survey of a random sample of more than 600 Pennsylvania residents, conducted by the Penn State Harrisburg Center for Survey Research.
"We asked whether people support or oppose the death penalty and why," says Rhubright. The survey also asked, "What might be the main reason or reasons you think other citizens have a different position on the death penalty?" and collected data on respondents' gender, race, age, political affiliation and more.
"Many people stated that deterrence was their reason for supporting the death penalty," says Rhubright. "However, research has shown time and time again that the death penalty does not serve as a deterrent for crime. This type of information should be put out to the public so they have a better understanding."
Harrisburg native Rhubright, who is currently serving as a Master-at-Arms in the military police in the Navy reserves, is looking forward to graduating in 2018 with bachelor's degrees in criminal justice and psychology. She plans to then pursue graduate study at Penn State Harrisburg in similar disciplines, including clinical psychology with a concentration in forensics, and criminal justice with a concentration in homeland security.
Rhubright believes that her research is critical for state decision makers to have a better understanding of what their constituents think about the death penalty and why. It is also important for the public to be educated in order to make informed decisions on whether they favor or oppose the death penalty.
"I am so proud to have been able to connect with our state leaders, to make the country I serve a better place by sharing research evidence to help leaders make decisions," says Rhubright.
Rhubright also expressed gratitude to Jennifer C. Gibbs, assistant professor of criminal justice in the School of Public Affairs at Penn State Harrisburg. Gibbs worked with Rhubright on the research, nominated her for the conference and accompanied her to the capitol.
"Kaitlyn is an exceptional undergraduate student who is highly motivated and has a strong scientific curiosity," says Gibbs. "We were talking one day about the death penalty and her involvement in this project evolved from that."
Gibbs and Rhubright are continuing to analyze their data. They have some interesting preliminary findings, which they'll share after they run a few more tests and finalize the results, Gibbs says.
"Even though my topic is somewhat morbid and controversial, I received many compliments on my work. Many other students and judges were very interested in what I had to say," says Rhubright. "It was an amazing and enlightening experience. It was inspiring to know everyone at Penn State Harrisburg has such confidence in you."