Penn State Harrisburg graduate student uncovers intriguing slice of American history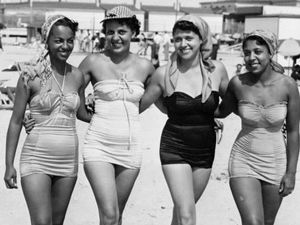 Cheryl Woodruff-Brooks, a graduate student in Penn State Harrisburg's American studies program, thought she would do her thesis on the history of hip-hop. But a chance sighting of black-and-white photos in a Philadelphia gallery window in 2014 would eventually change her mind and open up to her a world that flourished during the 1930s to 1960s in which African-Americans ruled a section of Atlantic City, New Jersey, beachfront, known as "Chicken Bone Beach."
It took a while for the idea to germinate. "We went inside the gallery and looked at the photographs, but I didn't think anything of it," Brooks said. "I bought a few postcards and that was it."
The next semester, however, she heard that the American Studies Conference was being held in New Jersey and organizers were looking for papers about Jersey Shore history. "I had that light bulb moment, thinking of those gallery pictures," she said. A new thesis was born.
Chicken Bone Beach was a segregated beach for African-Americans, and the photos were taken by John W. Mosley, a self-taught Philadelphia photographer. They document an intriguing slice of American history in which African-Americans, isolated from the rest of Atlantic City, created their own uniquely attractive haven. Mosley took thousands of photographs of African-American residents of Atlantic City, as well as the visitors attracted to Chicken Bone Beach each summer.
"In his own way, he provided America with what we didn't get in our history books," Brooks said. "When you look back on that era, you don't see a lot of pictures of African-Americans having a good time and smiling and laughing and dressing well. He took so many great pictures that really captured what life was like for these people. The pictures and the stories are really quite special."
The beach got its name after workers often found the sand littered with chicken bones. Because African-Americans were not allowed to patronize the city's restaurants, they had to bring their own food to the beach.
Brooks contacted Temple University Libraries in Philadelphia, home of the John W. Mosley Photograph Collection, and was fascinated by what she saw. "There were families, there were kids, there were mixed race couples, there were celebrities rubbing shoulders with the general public," she said.
She also saw photos of civic leaders and entertainers, including Sammy Davis Jr., Martin Luther King Jr., Joe Louis, Josephine Baker, Billie Holiday, Dinah Washington and Dorothy Dandridge, to name a few.
According to Brooks, people were eager to have their picture taken by Mosley, and dressed accordingly. "The beach had its own 'Hollywood-ness,' it was important to make a fashion statement."
Segregation by the sea
Seeing these images led Brooks to explore the history of segregation on Atlantic City beaches and of the neighborhood that bordered Chicken Bone Beach, the Northside, where many African-American people lived and worked. She did extensive research, traveling to Philadelphia and Atlantic City and conducting interviews. Brooks spoke with a woman in her 90s who had visited the beach, and even discovered that her own uncle had met his wife there.
"The people I have talked to are so proud of their history and what their ancestors built in Atlantic City," Brooks said "They were really happy to see someone like me take an interest in their story."
Atlantic City was built largely by African-Americans. During the Great Migration, blacks began seeking their fortune outside the South, moving in great numbers into the industrialized cities of the North. At the same time, Atlantic City's development offered opportunities to help build and work in the hotels and on the railroads.
Atlantic City was one of the first U.S. cities to build a resort near an ocean, and an attraction for visitors from all over. When visiting whites from the Jim Crow South saw that blacks were allowed access to any beach, they complained to hotel owners, who then sent letters to the local black churches, advising parishioners that if they wanted to keep their jobs, they would restrict themselves to Chicken Bone Beach.
"It was a desegregated town that was forced to segregate because of the rest of the world, particularly white southerners," Brooks reflected.
As Atlantic City became segregated, the African-Americans of the Northside banded together to empower their community. "Blacks were helping blacks, they were raising each other up so that they would be able to take care of themselves," Brooks said. "They essentially created their own prosperous community, separate from Atlantic City."
Brooks said the Northside had a strong, middle class society, with literacy programs, entrepreneur schools for women and swim lessons for children not allowed to visit the YMCA. "They became self-sufficient by mirroring what Atlantic City did, but for their own people. They made Chicken Bone Beach a tourist attraction for blacks," Brooks said.
The beach become a popular spot, attracting African-American celebrities, civic leaders, athletes, entertainers, and tourists from around the United States, as well as whites who were anti-racist or were rejected at other beaches due to their hippie or gay lifestyles.
A wealth of stories
In addition to sharing the stories of Chicken Bone Beach, Brooks wanted to give people the opportunity to see Mosley's photos, to provide the visual story through a gallery exhibit. The idea caught the interest of Lawrence Knorr, owner and operator of the 2nd Floor Gallery in Mechanicsburg, Pennsylvania.
In February 2016, Brooks opened her gallery exhibit of the Chicken Bone Beach images, many of which had never been displayed publicly. The exhibit featured images from the Temple University Libraries; the Alfred M. Heston Collection; Atlantic City Free Public Library; and others given to Brooks by Atlantic City residents, friends and family members. The photos remained on display until April 2016.
"I wanted to incorporate what I have found, through research and interviews, and inform people on what the culture was like at Chicken Bone Beach, what the lifestyle was like for these African-Americans," Brooks said. "I wanted to emphasize what it was about them and the beach that made it so popular. These people are why the beach was so popular, because they weren't allowed to fraternize on the boardwalk or go to the restaurants, so they had to create their own, very prosperous community."
At the opening, Brooks said she talked with a woman, about 70 years old, who had been to the beach in her 20s, and told her she hadn't even known that Chicken Bone Beach was the segregated beach; it was just "the place to be."
Brooks is now working with Knorr to publish a book about the photos through his company, Sunbury Press. The concept combines a coffee table book and a scholastic work, telling a piece of history that hadn't been shared.
While some books have been published about the Northside, little has been written about Chicken Bone Beach.
"There are a ton of interesting stories to be told," Brooks said. "The stories behind Chicken Bone Beach are the ones that I enjoy hearing, about how people built a community and helped each other make it during a difficult time in African-American history."