The college will showcase spring study tours at the Study Abroad Information Fair Nov. 2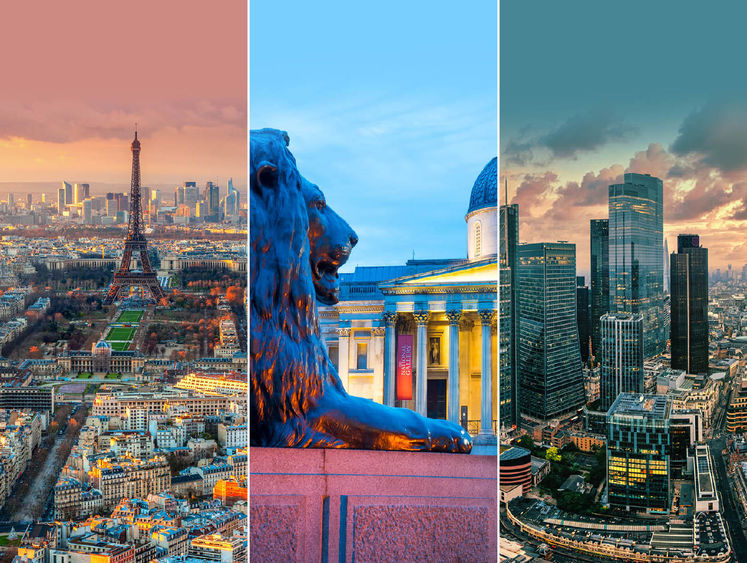 MIDDLETOWN, Pa. – Penn State Harrisburg's International Study Tours provide students an exciting opportunity to travel the world and learn about different countries through firsthand experience.
In spring 2024, the college is offering two London study tours and one France and Normandy study tour. Registration is now open for all tours.
The college's Division of Undergraduate Studies will hold a Study Abroad Information Fair from 11:30 a.m. to 1 p.m. on Thursday, Nov. 2, in the Educational Activities Building (Room 103, A102, B103, C104) for students to learn about the study abroad process and the various opportunities available to them.
Study tours go beyond the classroom, books, video and even the internet, to immerse students into the culture of these countries.
Travel awards are available for many of these tours from the Office of International Programs at Penn State Harrisburg. Honors students are also eligible for awards funds through the Penn State Harrisburg Honors program. For details, visit the Global Penn State website and select the "Scholarships and Grants" link. The following criteria is used to determine award recipients:
GPA
Essay describing reason why you want to travel (included in application on the webpage)
Free of judicial review or judicial sanction
Study tours for spring 2024 include:
London – Finance (March 1 to 9)
Cost: $3,400
Course: FIN 456 or FIN 599 London
Prerequisite: FIN 301 (for undergraduate students)
Overview: The objective of this course is to provide finance students with exposure to the international capital markets, particularly in the U.K. Modern financial markets are complex and global, and due to their rapid integration, it is essential for finance students to have exposure to them. While in London, students will become familiar with the U.K. banking system and financial and derivatives markets.
France and Normandy – The World at War: 1939-1945 (March 1 to 10)
Cost: $3,767
Course: HIST144 or HIST144H
Overview: Students in this course will learn about World War II through the lens of the French experience and travel to France to see places where many of the pivotal events transpired. The class will tour the Normandy beaches where the D-Day landings occurred, explore the German battlements that formed Hitler's Atlantic Wall, and walk in the footsteps of the American, British and Canadian soldiers who overcame those defenses. In the latter part of the week, students will visit sites in Paris connected to the history of the French Resistance.
London – Theater (March 1 to 9)
Cost: $3,648
Course: INART 5 – Theatre Performance in London
Overview: INART 005 will focus on London's rich performance history and students will learn about the craft of acting, production design, and theater architecture by visiting multiple theatrical spaces in London. This course is open to students of any major and is designed to give students broad exposure to multiple areas of the performing arts by attending productions at a variety of prominent London theatres including Drury Lane, His Majesty's Palace, and Shakespeare's Globe Theatre. Through a mix of guided backstage tours, panels with theatre professionals, and live performances, students will think critically about the process of theatre production and consider the cultural impact of the performing arts on London's metropolis. Through the exploration of these iconic performance sites, students will learn about the longstanding presence of theatre performance in London's cultural history and the preservation efforts enacted to protect these national landmarks. In the weeks leading up to the trip, students will learn about London's vibrant theatre community and post-trip reflections will center on the personal benefits.