Students and recent graduates working in the Division of Development and Alumni Relations were themselves beneficiaries of donor-created scholarships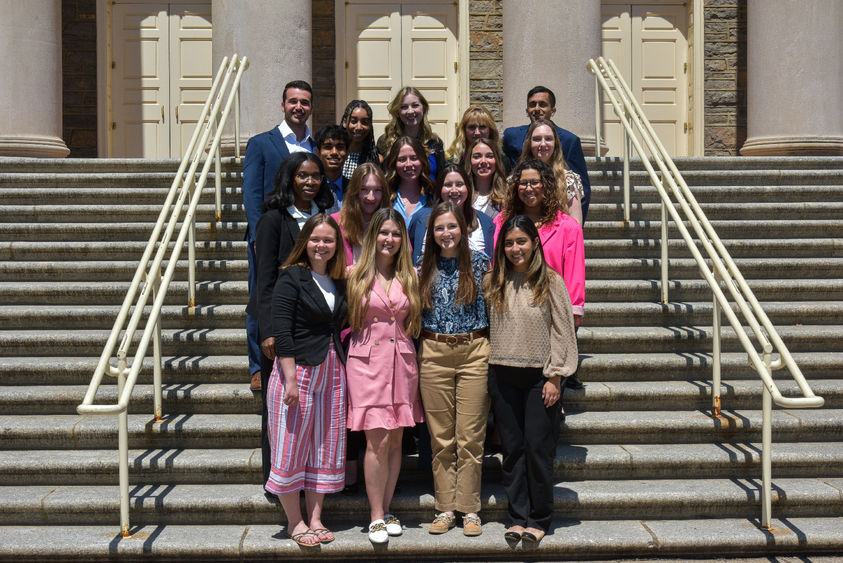 UNIVERSITY PARK, Pa. — Every summer, the Division of Development and Alumni Relations brings on a cohort of interns to tap into their talents and introduce young professionals to careers in institutional advancement. Through the paid, 11-week program, the interns receive a whirlwind education in the tools and strategies of fundraising, relationship-building, stewardship and organizational leadership. Many of these interns find motivation and satisfaction in helping to build the kinds of philanthropic support that made their own educational journeys possible.
The following 2023 interns are current students or recent graduates who received support from scholarships established through the generosity of alumni and friends of the University. Now, as they immerse themselves in Penn State's professional development operation, these interns are pulling back the curtain on their own stories and sharing how their lives have been shaped by philanthropy.
For first-generation student Kayla Clare, a scholarship at Penn State Harrisburg was the key that unlocked her dream to become a college-educated professional. As the second-oldest of seven siblings, Clare, who is double-majoring in political science and American studies with a focus in history, literature and social science, has been supporting herself financially since her enrollment in 2020, even as she maintains a full load of credit hours. Her current role as assistant manager of Flynn O'Hara Uniforms in Harrisburg is helping to hone her managerial skills alongside what she is learning through the Penn State curriculum.
The financial pressure she has faced has been offset, however, by several donor-funded scholarships. These include the Patricia Farrell Renaissance Fund, the PSAA Capital Area Chapter Annual Scholarship, the Dunn Family Award for Jewish Studies and the Dr. Irwin Richman Trustee Scholarship. All the scholarships powering Clare's financial support were created by the University's alumni and friends.
"I write thank-you notes every year to each of my donors," Clare said, who is learning even more about the impact of philanthropy this summer as an intern at Penn State Harrisburg. "But if I had the opportunity to speak to them directly, I'd want to tell them that these funds are helping me pursue my passions. Attending college has really been a monumental step for me — and it's put me on the path to attend law school and so that I can eventually use the law to fight for underserved populations."
In some cases, the prospect of a scholarship can also be a crucial recruiting tool. Imani Mbibouth is a Penn State Harrisburg student majoring in health policy and administration who has earned several donor-funded scholarships that have helped her to afford tuition and cover the cost of housing.
"Early in the process, community college looked like the most reasonable option for me, but my guidance counselor at the time saw promise in me and encouraged me to apply for scholarships. The scholarships I received not only made it possible for me to come here but allowed me to focus on my studies, so I didn't have to worry about working during the semester," Mbibouth said.
As a result, Mbibouth has been able to participate in activities such as table tennis club and serve on the programming and activities committee. Without the security provided by her scholarships, Mbibouth would not have had the financial freedom to become involved in the volunteerism that has helped to build her résumé. Now, as an intern at the College of Medicine, she is gaining experience and perspective that will complement her future legal studies.
For other students, scholarships provided the boost they needed to enrich their college experience with options they could not otherwise have afforded. Chryztina Harding-Graham, a 2023 graduate of the College of the Liberal Arts who majored in English, was able to travel abroad in 2022 with support from the Perreault Fellows Program. The program, funded by Paul and Beverly Perreault, sends students on international internships with the goal of fostering the next generation of global leaders.
Harding-Graham went to Paris, France, and worked as a communications intern for a non-profit called the Pass It On Network, a grassroots network that facilitates productive aging worldwide.
"I never would have been able to go abroad without this fellowship," she said. "The program exposed me to a whole new context of law and government, and it forced me to adapt to professional and cultural norms. I know I've come out of this international experience as a more curious and flexible problem-solver."
In the course of her internship, Harding-Graham also traveled to a variety of places throughout France, including Normandy, where American, British and Canadian forces landed on D-Day, and the Gardens of Versailles, deepening her understanding of historical events and cultural touchstones.
"As a student, I saw firsthand how scholarships open doors and launch us into experiences that will help us to become the changemakers of tomorrow," Harding-Graham said. "Now, as a development intern with the Alumni Association, I'm seeing how the generosity of supporters makes all that possible. It's been an inspiring experience, and I only wish more people could witness the extraordinary impact that philanthropy makes."
Donors who support scholarships advance the University's historic land-grant mission to serve and lead. Through philanthropy, alumni and friends are helping students to join the Penn State family and prepare for lifelong success; driving research, outreach and economic development that grow our shared strength and readiness for the future; and increasing the University's impact for families, patients, and communities across the commonwealth and around the world. Learn more by visiting raise.psu.edu.