Penn State Harrisburg again served as a host site for the Summer Institute on Equity in the Academic Experience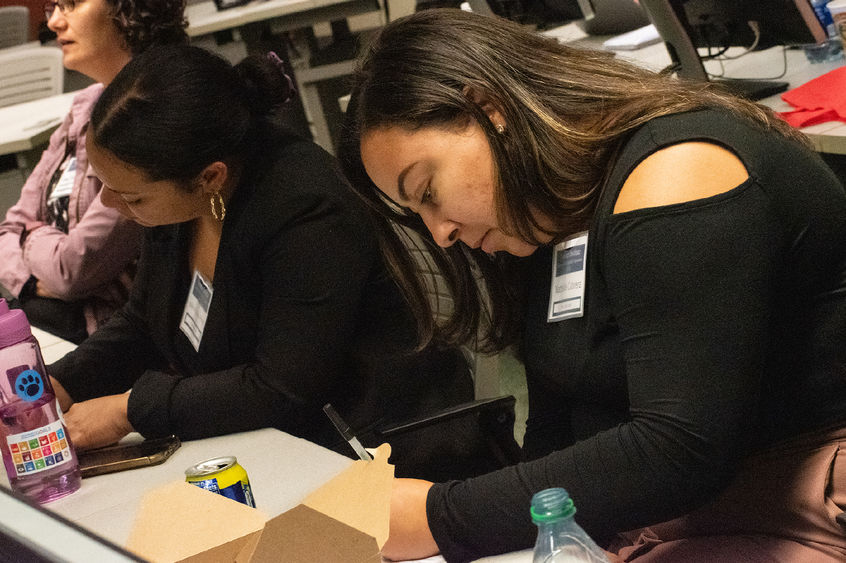 UNIVERSITY PARK, Pa. — Diverse teams from across Penn State participated in this year's national Summer Institute on Equity in the Academic Experience, June 5-7. 
The 2023 Institute drew in more than 400 people to form 60 teams from 55 colleges and universities. Teams were informed to "come with a goal, leave with a plan" using speakers, panels, workshops and coaches to connect each team's project to a specific equity issue at their respective schools. 
Penn State fielded 24 teams from 16 Penn State campuses and units: 
Schreyer Honors College 
Penn State Altoona 
Penn State Behrend 
Penn State Fayette 
Penn State Greater Allegheny 
Penn State Hazleton 
Penn State Lehigh Valley 
Penn State Scranton 
Penn State Shenango 
Smeal College of Business 
Penn State University Park 
Penn State Wilkes-Barre 
Penn State York 
Teams had the chance to draw from expertise then focus on their own projects throughout the Institute. Participants were advised to connect their projects to their institutions' strategic equity goals, similar work happening elsewhere in their college or university and to the broader higher education ecosystem.  
A Penn State team comprising staff and leadership from Undergraduate Education, Student Affairs and World Campus continued development on their project of an Academic Life Coaching Program. This program would help students with academic accommodations, first-generation students and international students gain a sense of belonging, utilize resources, develop success plans, remain enrolled and make timely progress toward degree completion.  
Melissa Johnson, associate vice president and associate dean for Undergraduate Education, was part of the Academic Life Coaching Program team. 
"The Summer Equity Institute gave our cross-functional team the time, space and support to focus deeply on taking the foundations of the Academic Life Coaching Program proposal developed over the past several years and move it forward," Johnson said. "Through our time with the coaches and in the feedback session, we developed new priorities for moving the program forward, including exploring external funding opportunities and developing strategies for assessing and communicating the effectiveness and impact of the current pilot program."   
Penn State also provided support to the national Institute through remarks and keynotes from President Neeli Bendapudi, Executive Vice President and Provost Justin Schwartz, and Associate Vice President and Senior Associate Dean for Undergraduate Education Jeff Adams. Michael Rosenberg, a senior policy analyst at the Office of Planning Assessment and Institutional Research, served as a coach to colleges and universities during the three-day Institute. 
The Summer Institute was coordinated by Georgetown University, the American Talent Initiative (ATI), and ATI's members and partners who are committed to improving equitable outcomes for low-income, first-generation and students of color at their institutions.  
Roderick Lee, associate professor of information systems at Penn State Harrisburg, leads Penn State's participation in the national planning and programming for the Institute. 
"Penn State's participation in the Summer Institute on Equity in the Academic Experience has evolved over the past three years from a single team, regional hub at Penn State Harrisburg, to an institutional partner," Lee said. "The third iteration of Penn State's engagement was informed by a broader access and participation strategy. This approach resulted in 24 teams from 16 Penn State campuses and several teams from regional institutions who gathered in community to focus on projects aimed at providing equitable access, success, and career pathways."  
Inclusion, equity and diversity efforts are one of the foundations of Penn State's Strategic Plan, and touch on many aspects of the Undergraduate Education Strategic Plan.   
Penn State's participation in the Summer Institute was coordinated by Penn State Harrisburg, Undergraduate Education, the Office of the Vice President for Commonwealth Campuses, and the Office of Educational Equity.