Event celebrated King's life and legacy, honored impact of community members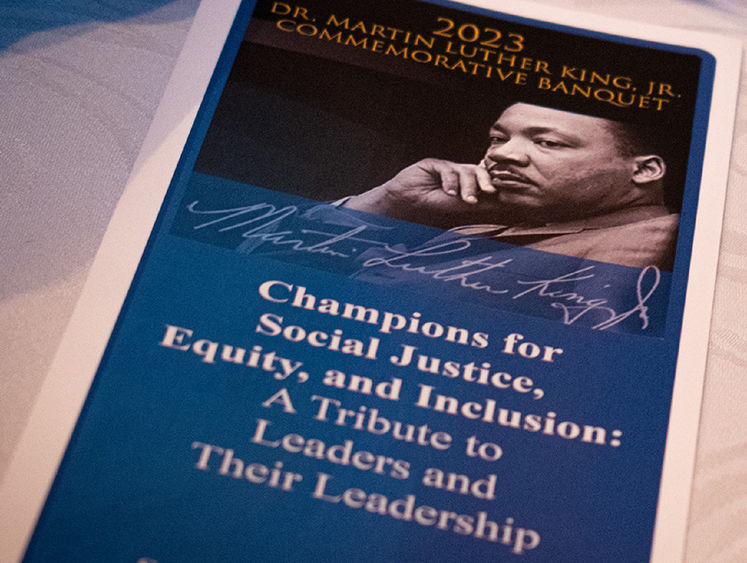 MIDDLETOWN, Pa. — Penn State Harrisburg's inaugural Dr. Martin Luther King Jr. Commemorative Banquet on Jan. 15 brought together members of the college and local community to celebrate King's life and legacy of service and social justice. The event recognized the impact of local community members and featured reflections and musical performances by local and student artists.
Wanda Knight, the college's assistant dean for diversity, equity and inclusion, who conceived and led the event said:
"Dr. Martin Luther King, Jr. was a champion for social justice. He dreamed of things that hadn't been and believed they were possible. Though his massive efforts generated momentous strides toward equity, the push to achieve a world where all society members enjoy fundamental human rights and equitable opportunities and circumstances to live and thrive in a world free from oppression remains a preeminent challenge today. Given all the locations where social injustice resides, we must work together to break down barriers to social justice as part of our commitment to diversity, equity, inclusion and access. To do anything less, we maintain and perpetuate the status quo."
Chancellor John M. Mason said that the ideals of diversity, equity, inclusion and belonging — ideals for which King stood — are paramount to the success of any institution, but especially institutions of higher learning. "Our diverse community has long been a strength and we have made a priority of nurturing an environment that welcomes all people," he said. "In pursuit of this goal at Penn State Harrisburg, we have emphasized outreach and partnerships with the local community. Tonight's event is one of many exciting examples of these efforts and an illustration of the impact that can be made when we all join forces. I want to thank everyone who made this evening possible. The work that we are doing together here is vital to making our community, nation and world a better place."
Performances included Penn State Harrisburg alumnus Christian Seay, who sang "Lift Every Voice and Sing." The song is often referred to as "The Black National Anthem" and was a hymn written as a poem by NAACP leader James Weldon Johnson in 1900. Felicia Brown-Haywood, associate vice president of diversity, equity, inclusion and institutional Success at Lebanon Valley College, sang "We Shall Overcome," a song that became an anthem of the American civil rights movement.
Other performers included Penn State Harrisburg student Munachiso Nwachukwu, and Yonda Spradley, minister of music at Greater Zion Missionary Baptist Church in Harrisburg, Pennsylvania. Prayer was offered by Pastor Russell Goodman.
The four honorees, all central Pennsylvania residents, embodied the theme of the evening, "Champions for Social Justice, Equity, and Inclusion: A Tribute to Leaders and Their Leadership," through their work to fulfill King's dream of equitable futures for all. Honorees included:
Theo Braddy
At the age of 15, Braddy became a person with a disability due to a high school football accident that left him paralyzed from the neck down. For more than 40 years, he has advocated on behalf of persons with disabilities.
In 1988, Braddy was hired as CEO of the Center for Independent Living of Central Pennsylvania, which has become a strong and growing voice for persons with disabilities. He has served as commissioner for the Pennsylvania Human Relations Commission, as well as a member of the Pennsylvania Statewide Independent Living Council and the State Board of Vocational Rehabilitation.
In September 2022, Braddy was appointed to the National Council on Disability (NCD), an independent federal agency that advises the president, congress, and other federal agencies on policies, programs, practices, and procedures affecting people with disabilities. In December 2022, he joined then Pennsylvania Gov.-elect Joshua Shapiro's transition team's Advisory Committee on Education & Workforce Development.
Braddy holds degrees from Temple University and Edinboro University and has taught at Temple University and Millersville University as an adjunct professor.
Homer Floyd
Floyd is a local civil rights icon. He was executive director of the Pennsylvania Human Relations Commission, a position he held from February 1970 until his retirement in January 2011. Floyd was responsible for directing the enforcement of civil rights laws for Pennsylvania. He provided leadership and direction in many precedent-setting cases, which resulted in removal of barriers that limited opportunities for minorities, women, persons with disabilities, and many other protected class members.
Before coming to Harrisburg, Pennsylvania, Floyd held positions in agencies at the local, state and federal levels in Kansas, Nebraska and Washington, D. C.
Floyd holds a bachelor of science degree from the University of Kansas and has done additional academic work at Fisk University (Nashville, Tennessee).
Floyd continues to serve on many local, state and national boards and commissions, including the International Association of Official Human Rights Agencies, the Samuel L. Abrams Foundation Board, the Pennsylvania Housing Advisory Committee, U. S. Equal Employment Opportunity Standing Committee, the Central Pennsylvania Advisory Board to the United Negro College Fund, the Boys' Club of Harrisburg, the Board of Directors of the Tri-County United Way, the Board of Directors of the Harrisburg Area YMCA, the Harrisburg Alumni Chapter of the Kappa Alpha Psi Fraternity, the NAACP, the National Association of Human Rights Workers, the Kansas University Alumni Association, the Harrisburg Chapter of the National Caucus and Center on Black Aged, and the Executive Committee of the Dauphin County Democratic Committee.  
Hettie Simmons Love
Born in Jacksonville, Florida, in 1922, Love was the first African American student to attend the Wharton School at the University of Pennsylvania. She majored in accounting, earning a master of business administration (MBA) degree in 1947. Love also graduated in 1943 from Fisk University, a Historically Black College or University (HBCU), where she majored in mathematics.
After marrying George Hayward Love in 1948, whom she met while at the University of Pennsylvania, she settled in Philadelphia where she applied for jobs in her field of study. Love was turned away for various reasons, including that she was "overqualified." She obtained work as a bookkeeper for the American Friends Service Committee for a short time but eventually settled into the role of a stay-at-home mother, raising her two children, George Jr. and Karen.
Unable to pursue a career with her degree, Love applied her academic skills in community settings, serving in leadership positions for several organizations in Philadelphia and, after the family moved to Harrisburg in 1971, serving as the church treasurer at St. Paul's Episcopal Church for over 20 years. She also lent her business acumen to three different Black-owned businesses in the Harrisburg area and pursued opportunities to volunteer in the community. She volunteered in schools as a math tutor, served on the board of the YWCA, and worked for RSVP (Retired Seniors Volunteer Program). While in her 80s, Love was still volunteering to help seniors complete their income tax forms.
In 2016, she earned distinction as a diamond member of Alpha Kappa Alpha Sorority Inc. for having been a member for 75 years. In December 2016, Love was awarded a Trailblazer Award from the National African American MBA Association of the Wharton School.
The World Affairs Council of Harrisburg presented Love with the Torch of Global Enlightenment Award in May 2021. Love also received the Lifetime Legacy Award from the Greater Harrisburg Area NAACP.
The Dr. George H. and Mrs. Hettie S. Love "Love of Learning" Scholarship was established to support a student of color entering the field of education. Funded through contributions to The Foundation for Enhancing Communities, this scholarship encourages teachers to share their love of learning with future generations.
Love continues to make contributions to the community through Alpha Kappa Alpha Sorority Inc., Epsilon Sigma Omega Chapter; St. Paul's Episcopal Church; Episcopal Church Women; the Union of Black Episcopalians; and other community organizations. She is a life member of the NAACP.
Hettie Simmons Love celebrated her 100th year of life this past fall.
Madison Stokes
Stokes is currently a first-year student at Chatham University in Pittsburgh, Pennsylvania, majoring in English with a minor in biology. She was awarded the Presidential Scholarship. At Chatham, Stokes is involved in student government as one of two class of 2026 representatives, Food Committee Chair, and the event coordinator for the Black Student Union.
She works as the office manager for the American Literacy Corporation (ALC), whose main goal is to promote the love of reading to children. In October 2020, ALC created Reading 365, sharing stories via Zoom and Facebook Live. As of January 2023, Reading 365 has continued for 801 days straight. Stokes has launched, hosted and or read nearly every day. She is the coordinator for the first ever MLK Day of Reading where 17 locations and over 60 volunteers throughout Pennsylvania will host a story time celebrating the life and legacy of the Rev. Dr. Martin Luther King Jr. 
Stokes has competed in the NAACP Academic, Cultural, Technological Scientific Olympics (ACT-SO) national competition in the category of medicine and health all four years of high school. She is a four-time gold medal winning competitor at the regional NAACP ACT-SO competition in the category of medicine and health. In August 2022, Dauphin County Commissioners proclaimed Aug. 24 as "Madison Stokes Day" in recognition of this achievement.
During high school, Stokes was the president of the entrepreneurship club, the technology officer for Student Council, the first president of the Youth Ambassador Club, and a member of the National Honor Society and the Spanish Honor Society.