Career Studies pairs students and individuals with intellectual disabilities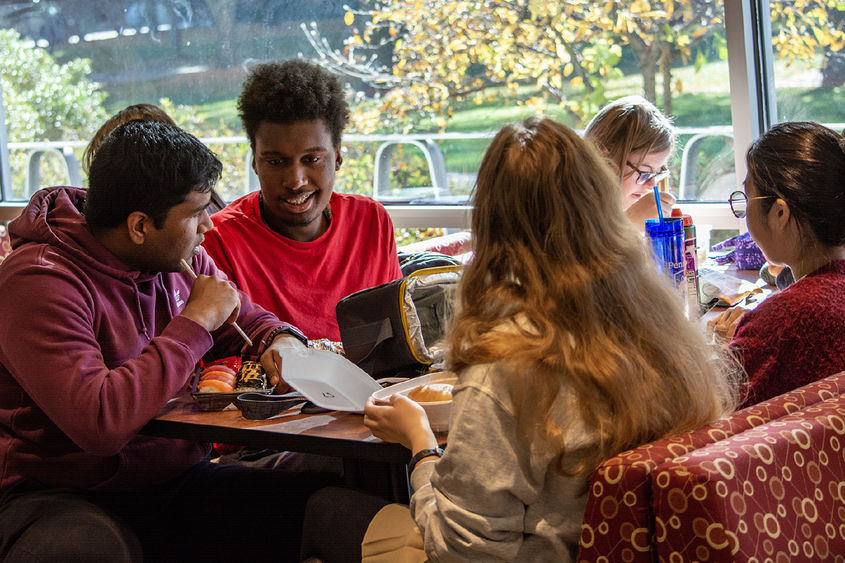 MIDDLETOWN, Pa. — As a peer mentor, Penn State Harrisburg student Hayley Wilson spends time with individuals with intellectual disabilities in the Career Studies program — helping them with class assignments, hanging out at lunch and campus events, or just talking about music.
Wilson tries hard to make sure the Career Studies students are heard and to engage with them on the topics they prefer.
"All they want to do is feel included, and I try my best to make them feel that way," she said.
Being a peer mentor is a paying job, but for students like Wilson, it's more than that.
"I have a personal connection, a twin brother who has autism," Wilson, a fifth-year criminal justice major, said. "It's really fulfilling for me personally. I'm just learning all these new skills. I'm starting to better understand my brother."
The Career Studies program at Penn State Harrisburg offers individuals with intellectual disabilities, age 18 to 25, the opportunity to receive an inclusive post-secondary education. During the two-year program, the students audit at least one academic class each semester, participate in job exploration activities such as visiting businesses, attend events on campus and can obtain a National Retail Foundation Industry Fundamentals credential.
The goal is for Career Studies students to obtain a job or find a career path, said Sandy McBride, Career Studies program coordinator.
"The growth we see in each and every student is amazing. Each student makes gains in different areas depending on where they are when each one starts the program," she said. "Some students come into the program being very shy and not talking to anyone. It is wonderful to see them start to join activities and communicate and interact with both students and peer mentors. Parents often tell us about the growth they see as students' progress through the program."
Peer mentors, McBride said, are the "heart" of the program.
The peer mentors are Penn State Harrisburg students who attend classes with Career Studies students and help them take notes, focus during class, or interact with professors and classmates. They assist with assignments and studying, and also provide social support to the Career Studies students over lunch, at fitness activities and at campus events.
Alvin Lukose, a third-year student, had participated in clubs in elementary and middle school that involved mentoring individuals with intellectual disabilities, so when he saw the peer mentor job listing, he thought it would be a good fit.
Developing a personal relationship with the Career Studies students is a big part of the job, he said. Once students feel more comfortable with their peer mentors, it makes the academic work flow more smoothly.
"I just love the students," he said. "It's fun to talk to them about what's going on in their lives. Some of the students are really witty … just hilarious."
Students emphasized that peer mentors don't necessarily have to be studying a related field. For example, Lukose is a computer science major.
"I think in terms of me not being part of the field, it's eye opening," he said. "It also maybe makes me think about how my field will relate — how technology can interact with disability services. If anything, it helps me keep an open mind."
Edrick Brown, a second-year biobehavioral health major, has been a peer mentor for about three semesters. The job requires patience, he said, but it's a chance to have fun, and learn about someone's disability. Students and their peer mentors develop great bonds over time, he said, joking together and sharing special handshakes.
"It gives me a sense of achievement," he said. "It makes you feel special."
McBride has had former peer mentors reach out to her when they have run into Career Studies students in the community. When she had the idea to take some Career Studies students to Hershey Park last summer, peer mentors were quick to join. In August, she took two Career Studies students and three peer mentors to present at the Pennsylvania Community of Practice Transition Conference in State College. The well-received presentation has drawn compliments for the program.
"The peer mentors serve as role models for our students and the mentors help the students navigate social situations," she said. "Our students truly love the peer mentors and develop relationships that go beyond their time at Penn State Harrisburg."
Peer mentors feel the same.
"I really enjoy what I do. I really enjoy interacting with the (Career Studies) students," Lukose said. "I feel like this job is something that's fulfilling, and I feel like I'm having an impact."