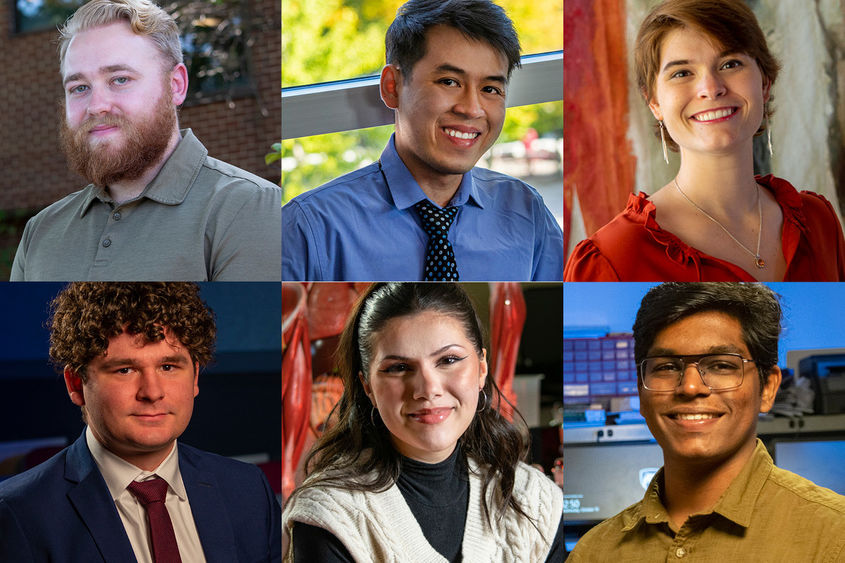 MIDDLETOWN, Pa. — Penn State Harrisburg has selected six graduates to represent each academic school and graduate studies as student marshals for fall 2022. The graduates will bear the banners representing each academic school and, together with the faculty marshals, lead the graduating students during the commencement processional.
Student marshals were selected based on their GPAs from among students eligible to graduate. Other criteria considered included engagement with the academic school and the college, involvement in research and leadership activities, and faculty recommendations.
The fall 2022 marshals are:
School of Behavioral Sciences and Education: Koby Conz (Hummelstown, Pennsylvania), bachelor of science in kinesiology
During his time at Penn State Harrisburg, Conz excelled academically while also mentoring other students and volunteering in the community. A transfer student from Harrisburg Area Community College (HACC), he has made the dean's list and received the President Walker Award.
Conz completed an internship with Lower Dauphin football, where he continues to serve as a volunteer coach. As a result of the experience, he hopes to become a practitioner and educator in the weightlifting/strength and conditioning field and work with young athletes and other young men in a high school setting. He is applying to graduate school to continue his education in the exercise sciences/strength and conditioning field.
Conz will be escorted by faculty marshals David L. Williamson IV, associate professor of kinesiology, and Ji Young Kim, assistant professor of psychology.
School of Business Administration: Thach Nguyen (Thot Not, Can Tho, Vietnam), bachelor of science in finance
Nguyen is graduating with a cumulative GPA of 4.0, having been named to the dean's list every semester and earning academic scholarships along the way. He transferred to Penn State from HACC, where he earned an associate's degree in business administration with the highest distinction. In addition, he holds a bachelor's degree in international business from the University of Economics Ho Chi Minh City, in Vietnam.
Nguyen volunteers in the community and participates in activities at Vietnamese churches in the region, where he helps with Bible studies, worship activities, charity fundraising, music and children's activities. In addition, he is part of a group that helps immigrants arriving in the United States learn English.
Upon graduation, Nguyen will pursue a position in financial analysis or fund management. He also plans to complete the CFA (chartered financial analyst) program in order to become a CFA charterholder.
Nguyen will be escorted by faculty marshals Oranee Tawatnuntachai, associate professor of finance, and Peter Swan, associate professor of logistics and operations management.
School of Humanities: Caitlin Schmeltz (Mechanicsburg, Pennsylvania), bachelor of arts in humanities
Schmeltz has achieved in academics and leadership while at Penn State Harrisburg, where she earned dean's list honors throughout 2021 and 2022. She received the Dekle Family Award for Excellence in Humanities, and she is a member of the Blue and White Society.
A transfer student from HACC, Schmeltz received certification from the Truist Leadership Institute and was a student representative for Penn State Harrisburg at the Grace Hopper conference for women in technology. She also was a founding member and treasurer of the campus Spanish Club.
Outside of school, Schmeltz has volunteered with the Central Pennsylvania Food Bank, in addition to volunteer work with a local church in New Orleans, Louisiana, and work with other clothing and food drives. She plans to continue her volunteer efforts locally as she pursues a career in the nonprofit industry.
Schmeltz will be escorted by faculty marshals Raquel Lodeiro, assistant teaching professor of Spanish, and Jen Hirt, associate professor of creative writing and composition.
School of Public Affairs: Ian Thomas (Carlisle, Pennsylvania), bachelor of science in public policy
Thomas has worked to advance his career while also helping others during his time at Penn State Harrisburg. He serves as treasurer of the WE cARE Food Pantry, which he sees as an opportunity to give back to other students and impact lives. He also was involved with the Capital College Honors Program, where he completed an undergraduate thesis that provided him unique research experience.
Thomas completed an internship with the Pennsylvania Department of Health, and he plans to seek an internship with a federal government agency before attending law school in fall 2023.
Thomas will be escorted by faculty marshals Shauntey James, assistant teaching professor of criminal justice, and Jennifer C. Gibbs, associate professor of criminal justice.
School of Science, Engineering and Technology: Flandra Berisha (Middletown, Pennsylvania), bachelor of science in biology
Berisha has achieved academic success while fueling her passion for medicine. Berisha has earned dean's list honors every semester and received the President's Freshman Award and the President Sparks Award. She has served as a teaching assistant and tutor for organic chemistry courses and participated in the health sciences, pre-med and Latino clubs.
Berisha completed the Emergency Medicine Research Assistant Program, where she learned about the ethics of research and gained insight into the workings of the emergency department at Penn State Health Milton S. Hershey Medical Center. She worked part time as a medical assistant, is able to provide basic emergency medical care, and is trained in phlebotomy and CPR.
Berisha wants to volunteer abroad to provide basic medical care to those who do not have easy access to it, as well as further her education to become a general surgeon.
Berisha will be escorted by faculty marshals Brenna Hill, assistant teaching professor of physiology, and Fariborz Tavangarian, associate professor of mechanical engineering.
Graduate Studies: Avesh Jangam (Mumbai, Maharashtra, India), master of science in mechanical engineering
Jangam came to Penn State Harrisburg in 2021, after completing his undergraduate mechanical engineering degree at the University of Mumbai in his native India. He has worked as a teaching assistant and a research assistant in the mechanical engineering department. He served as student lead on a National Institute of Health-sponsored multidisciplinary research project, in collaboration with Johns Hopkins University, related to developing a medical device for treating brain cancer. His team successfully validated their developed medical device, which is now ready to be used in canine clinical trials.
Jangam completed a manufacturing internship with Biogen Inc., a leading neuroscience and pharmaceutical company. His thesis research is related to the development of a medical tool for surgeons to simulate different brain tumor thermal therapies. He is motivated to make a difference through a career in the medical device or pharmaceutical industry.
Jangam will be escorted by faculty marshals Anilchandra Attaluri, assistant professor of mechanical engineering, and Shirley Clark, professor of environmental engineering.