Among respondents, 84% view their campus as safe; 86% view University police officers as professional, helpful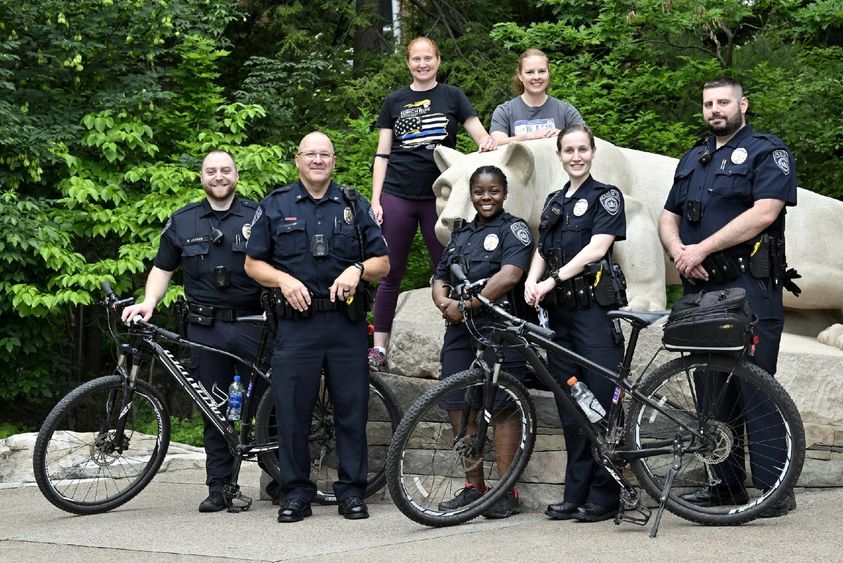 UNIVERSITY PARK, Pa. — The results of a confidential university-wide survey show that the majority of Penn State employee and student participants feel safe on campus and view Penn State police officers favorably.
The survey was conducted in the fall of 2021 as a standard part of the police department's accreditation process through the Commission on Accreditation for Law Enforcement Agencies. Survey results are available online on the full aggregate dashboard, which includes both 2019 and 2021 data. There were 2,950 respondents with 42.2% being students and 35.3% being employees. The overall response rate was 11%.
"On behalf of University Police and Public Safety, I want to thank everyone who took the time to participate in this survey," said Charlie Noffsinger, associate vice president of University Police and Public Safety. "Participants have provided valuable feedback that we will use to improve our programs and services, and our department. We are proud to learn that, overall, the Penn State community views our police unit favorably, but we also recognize that there are areas where we can improve, and we are committed to enhancing those areas."
The vast majority of respondents from 22 campuses (84%) views their campus as safe, however 14% indicated there are locations and/or times of day where they have felt unsafe on campus, with responses ranging from "anywhere at night" to parking areas, to particular buildings on a campus.
"We appreciate the feedback from employees and students, which highlights areas where some feel unsafe," Noffsinger said. "This is valuable information, underscoring the importance of such surveys, and we will work closely with other units at Penn State to assess how areas noted in the survey can be strengthened to help employees and students feel safer while in these locations."
University Police will continue to work with Physical Security, the Office of Physical Plant and other key campus stakeholders to review areas in which respondents feel less safe on campus. Additionally, University Police will review programming and services to meet the needs of each campus community based upon feedback from each individual campus. For example, many respondents requested an increase in police visibility and engagement on their campus, including more foot and bicycle patrols.
"We are always looking for opportunities to engage with the community and build trusting relationships. These efforts will continue, and the survey results provide a roadmap for this work," Noffsinger said. "We never want anyone to hesitate to call us for assistance. We are here to serve every member of the Penn State community."
Overall, survey respondents' perceptions of police officers were largely positive. A substantial majority of respondents agreed with a series of positive statements about Penn State police officers, including 86% viewing officers as professional and 86% viewing officers as helpful. At the same time, 20% of all respondents described police officers as intimidating and 13% described officers as biased.
"We recognize that, for some, just the presence of a person in uniform can be intimidating," Noffsinger said. "We will work harder to demonstrate to the community that we are here to foster public safety and help those in need of public safety services. Whether it be offering educational programming to help prevent crimes, assisting a victim following a sexual assault or taking a drunk driver off the road to prevent potentially devastating consequences, we are here to help."
Eight percent of respondents who self-reported as African American, Hispanic, Latinx, Native Hawaiian or other Pacific Islander, or two or more races; 7% of respondents who identified themselves as transgender, nonbinary or genderfluid; 7% of those who self-reported as lesbian, gay or bisexual; 6% of respondents who are internationals; and 1% of respondents who self-reported having a disability as defined by the Americans with Disabilities Act said they have felt targeted by police due to their group status.
"University Police and Public Safety continues its commitment to increasing efforts to build trust among underrepresented groups and this commitment is evidenced by the recent hire of a director of diversity, equity and inclusion for University Police and Public Safety," Noffsinger said. "We are working closely with this director as well as the director of diversity and inclusion for Penn State Finance and Business, the vice provost for Educational Equity, Student Affairs, the Penn State Center for Sexual and Gender Diversity and others to develop action steps to continue building trusting relationships with the community and better serve the community."
In comparison to the target population, the respondents who provided their demographic information were more often employees than students, more often female, older, and more often white than the population, suggesting that on these characteristics, non-respondents, tended to differ from respondents. Given the nature of the questions, these differences suggest that the viewpoints of students, faculty and minorities may be underrepresented in important ways. The imperfect nature of real-world data such as these is the reason that information gleaned from this survey will be considered in light of all of the data available to Police Services.
The findings are the result of a survey conducted by Penn State's Office of Planning, Assessment, and Institutional Research on behalf of University Police and Public Safety to gain an understanding of student and employee attitudes and opinions related to police services and programs and campus safety. The results will be used to improve University Police services across the commonwealth for all community members.
In Fall 2021, about 27,000 members of the Penn State community received the survey across the 22 campuses where University Police provides services. A random sample of students and employees at Penn State's University Park, Abington, Altoona, Berks, Behrend and Harrisburg campuses, as well as all students and employees at smaller Penn State campuses, were invited to complete the survey.